Please check our tutorial video to help you solve your problems or understand more regarding related topics.
If you would like to know more details, please read the whole article below.
Here is our tutorial video: https://www.youtube.com/watch?v=R8ji4yoRczg
1. What is withdrawal?
Withdrawal is the act of transferring crypto assets from FAMEEX to other platforms or personal wallets.
2. How to withdraw?
For example, if you want to withdraw your BTC from FAMEEX to platform A as following steps.
(1) Log in your FAMEEX account. Scroll under [Assets] to check [Spot Wallet].

(2) Click [Withdraw].

(3) Enter your BTC withdrawal address of platform A, withdrawal amount, and the address remarks (optional). Then click [Confirm].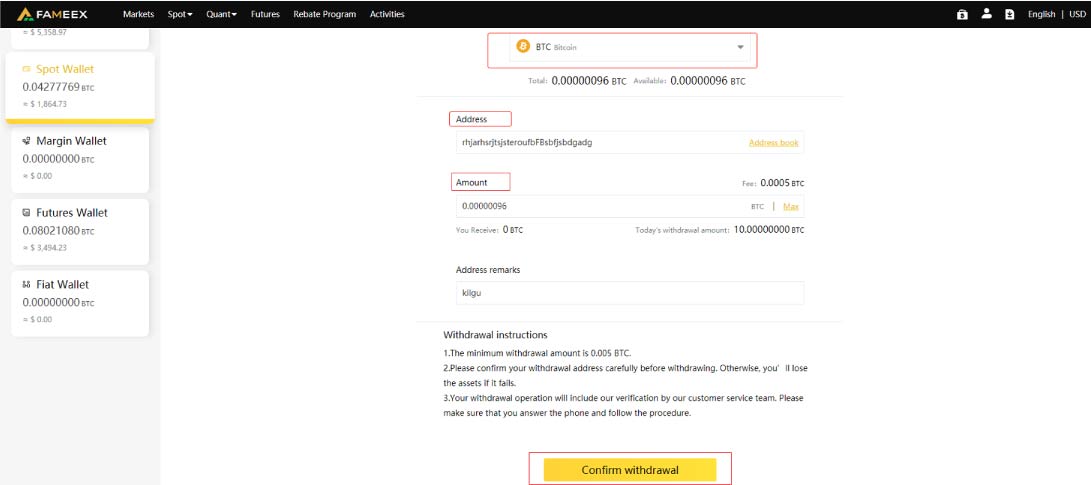 (4) Please make sure whether it's accurate for your withdrawal token, address, amount and handling fee. According to FAMEEX policy, you might need to enter your login password, mobile/email verification code and Google auth code to proceed. After confirming your request by our team, it takes time for the transaction to be confirmed by the blockchain. Your funds will arrive as soon as a transaction has been included in a block by a miner.