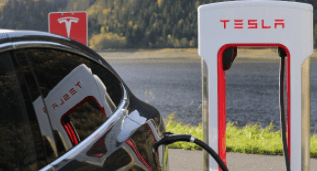 Tesla experimented with Bitcoin payments for its electric cars earlier this year. Dogecoin surged as much as 33% after Tesla CEO Elon Musk said the electric-car maker would accept Dogecoin as payment for its merchandise.

"Tesla will make some merch buyable with Doge & see how it goes," Musk tweeted. Dogecoin rose to as high as $0.20 following Musk's tweet, before falling back to about $0.18. Musk, who was yesterday named Time magazine's person of the year, has previously lent support to dogecoin development and adoption even as the memecoin's creators abandoned the project back in 2015.
Earlier this year, Tesla started accepting bitcoin as payment for its electric cars. The pilot proved short-lived amid rising concerns about Bitcoin's energy usage and was soon dropped.
Musk has tweeted regularly about dogecoin. In February he posted a picture of a rocket next to the moon. He followed that post with a one-word tweet stating "Doge" – a play on the saying of "going to the moon," a term for an asset-price surge. The same month he posted an edited picture from "The Lion King," with himself as Rafiki and a Shiba Inu as Simba. Dogecoin prices jumped again.
A May tweet saw Musk state he was working with dogecoin developers to improve system efficiency. It sent dogecoin prices flying by 22%. Then in June, he tweeted it was "important to support" a proposal that sought to reduce dogecoin fees – one that would make dogecoin more competitive compared to other cryptocurrencies.
Still, Musk does not see the crypto sector succeeding as many crypto fanatics otherwise do. In a recent interview after being named Time's Person of The Year for 2021, Musk said he "doubts that crypto will replace fiat currency."
(Article Courtesy of CoinDesk)