To Start New Political Party, Former US Presidential Hopeful Andrew Yang Launches NFT Sale First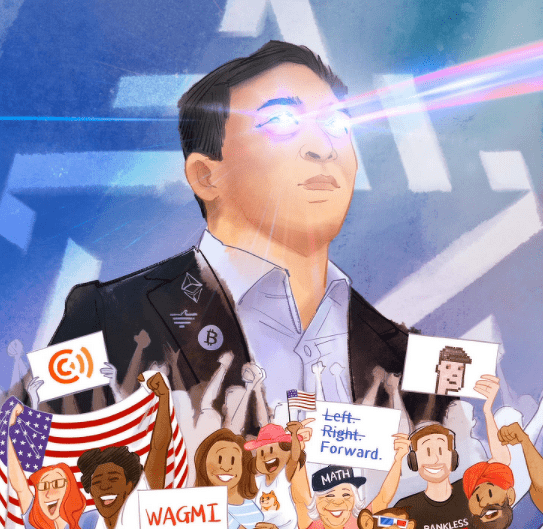 The entrepreneur turned politician Andrew Yang, who ran unsuccessfully for president and mayor of New York, seems fearless in the political realm. Yang left the Democratic Party in early October and announced to found the Forward Party the very next day. Now he is heading for a new adventure in NFT.

Yang, appearing on the October 18 edition of the Bankless podcast, told hosts Ryan Adams and David Hoffman that he wants to "make the Forward Party the 'crypto party'" because he feels the two are strongly aligned.
"I want to make the case to legislators," Yang said, "that crypto communities are a force for progress and innovation and a massive provider of jobs."
Yang went on to say that he wants to help the political system, which he sees as failing and flailing, upgrade and modernize itself. To memorialize the occasion, the team at Bankless chose the most crypto of methods.
"We thought that that was a big enough deal to do some sort of historical commemoration," Bankless co-founder David Hoffman told Decrypt. "And what else would that be other than an NFT!"
Hoffman said that Bankless reached out to artist Crypt0xWife, who has worked on illustrations of Bankless memes in the past and asked if she'd be interested in joining the project. Hoffman added that there is a lot of alignment between Yang's vision for the world and what crypto has to offer—and that many of his policies would thrive under a crypto paradigm.
"Andrew understands crypto much deeper than the typical politician and understands that a lot of value and jobs are going to be created here," said Hoffman. "The man is pro-innovation, and what industry has more innovation in it than crypto?"
Yang said on Twitter today that all proceeds from the sale of the NFT, called Forward, would be donated to the Forward Party. Yang says he launched the Forward Party as an alternative to the current American political left vs. right duopoly that has taken over. "I also have a hope for a positive political movement that is not born of rage and demonization," Yang wrote on the Forward Party website, "but on optimism and solutions."
The Forward NFT is minted on Ethereum and listed on the Zora NFT marketplace; bidding ends tomorrow, October 21. According to the listing, the current highest bid is 1.5 ETH, or $6,140.56 at the time this article was published.
(Article Courtesy of Decrypt)