U.S. Treasury Eyes on Stablecoin Issuers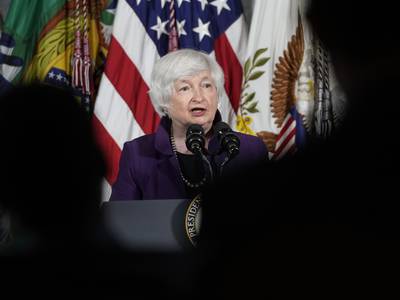 The U.S. Treasury Department is preparing a report on stablecoins and their potential risks to the financial system, Bloomberg reported Thursday.
CoinDesk confirmed that Treasury officials are developing this report to present to the President's Working Group for Financial Markets, though it's unclear when the working group plans to meet.
The team of top financial regulators, including Treasury Secretary Janet Yellen, Federal Reserve Chairman Jerome Powell and Securities and Exchange Commission (SEC) Chairman Gary Gensler, along with other regulators, last met on July 19, when Treasury staff presented their approach to this report.
How stablecoins are actually used remains top-of-mind for the Treasury officials working on this report, Bloomberg said, citing anonymous sources.
Treasury officials reportedly met with representatives from financial institutions to discuss stablecoin regulations and other crypto issues last week, according to Reuters.
A Treasury spokesperson declined to comment.
Capitol Hill crackdown?
The federal government has been taking a closer look at the crypto industry in recent months, with SEC Chair Gensler in particular speaking out about various regulatory gaps he sees in the sector.
These gaps include the lack of a single federal regulator to oversee crypto spot trading markets and investor protection concerns. Sources tell CoinDesk a burgeoning turf war over crypto regulation is causing angst among industry participants.
The Treasury Department has also been part of an effort to more effectively capture certain types of crypto transactions for tax purposes. A provision in the U.S. Senate's $1 trillion infrastructure bill would broaden the definition of a broker for tax reporting purposes, though critics of the bill claim the definition is too broad, and would capture entities that don't facilitate transactions for customers.
The House of Representatives is set to vote on this bill on Sept. 27.
(Article courtesy of CoinTelegraph)