Ethereum Name Service (ENS) Tokens Soar more than 100% in 12 hours After US$500M+ Airdrop, Market Cap Topping US$570M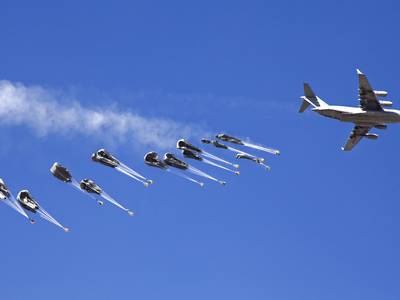 The newly formed decentralized autonomous organization or DAO and its governance tokens, Ethereum Name Service are enjoying a picture-perfect launch. As one of the most popular apps on Ethereum, ENS is enjoying a surge in price for its DAO governance token following a widely lauded airdrop, more than US$500M in value.

Ethereum Name Service, a protocol that issues non-fungible tokens (NFT) that can represent Ethereum addresses as well as web domains, launched an airdrop portal for its newly issued ENS token last night. Airdrops are a token distribution method that awards a portion of circulating tokens to Ethereum addresses that fulfill certain parameters, such as having purchased an NFT.
ENS NFT holders are currently eligible to claim tokens, with many users reporting allocations worth upwards of $20,000, and the project's circulating market cap currently sits above $500 million.
In an unusual twist, the airdrop required a number of governance steps prior to claiming tokens, and an overnight price surge now has traders eyeing valuations in the tens of billions.
Constitutional convention
The claims process kicked off on Monday at 7 p.m. ET (12 a.m. UTC Tuesday).
Ethereum Name Service domain holders' eligibility and allocation were determined using a formula that took into consideration both the amount of time an address held an ENS domain, as well as the duration of its future registration.
In what may be a first, in order to claim allocated tokens users had to vote on four articles of a foundational ENS governance constitution. These articles covered ensuring governance cannot revoke ENS ownership, allowing governance to alter registration prices, allowing governance the authority to integrate with other software naming conventions like DNS, and allowing governance control over a grants program.
Claimants then were required to delegate their token voting power before receiving their tokens. Applications for delegates opened last week, and include some of crypto's most powerful organizations. The token already has support from Coinbase, the U.S. centralized exchange behemoth, which has not listed the token for sale but in a tweet yesterday said the company would be participating in governance.
The claims interface, the requirement to vote and delegate voting power prior to claiming tokens, and the smooth rollout have all been widely praised, and some have referred to it as among the most successful airdrops in crypto history.
"ENS is for the people," said Ethereum Name Service director of operations Brantly Millegan in a statement to CoinDesk. "No investors, decentralized and the community can now set the key parameters of the protocol. This is the essence of Web 3."
Price action
The token has been remarkably volatile in the roughly 12 hours since launching, sitting at $39.46 per ENS at the time of writing and up 119%.
Once released, users added liquidity to the automated market maker (AMM), and trading volume has been rising steadily ever since. Per CoinGecko, the token has cracked the top 200 tokens by market capitalization as well as the top 60 by 24-hour trading volume.
Traders and analysts are now speculating how high ENS can fly.
A popular price target bandied about is $119. GoDaddy, the internet domain giant, currently has a market cap of $11.9 billion – at $119, ENS's fully diluted valuation would exceed it, and an emerging narrative focuses on ENS as "the domain name of web3."
Many traders are also eyeing the first major exchange listing as a "sell the news" event. Previous buzzy airdrops, such as AGLD, soared on release, only to plummet once listed on FTX.
(Article Courtesy of CoinDesk)