What Bitcoin and Ether's Options Tell us about Their Maturity and Maybe it's time to Invest in Futures Trading?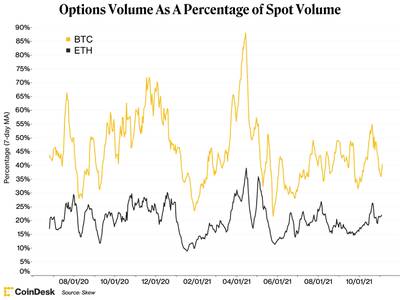 Higher options volume relative to spot is a sign of a developed market and can help with price discovery. Ether is up around 500% since Jan. 1 while bitcoin has only doubled in that time. Yet, it's bitcoin that is legal tender in one country and has several futures-based exchange-traded funds (ETF).

While they are in the same asset class, comparing bitcoin to ether is tantamount to comparing apples to oranges for those with more than a cursory understanding of crypto. It turns out the derivatives markets agree about the difference in at least one subtle way: the relative volume of ether options to the spot market compared to that of bitcoin.


That matters because higher options volume relative to spot is a sign of a mature market and can help with price discovery. To be sure, both ether and bitcoin have shown astounding growth in both their spot and options markets over the past year.

In October 2020, ether spot trades averaged roughly $93 million per day combined for seven major exchanges; a year later, that daily average was $1.6 billion, according to figures compiled by data provider Skew. Meanwhile, options daily volumes jumped to $335 million from a mere $23 million the previous year.

Bitcoin's market was even bigger to start. The October daily spot volume average in 2020 was $395 million while the options market was $206 million. Fast forward 12 months later and it was $2.2 billion and $989 million, respectively.

Still, when it comes to growth, ether was the more impressive of the two. Its spot market grew roughly 16x in one year and its options market nearly 15x. Bitcoin's numbers gained "just" 5.7x and 4.8x, respectively. That's a dream for any other market but small potatoes compared to ether.
(Article Courtesy of Coindesk)