Winners for "1,000 USDT Referral Event"
2022/03/03 15:50:00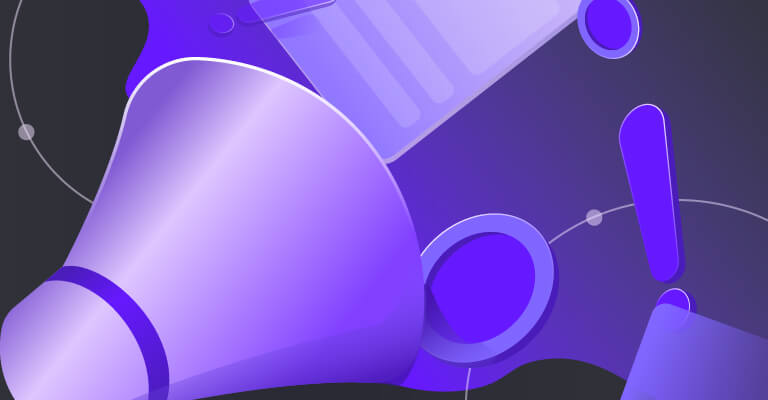 Dear FAMEEX users,
Thank you for participating in our latest "1,000 USDT Referral Event" campaign". The following is the ranking list of the top 10 winners! If you're the winner, please contact our customer service team (@FAMEEX CS) on Telegram to provide your UID within 24 hours. The rewards will be distributed to winners' spot wallets before 18:00 (UTC+8), March 5th, 2022. Please kindly check the list below or your account.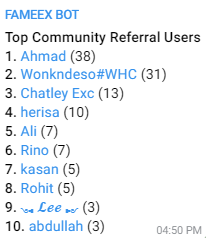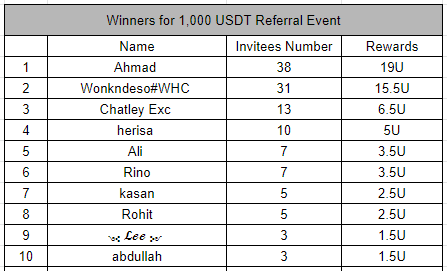 Note:
The top 10 inviters are only eligible for rewards which are calculated by the below formula.
0.5 USDT* Number of Invitees. Each inviter can claim up to 100 USDT maximum.
FAMEEX adhere to the principle of fairness and justice for this event. The standard of violating this event is based on the following rules which is obvious using the bot to generate invitees.
1. Same account information with the same username

2. No referred username

3. No obvious advertising username

4. No continuation of a series in usernames such as 1, 2, 3, or 4-50
FAMEEX has detected those invalid invitees in our data that they're only just fake accounts or bots.
If you have any questions, please contact our customer service team anytime.
FAMEEX Team
03 March 2022
FAMEEX - The secure, efficient and edge-cutting cryptocurrency trading platform. Invite your friends to register now and receive up to 60% rebate!
Trade on-the-go with FAMEEX's crypto trading app (iOS/Android)
Find us on:
Twitter: https://twitter.com/FameexGlobal
YouTube: https://www.youtube.com/channel/UCMRYZgPUFtrSkAu9_owUbxg
Instagram: https://www.instagram.com/fameex_global/
Telegram: https://t.me/fameexgroup
Discord: https://discord.gg/V8yvKPxVCk
LinkedIn: https://www.linkedin.com/company/fameex
Facebook: https://www.facebook.com/FameexGlobal
Contact us: Service@mail.fameex.info