How to trade crypto options? Trade ethereum in derivatives exchange
2023/01/19 15:15:05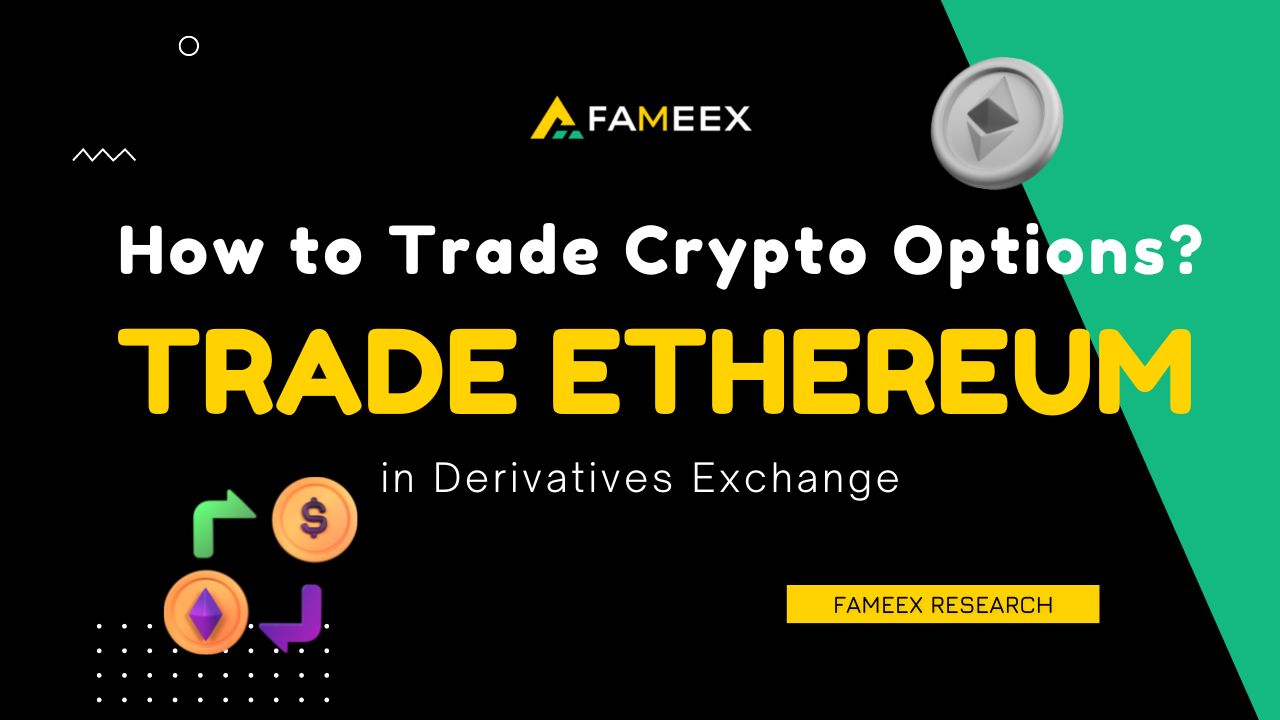 How to Trade Crypto Options: Step-by-Step Process
Ethereum Derivatives are tradable securities or contracts which derive their value from underlying assets (Ethereum spot rate). An options contract is a type of financial product in which traders can purchase derivatives of underlying assets like stocks, commodities or cryptocurrencies. Options have an expiry date and/or time. At the time of expiry, the price of the underlying asset must be on the correct side of the strike price (based on the trade taken) for the trader to make a profit. Bitcoin and Ethereum Futures or Options are now among the most common and popular financial products on any cryptocurrency exchange or trading platform. Crypto options proponents believe that the market should provide more pairs to provide ample hedging and investment opportunities.
How to Trade Ethereum Options?
Ethereum options can be purchased on any crypto exchange that supports crypto options trading. The buyer has to pay a premium to enter an options contract because of the non binding nature of the option. The implied volatility of an asset impacts heavily on its premium. Bitcoin options became legal for trading in the U.S. in October 2017, and the provision of crypto options has been growing across the country's financial infrastructure and so has other major crypto options, like Ethereum options.
Here are steps for you to trade options.
Step 1: Register a FAMEEX account on the app
Then tap the Derivatives icon to activate your trading account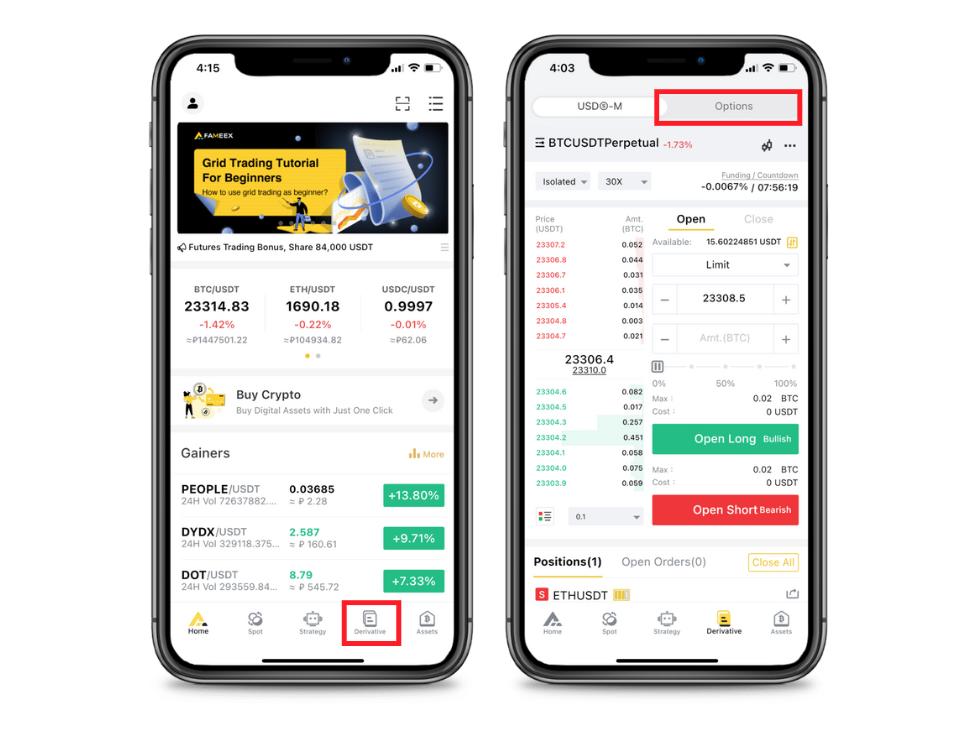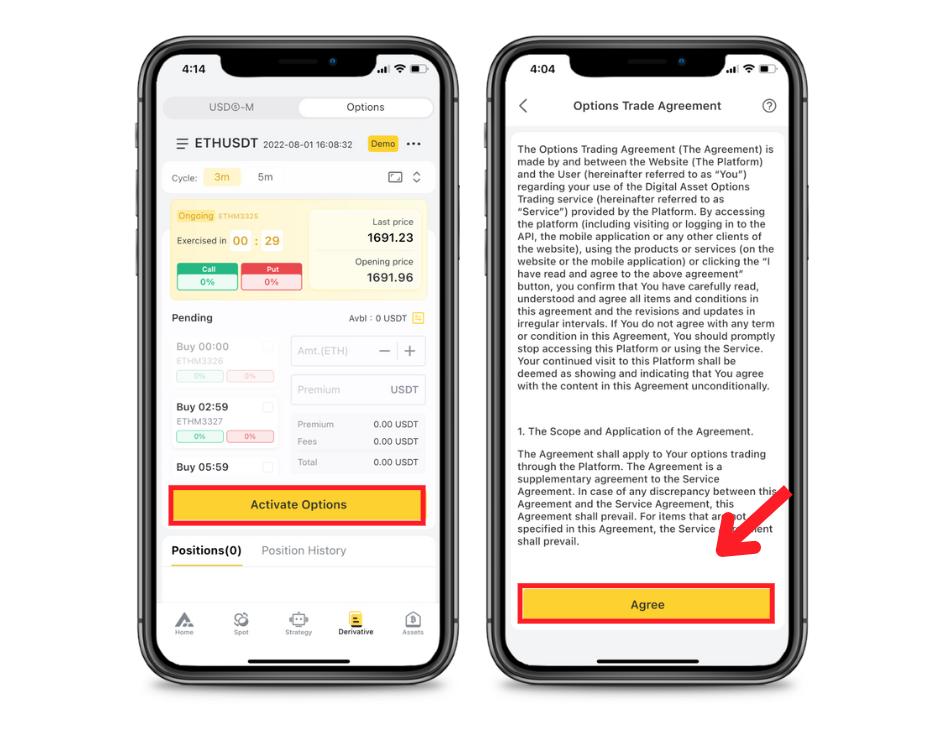 Step 2: Transfer assets to the futures account
Make sure you have a sufficient balance in your Derivatives Wallet since USDT-Margined futures trading and options trading share the same available balance.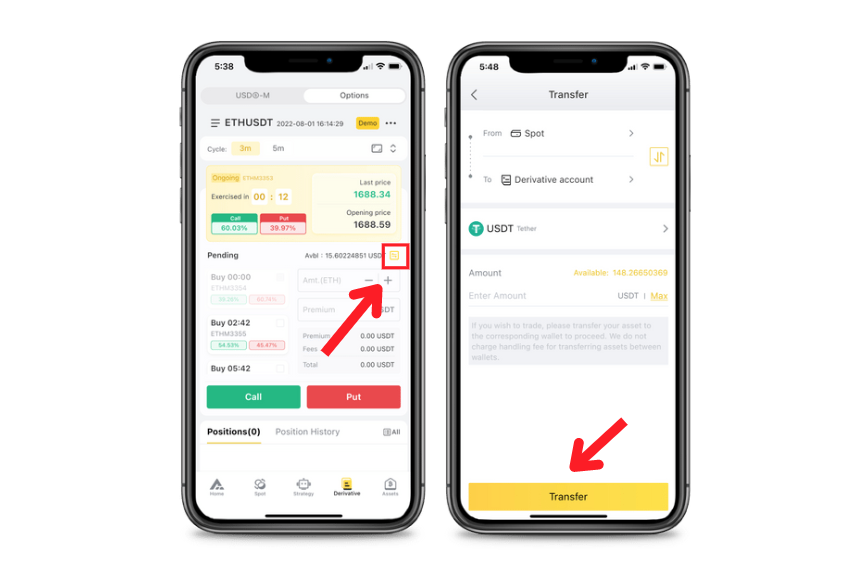 Step 3: Select your preferred trading cycle.
FAMEEX supports two lengths of cycle, 3-minute or 5-minute, in options trading. When users buy options in different cycles, each order will be settled separately and not affect each other.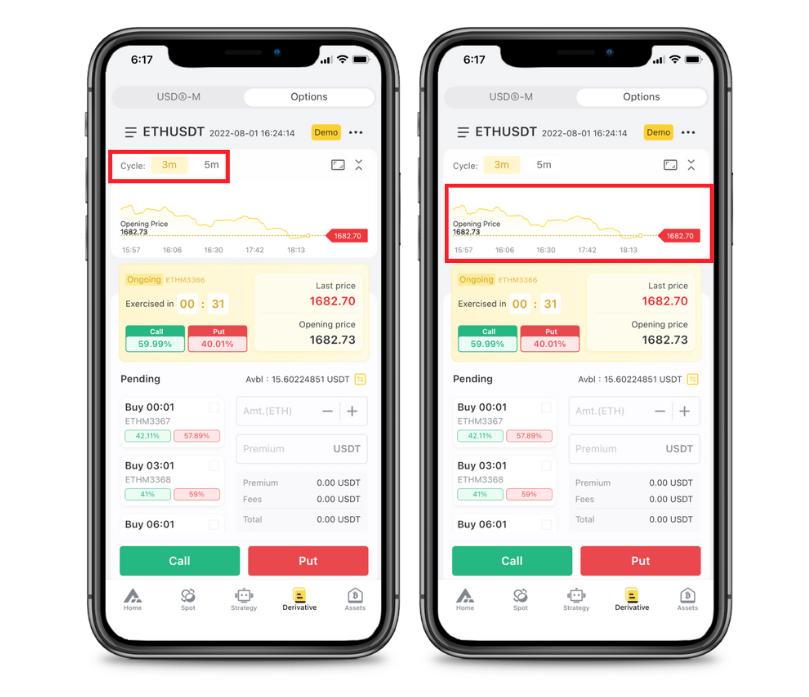 Step 4: Choose how you want to place your order.
1) Buy with [Amt.]: You can choose to enter either an "amount" or "premium" to trade options. Our system will automatically convert the required fee and premium into USDT based on the latest price. The real quantity might be different due to market conditions. All orders will be according to the real-time price.

2) Buy with premium [USDT]: Enter your USDT amount for premium. Our system will automatically calculate the required fee to place your order.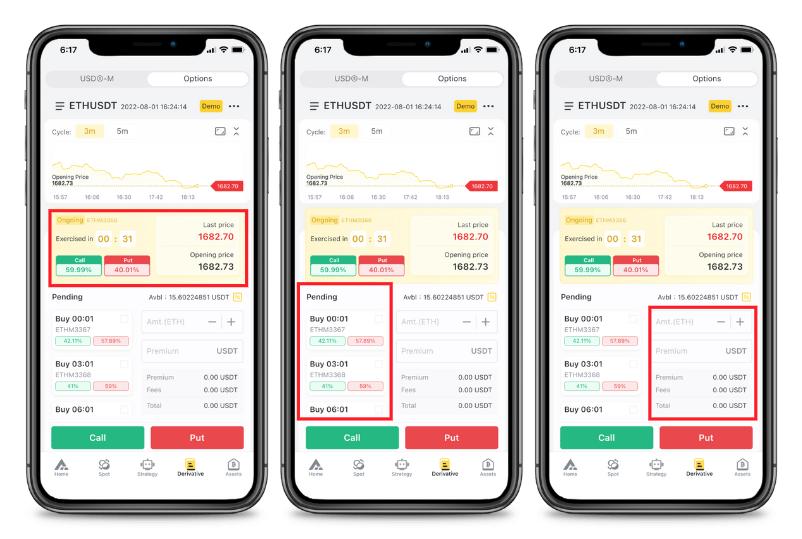 Step 5: Select [Call] or [Put] option
You can choose [Call] or [Put] to buy in options. Then click [Confirm], and you're all good to trade.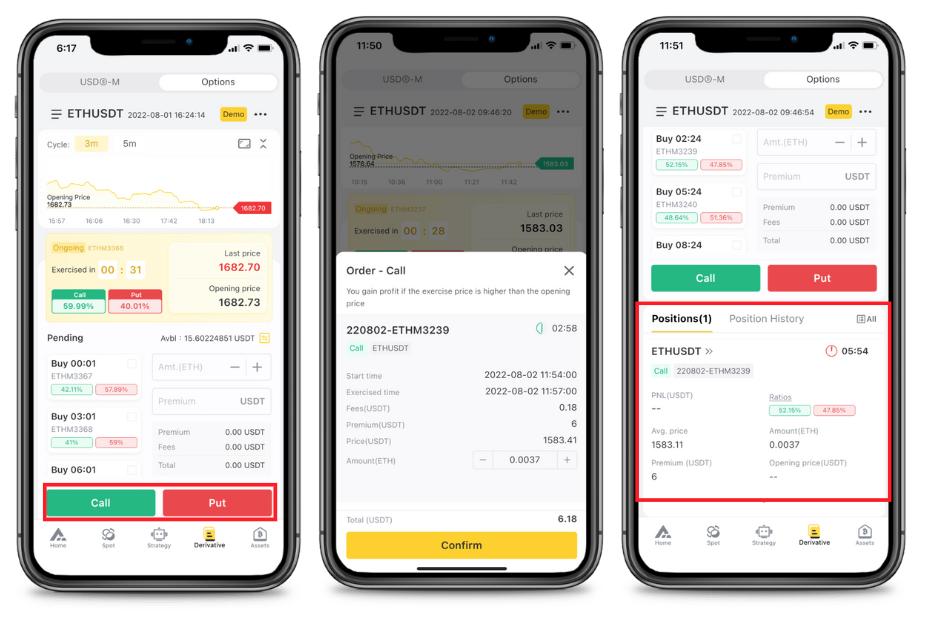 Can You Trade Options on Cryptocurrency Exchanges?
Yes, several crypto exchanges also offer futures in addition to FAMEEX, such as Binance, OKX and FTX. Choosing which cryptocurrency exchange to use usually boils down to its credibility and reliability. Usually, a crypto exchange is a marketplace where you can buy and sell cryptocurrencies, like Bitcoin, Ether or Dogecoin. They provide you with accounts where you can create different order types to buy, sell and invest in the crypto market.
Some additional factors to consider can be the purpose of Ethereum options trading, the experience level of the trader, the user-friendliness of the exchange platform, and the pricing of the exchange platform. It's worth mentioning that the choice of crypto exchange doesn't affect the financial outcome of trading but certainly affects the user's trading experience.
Can Beginners Use Derivatives Exchanges to Trade Options?
Yes, beginners can use derivatives exchanges to trade options. It is better to get some experience with easier trades before moving on to derivatives. Options are a form of derivative contract that gives buyers of the contracts (the option holders) the right (but not the obligation) to buy or sell a security at a chosen price at some point in the future. Option buyers are charged an amount called a premium by the sellers for such a right. FAMEEX options, is a type of options trading that gives traders the ability to buy options with cryptocurrency as the underlying asset. Traders profit by predicting the correct price movement, relative to the opening price in the underlying assets, by a certain expiry time. It's very simple to use and only needs traders to understand the concept of price movement in cryptocurrency and predict the potential direction of the market. The maximum loss will be the beginners' premium and fee.
What Should You Look for Before Choosing a Crypto Option Trading Platform?
Crypto options trading is already a popular investment method that grants the holder the right to buy or sell an asset at a specific price. While there are multiple crypto trading strategies that involve options, many traders make multiple transactions per day. Choosing the right platform for crypto options trading is critical to saving money and properly executing your trades.
Before starting to trade options, it is important to evaluate some perspectives on the crypto options trading platform. Here are some points that we list for you to check.
• Trading Fee: Many crypto exchanges offer different trading fees and usually have their own fee-related information on their websites. That is to say, before joining, you need to make sure you understand deposit, transaction, and withdrawal fees. Trading fees might differ upon the exchange you use.

• Ease of Use: When choosing an exchange as a beginner, it is important to consider the ease of use. The best exchanges are those that are easy to navigate and have a user-friendly interface. This will make it easier for you to complete the transaction and will help to minimize the chance of making any mistakes.

• Security Features: You will want to make sure the crypto exchange you are considering has implemented robust security features. These features can include two-factor authentication, security logs, and a host of other measures that will keep your account safe. FAMEEX supports 8 different verification methods for traders to secure their funds on the platform.

• Reputation: A solid reputation in security is very important. There have been several exchanges that have been hacked in the past, so you will want to avoid any of those. You can search reviews from individual users and with the help of well-known industry websites.

• Customer support: Immediate customer support can ease your pain from trading panic or anxiety. It also shows credibility and trustworthiness of the crypto exchanges. This will also help you to save valuable time when you encounter problems. You can find 24/7 customer support on the FAMEEX platform to solve your doubts or questions.

• Backtesting system: If you're not familiar with a certain product, people want to have a chance to try it out. FAMEEX options trading is distinctive in that it allows users to backtest strategies and trade with 100,000 (DEMO)USDT under demo mode. It is also unique for its support of trading with risk control to cancel or limit the orders if the market is off balance by more than 80% on one side. It's a zero-sum game between traders that's fair and transparent. The platform doesn't take the other end of the trade.
Reasons to Trade Options
Trading crypto derivatives has its advantages as it allows users to mitigate volatility-associated risks and hedge against potential losses. Trading options has a number of advantages over spot trading that makes it much more attractive as an investment opportunity. Options afford much more flexibility to traders in short term investment. They also offer access to different strategies that can prove profitable under various market scenarios. Below are some advantages of options trading that make it worthy of your investment:
• Portfolio Diversification: Traders concerned about volatility can protect against falling prices by buying a put option. When prices fall, the profits from the put option trade help offset losses in their portfolio. Also it's a quick way to earn revenue and allocate your portfolio.

• Hedge Risk: The cryptocurrency market is highly volatile. Sharp and sudden price swings are prevalent where prices rise as quickly as they fall. In options trading, it's very cost-efficient that you know your loss upfront before trading and provide another way to hedge your risk. Some crypto traders view market volatility as a chance to make money and options trading is one of those methods.

• Higher Profits: Compared to traditional American and European-style options, FAMEEX options trading is a zero-sum option that gives a higher chance of profit to traders. You don't require a huge investment. With as little as 6 USDT, you can easily open an options trade.
This should not be taken as investment advice. Please conduct your own research when investing in any project.