Top Trending Crypto News Today
FTX Exploiter Converts Millions in Ether to Alameda-Linked Ren Bitcoin Tokens
https://www.coindesk.com/tech/2022/11/20/ftx-exploiter-converts-millions-in-ether-to-alameda-linked-ren-bitcoin-tokens/
At 7:27 UTC Sunday, the hacker moved over 5,000 ether to a new wallet, blockchain data shows. An additional 35,000 ether was then moved to that wallet over three separate transactions. On-chain analysis of the new wallet shows the exploiter subsequently started to convert ether to renBTC using the decentralized exchange aggregator 1inch.

NFT-Linked Sandals Worn by Steve Jobs Sell for $218,000
https://www.coindesk.com/web3/2022/11/15/nft-linked-sandals-worn-by-steve-jobs-sells-for-218000/
The sandals, which were worn by Jobs "during many pivotal moments in Apple's history," according to Julien's Auctions, came with an exclusive 1-of-1 digital representation minted on the Polygon blockchain. According to the terms and conditions of sale, the non-fungible token (NFT) owner "is not acquiring ownership rights or Intellectual Property (IP) rights" to the NFT and cannot profit from its use.

Cardano to Get First USD-Backed Stablecoin by 2023, With New Privacy Blockchain and Token
https://beincrypto.com/cardano-to-gets-first-usd-backed-stablecoin-by-2023/
The launch of USDA is set for Q1 of 2023, and EMURGO is planning to enable the tokenization of other stablecoins, such as USDT and USDC, to USDA. Also, it revealed intentions to enable conversion and swaps of cryptocurrencies such as Bitcoin and Ethereum.

Daily Crypto Market Analysis - Growing and Forecast
In the past 24 hours, $108.67 Million longs were liquidated and $19.48 Million of shorts orders, net $89.19 Million longs. Among them, the amount of liquidated longs hit a new high in the past 10 days.

The fear/greed index rose slightly to 24, below the watershed 30, which means that investors are very conservative about the future trend, the market panic caused by the FTX incident has not yet calmed down, and follow-up developments still need to be observed in the short-term.

Bitcoin Ahr999 is 0.3 today, which is at the support (0.45) and the DCA line (1.2), indicating that the market is still in the long-term bottom area.


All three major U.S. stock indexes rose on Friday, with the Dow up 0.59%, the S&P 500 up 0.48%, and the Nasdaq was relatively weak, rising only 0.01%. All cryptocurrencies fell yesterday, BTC fell -2.74%, ETH fell -6.56%, and CHZ was the weakest, plummeting -20.6%.

According to IBES data from Refinitiv, analysts were forecasting a 0.4% fall in year-over-year fourth-quarter earnings for S&P 500 companies, which compares with the 5.8% increase they forecast last month.

The market generally sees a decline in corporate profits next year. Goldman Sachs recently lowered their 2023 EPS growth forecast to 0%, citing the fact that more than half of the decline in profits was caused by technology and tech-related companies. Rising Treasury yields have pressured shares of tech and growth companies especially hard.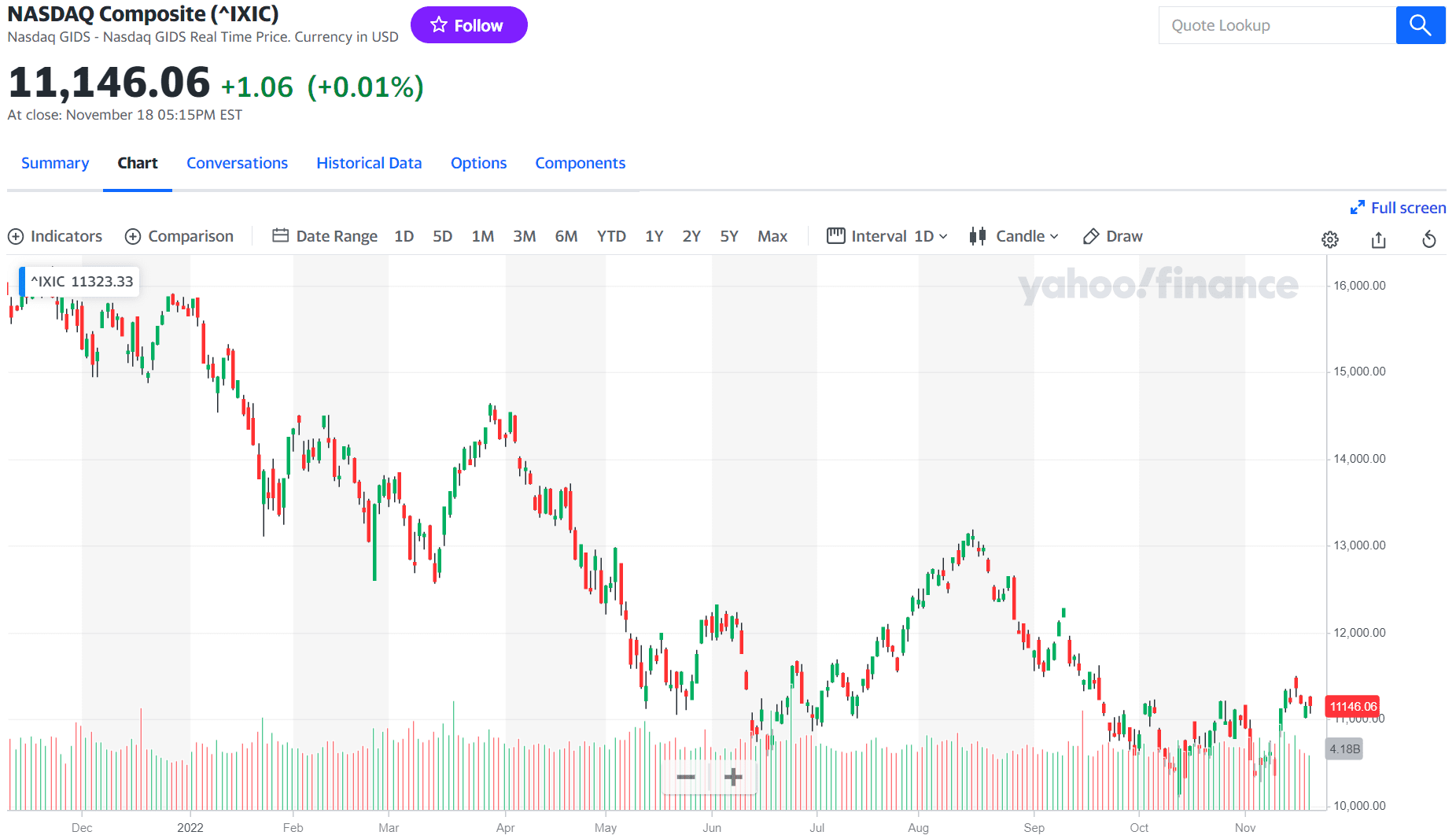 All mainstream currencies fell yesterday, ranging from -20.6% to -2.6%. Among them, CHZ was the weakest, plummeting -20.6%, while LTC was relatively strong, only falling -2.6%. While BTC fell -2.74%, ETH fell -6.56%.

Looking at ETH based on the 4-hour chart, the moving averages are arranged in a short position, the market is still bearish.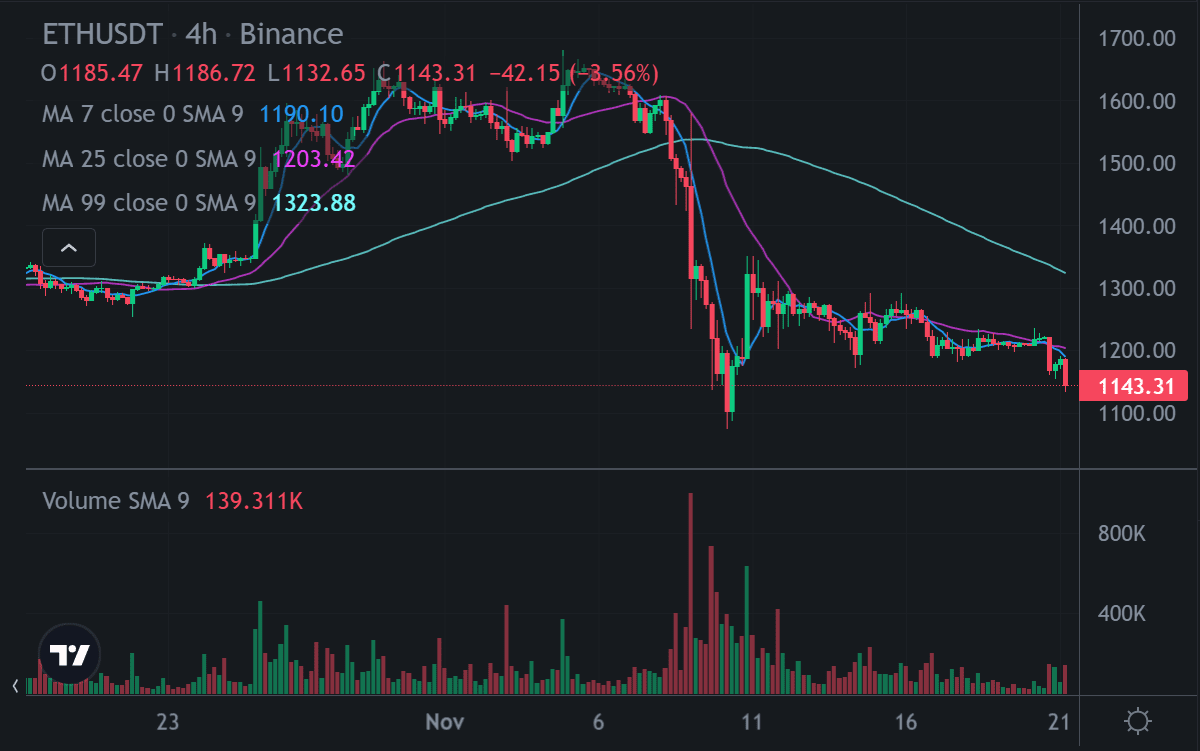 Disclaimer: The information provided in this section is for informational purposes only, doesn't represent any investment tips or FAMEEX's official position.