ETH Devs Implement First-Ever 'Shadow Fork' as PoS (Proof-of-Stake) Testing Continues to Make the Network More Secure and Energy-Efficient
2022-04-12 15:13:15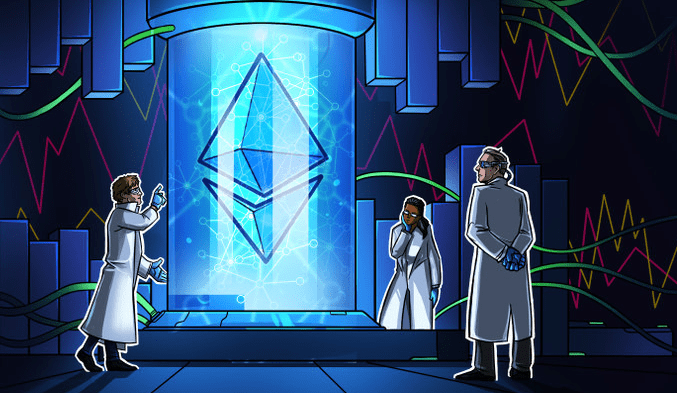 Ethereum developers implemented the network's first-ever "shadow fork" on Monday, marking an important milestone in the ongoing shift to a PoS (proof-of-stake) consensus. It doesn't have an impact on Ethereum yet, but allowed the Ether (ETH) price to temporarily break a months-long downtrend.
The shadow fork provides a venue for developers to stress test their assumptions around the network's complex shift to PoS, according to Ethereum Foundation developer Parithosh Jayanthi. "The aim of the Kiln merge testnet was to allow the community to practice running their nodes, deploying contracts, testing infrastructure, etc.," he tweeted on Sunday.
Kiln refers to the last testnet of the so-called merge, which involves transitioning Ethereum's Execution Layer from proof-of-work to PoS. In a March 14 blog post, the Ethereum Foundation described the merge as a "culmination of six years of research and development" intended to make the network more secure and energy-efficient.
Ethereum Foundation developer Marius van der Wijden confirmed on Monday that PoS testing was underway. "Today will be the first mainnet shadow fork ever. We're roughly 690 blocks (~2 h) away from TTD," he tweeted.
Positive developments surrounding the merge have fed an increasingly bullish narrative for Ethereum — one that allowed the Ether (ETH) price to temporarily break a months-long downtrend. While ETH and the broader crypto market are recoiling in a new bout of risk aversion, the prospect of earning passive rewards on the Ethereum network has attracted considerable interest from investors.
The number of staked ETH on Ethereum's Beacon Chain is fast approaching 10.9 billion, with the average balance currently 33.5 ETH, according to industry data. Beacon Chain currently has over 340,000 validators, which represents a gain of 13% from early March when the 300,000th validator was first recorded.
(Article Courtesy of Cointelegraph)