Discover the latest BDP price with FameEX's BDP/USD Price Index and Live Chart. Keep up-to-date with the current market value and 24-hour changes, as well as delve into Big Data Protocol's price history. Start tracking BDP price today!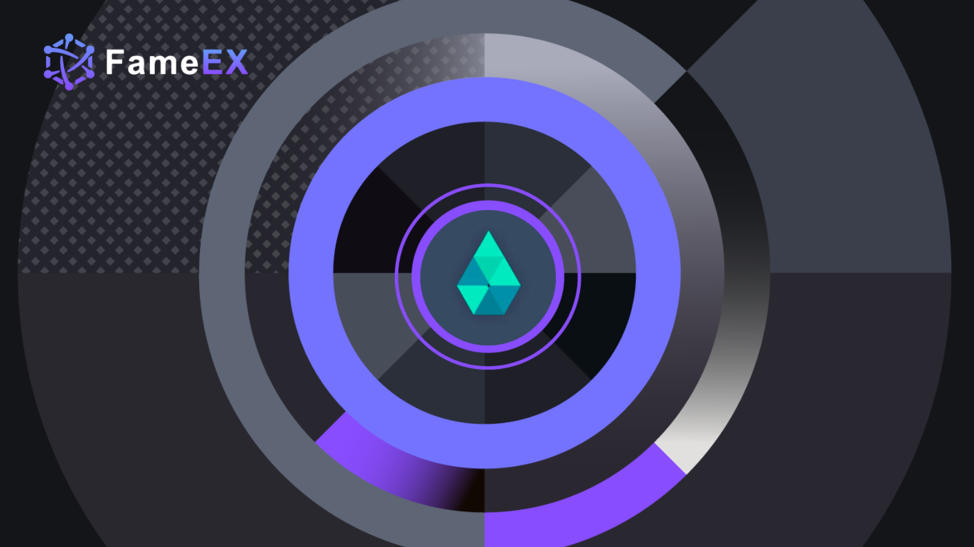 What is BDP (Big Data Protocol)?
Big Data Protocol (BDP) represents a transformative approach in the data marketplace, focusing on the tokenization of valuable commercial data. It operates through a decentralized network which comprises 19,590 unique data providers. By tokenizing data, BDP seeks to create liquid assets that can circulate effortlessly in the decentralized ecosystem.
The driving force behind BDP is to make data a tradable commodity. Instead of it remaining static or inaccessible, this protocol breathes life into data, allowing for a more dynamic exchange and utilization by various stakeholders. Introduced to the market on March 6, 2021, BDP witnessed an explosive debut with both its trading volume and token price surging considerably. To grow further, BDP collaborates with Amass Insights, an alternative data provider brainchild of Jordan Hauer, also the founder of BDP. The partnership results in the creation of a tokenized dataset termed bALPHA. Liquidity providers for the bALPHA-ETH or BDP-ETH trading pairs on Uniswap are rewarded with bALPHA tokens. Therefore, bALPHA tokens can be exchanged for actual datasets to symbolize a tangible, tokenized representation of data.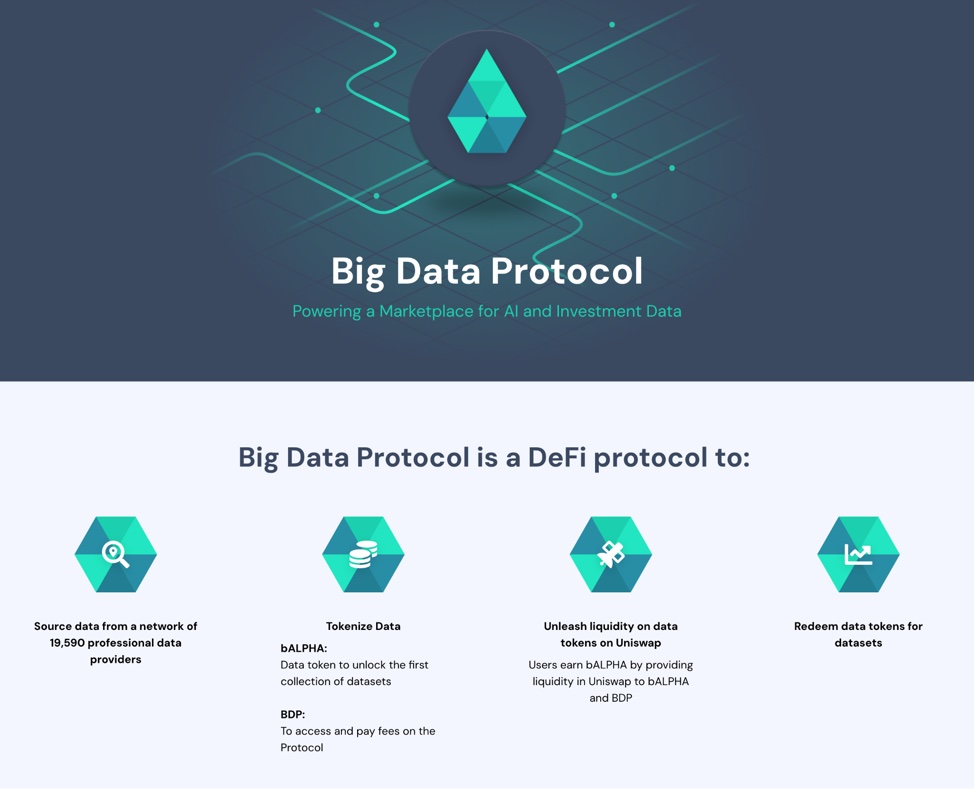 Source: Official website

How does BDP (Big Data Protocol) work?
Big Data Protocol operates as an open marketplace that bridges data buyers and sellers, advocating transparency and fairness. Sellers have the privilege to monetize their data by listing it on the BDP platform. In contrast, buyers have the luxury of accessing a plethora of high-quality data spanning various domains. Central to BDP's framework is its decentralized design to ensure optimal data security and granting users unbridled control over data usage.
A distinctive aspect of BDP is its deployment of a Data Oracle Network (DON). This network of decentralized oracles curates real-time market data for data assets, ensuring that pricing remains both contemporary and accurate. As such, both data sellers and buyers are always apprised of the most up-to-date data valuations. To further elevate user experience, BDP offers an assortment of tools and services tailored for seamless data discovery, comprehensive analysis, and practical utilization. These range from intuitive data visualization tools to robust data analytics utilities. Moreover, APIs are in place to empower developers to architect various applications harnessing the vast potential of the BDP platform.
BDP (Big Data Protocol) market price & tokenomics
The Big Data Protocol (BDP) has established a unique and community-centric approach to its tokenomics. A striking feature of BDP is that its initial circulating supply was fully distributed to the community, with no allocation for token sales. Parallelly, the first data token, bALPHA, saw its total supply earmarked for liquidity mining, distributed over a three-month period. This model of liquidity mining extends into the long term. Participants in the Big Data Protocol provide liquidity with the incentive of earning bALPHA tokens, and following bALPHA, other data tokens like bBETA and bGAMMA will be introduced, further propelling liquidity incentives. Furthermore, as the usage of the Protocol and its associated marketplace expands, a mechanism for burning both BDP and data tokens has been instituted. BDP is utilized and consequently burned to gain access to the Protocol, the data marketplace, dataset submission fees, and for curation services. Meanwhile, data tokens meet their burn fate when they are redeemed for datasets. This strategic combination of distribution, liquidity mining, and burn mechanisms underpins BDP's tokenomics, driving value and sustainability for its ecosystem. As of now, BDP (Big Data Protocol) is ranked #1015 by CoinMarketCap with market capitalization of $3,394,995 USD. The current circulating supply of BDP coins is 50,859,856.
Why do you invest in BDP (Big Data Protocol)?
Investment in BDP resonates with the belief in the protocol's vision of a decentralized, transparent, and dynamic data marketplace. The project showcases an innovative approach to data's liquidity and accessibility. With blockchain technology and smart contracts at its core, BDP ensures data authenticity and upholds quality standards. Moreover, with seasoned professionals steering the ship, BDP has the expertise to navigate the often tumultuous waters of crypto space.
Is BDP (Big Data Protocol) a good Investment?
From a macro perspective, BDP stands out with its promise of a decentralized data marketplace, leveraging the prowess of blockchain technology and smart contracts to safeguard data quality and ensure its genuine origin. The experienced team behind BDP further adds credence to its potential success. While its prospects appear promising, the inherent uncertainties and challenges in the crypto domain underscore the importance of thorough personal research and due diligence. It's paramount to remember that all investments carry risks, and this is not financial advice.
Find out more about BDP (Big Data Protocol):