Discover the latest GNO price with FameEX's GNO/USD Price Index and Live Chart. Keep up-to-date with the current market value and 24-hour changes, as well as delve into Gnosis's price history. Start tracking GNO price today!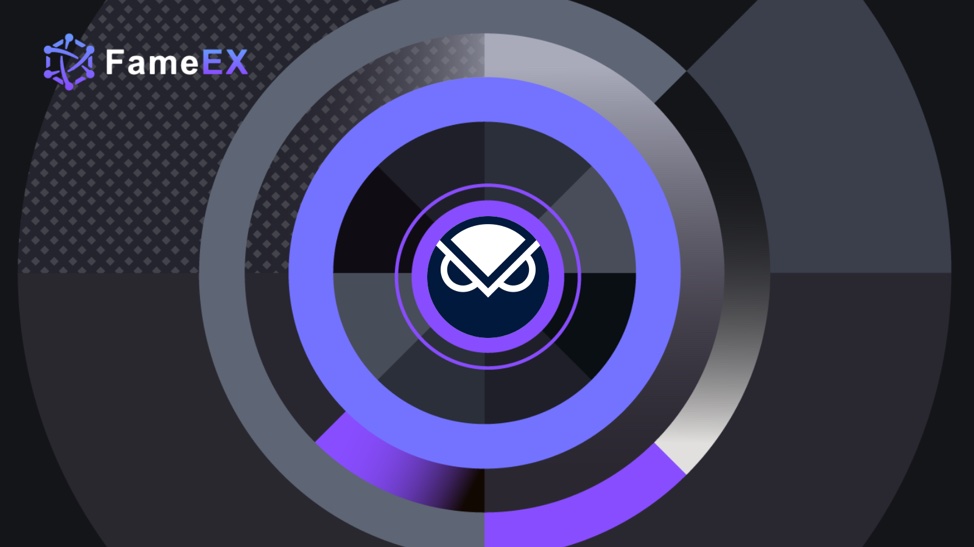 What is GNO (Gnosis)?
Gnosis (GNO) is a strong, decentralized ecosystem engineered on the Ethereum blockchain. It facilitates the creation of markets for speculating on any given event, thereby enabling predictions with a certain degree of confidence. Gnosis was conceived with an ambition to revolutionize the predictive market landscape by establishing a global standard for such markets and providing an efficient forecasting tool. Leveraging the Ethereum Protocol, Gnosis ensures a secure, transparent platform that is open source.
Gnosis had its inception in 2015 under the auspices of ConsenSys Inc., a software enterprise heavily focused on Ethereum. It was later independently funded in 2017, accompanied by the launch of its native GNO token. The organization operates as a Decentralized Autonomous Organization (DAO) to deliver infrastructure to various decentralized applications (dApps). Besides, GNO produces products to guide transparently the development, support, and governance of its ecosystem. Notably, Gnosis pivoted into a DAO in 2020, later incubating Gnosis Safe and creating Gnosis Chain, which have consistently fueled demand. With a series of successful products such as Gnosis Safe, Cow Protocol, Conditional Tokens, Gnosis Auction, and Zodiac, Gnosis has truly become a stalwart in providing decentralized infrastructure for the Ethereum ecosystem.
How does GNO (Gnosis) work?
Gnosis functions through a tri-layered system, namely Gnosis Core Layer, Gnosis Service Layer, and Gnosis Applications Layer. The core layer offers the fundamental smart contracts that act as the backbone of the Gnosis platform. The service layer, on the other hand, provides additional resources for consumer applications, and includes tools such as chatbots and stable coins. The applications layer consists of front-end tools that cater to specific prediction markets or select customer segments. These applications may be developed by Gnosis or third-party entities.
Gnosis' prediction market, known as Apollo Network, enables users to establish a market for any arbitrary event. As these events unfold or as time passes, the values of certain outcomes increase, thereby influencing the value of related tokens. Once an event reaches its conclusion, tokens that represent the final outcome realize the full value of the bets, while the others become worthless.
Gnosis (GNO) has consistently demonstrated its innovative prowess and ability to adapt to the changing market demands since its inception. In a recent new integration of traditional payment methods with blockchain technology, Gnosis has announced the launch of two products aimed at enabling crypto wallet users to transact for everyday purchases using stablecoins via Visa's payment system. The two offerings, called Gnosis Pay and Gnosis Card, represent the first instances of a decentralized payment network partnering with a conventional payment processor, and a Visa-certified consumer debit card directly linked to an on-chain self-custodial wallet.
Gnosis Card, which is powered by the Visa payment system, will function as a debit card directly linked to a user's on-chain account, which is part of the Gnosis Pay decentralized payment network. Users' crypto wallets, particularly Safe wallets, will serve as a substitute for a bank account, with each Gnosis Card being connected to the user's Safe account. Moreover, Gnosis Pay will also function as a layer 2 to the Gnosis chain, facilitating faster and cost-effective transactions. From a user experience standpoint, the transition to this system is designed to be seamless, replicating traditional payment mechanisms while utilizing cryptocurrency to settle transactions.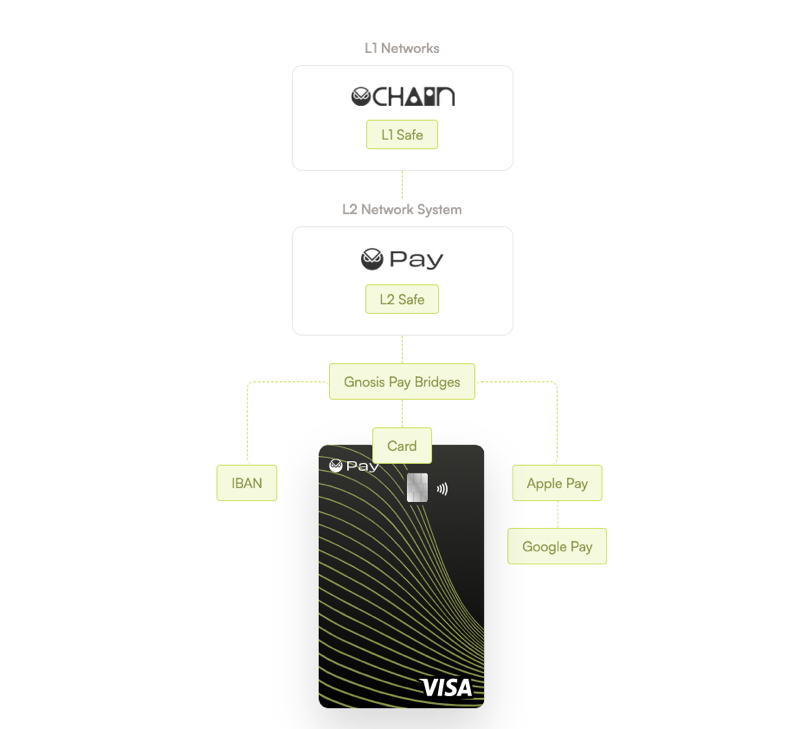 Source: Gnosis Pay
The launch of these products also extends Gnosis' existing relationship with Safe, a separate entity spun out from Gnosis, as evidenced by the use of Safe wallets with Gnosis' latest offerings. The synergy between the two entities is underscored by Safe's support of Gnosis Pay via the development of smart contracts, now instrumental to every Gnosis Card issued.
GNO (Gnosis) market price & tokenomics
The native token of the Gnosis ecosystem, GNO, is integral to the operation and governance of the platform. GNO boasts a maximum supply of 3,000,000 coins. These tokens can be acquired on the secondary market, and the platform does not support staking or yield farming. GNO token holders gain access to the GnosisDAO platform, where they can voice their opinions on protocol modifications, influence the project's developmental direction, participate in prediction markets, and receive rewards. As of now, GNO (Gnosis) is ranked #103 by CoinMarketCap with market capitalization of $306,257,271 USD. The current circulating supply of GNO coins is 2,589,588.
Why do you invest in GNO (Gnosis)?
Investing in Gnosis (GNO) presents a multifaceted opportunity, not only due to the comprehensive suite of applications and infrastructures it offers but also its highly qualified team and forward-thinking initiatives. Built on the Ethereum blockchain, Gnosis facilitates a decentralized ecosystem, fueling innovation with various applications like Gnosis Safe, Cow Protocol, Conditional Tokens, Gnosis Auction, and Zodiac.
The key advantage of Gnosis lies in its role as an infrastructure provider for decentralized applications (dApps), opening vast opportunities for developers to build and experiment on a reliable, transparent platform. Gnosis's native GNO token is vital for its operational and governance mechanisms. Owners can participate in decisions regarding protocol changes and development direction, which can be rewarding in the context of growing DeFi and blockchain industries. Gnosis's team led by Martin Köppelmann and Stefan George has demonstrated a proven track record in blockchain and business development. With a combination of solid technological underpinnings and a forward-thinking approach to development, Gnosis is well-positioned in the blockchain ecosystem. The recent selection of Succinct Labs' Ethereum ZK Light Client for securing its mainnet omnibridge underscores Gnosis's commitment to user security, which is a crucial factor for any potential investor. Gnosis (GNO) represents a promising investment given its scalable infrastructure, compelling products, experienced team, and commitment to security and decentralization.
Is GNO (Gnosis) a good Investment?
Gnosis (GNO) has consistently demonstrated its innovative prowess and ability to adapt to the changing market demands since its inception. Its ever-expanding suite of decentralized products and robust infrastructure, coupled with the forthcoming launch of Gnosis Pay, position it favorably in the ever-evolving world of blockchain and crypto-assets. However, like all investments, it carries a degree of risk and should be considered as part of a diverse portfolio. It is strongly recommended that potential investors thoroughly research and understand the project and the wider crypto market before investing.
Find out more about GNO (Gnosis):