Discover the latest NEAR price with FameEX's NEAR/USD Price Index and Live Chart. Keep up-to-date with the current market value and 24-hour changes, as well as delve into Near Protocol's price history. Start tracking NEAR price today!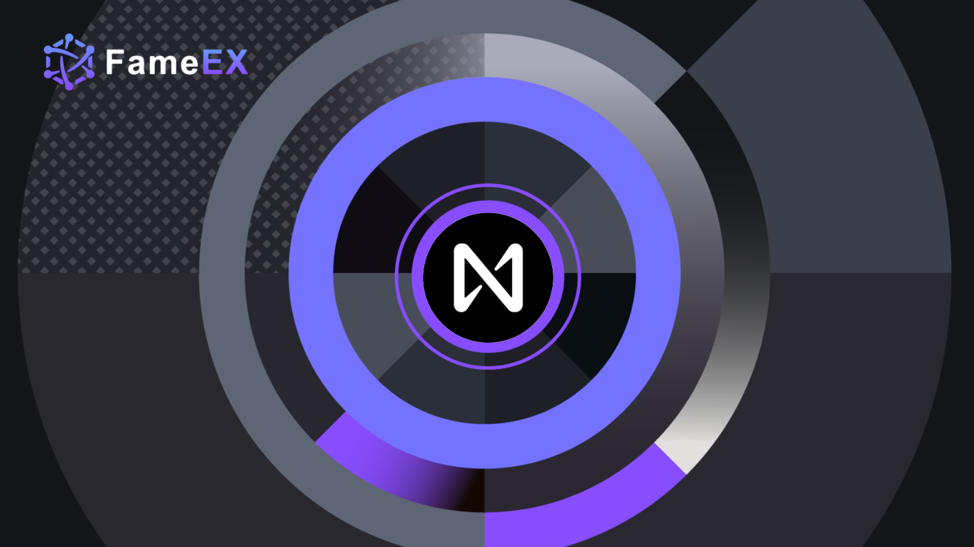 What is NEAR (Near Protocol)?
NEAR Protocol is an advanced base protocol designed to facilitate the operation of Decentralized Applications (DApps) efficiently on mobile devices. This scalable protocol empowers developers to create blockchain-based mobile DApps, which can be run directly on users' devices. Furthermore, it offers crucial insights into these DApps. Leveraging state sharding technology, the blockchain can scale proportionally with the number of nodes within the network, aiming to achieve a target of 100,000 transactions per second (TPS) with the assumption of 1 million mobile nodes. NEAR tokens are employed as a means to compensate validators who supply the network with precious computational and storage resources.
Near Protocol acts as a layer-1 blockchain network, a fundamental platform that allows developers to construct decentralized applications. As such, it's often compared with Ethereum, the most successful layer-1 blockchain to date, making Near and similar protocols potential contenders in the blockchain sphere. Performance metrics for layer-1 networks, such as transaction costs and speed, along with the capacity to preserve these qualities as transaction volumes surge, are critical areas of focus and innovation for protocols like NEAR.
How does NEAR (Near Protocol) work?
The surge in popularity of decentralized applications in the crypto landscape has brought about the issue of scalability, which has proven to be a persistent challenge for numerous blockchains. The primary obstacles stem from blockchains' inability to process large volumes of transactions swiftly and at a reasonable cost. Near Protocol addresses this scalability problem by introducing a completely new blockchain that employs a unique architecture with sharding as its cornerstone solution.
Sharding allows Near to fragment the blockchain into smaller and more manageable segments, thereby reducing the computational load on the network and increasing transaction throughput. To facilitate transactions, Near Protocol employs a Proof of Stake (PoS) system where nodes interested in becoming validators stake their NEAR tokens to be considered for the role. Token holders can delegate their stake to a preferred validator if they do not want to operate a node. Validators are selected through an auction process in every epoch (usually a 12-hour interval) with those staking more tokens typically having more influence in the consensus process.
NEAR (Near Protocol) market price & tokenomics
The primary utility of the NEAR token is to pay transaction fees and to act as collateral for data storage on the blockchain. The protocol also rewards various stakeholders, including transaction validators, with NEAR tokens. Validators receive a reward in NEAR tokens at every epoch, equivalent to 4.5% of the total NEAR supply annually. Developers of smart contracts also receive a share of transaction fees generated by their contracts. The remaining transaction fee is burned, enhancing the scarcity of the NEAR token. Additionally, NEAR supports tokens "wrapped" from other chains and non-fungible tokens (NFTs). It has also established a bridge with Ethereum, permitting the transfer of ERC-20 tokens between the Ethereum and NEAR ecosystems.
As of now, NEAR (Near Protocol) is ranked #39 by CoinMarketCap with a market capitalization of $1,349,507,005 USD. The current circulating supply of NEAR coins is 926,570,499.
Why do you invest in NEAR (Near Protocol)?
Investing in NEAR could be a strategic decision, as the NEAR Foundation, the non-profit entity overseeing the protocol, has recently collaborated with Alibaba Cloud, a technology powerhouse in China. This partnership aims to propel the evolution of Web3 technologies in Asia and the Middle East. In addition, the foundation and Alibaba Cloud are cooperating to offer remote procedure calls (RPC) to facilitate developers and users in the NEAR ecosystem. Moreover, users will gain access to the NEAR Blockchain Operating System (BOS), a platform that enables developers to create applications and interact with other users.
Is NEAR (Near Protocol) a good Investment?
NEAR appears to be a promising investment, given its potential to process more transactions per second than many existing blockchain networks, including Ethereum and Bitcoin. Its novel architecture leveraging sharding technology addresses the critical issue of blockchain scalability. Furthermore, the protocol's collaboration with Alibaba Cloud and the offering of remote procedure calls and the Blockchain Operating System (BOS) shows its commitment to supporting developers and advancing the blockchain ecosystem. Consequently, these factors might contribute to the long-term value growth of the NEAR token. However, as with any investment, it's crucial to conduct comprehensive research and consider the associated risks before making a decision.
Find out more about NEAR (Near Protocol):