Discover the latest OP price with FameEX's OP/USD Price Index and Live Chart. Keep up-to-date with the current market value and 24-hour changes, as well as delve into Optimism's price history. Start tracking OP price today!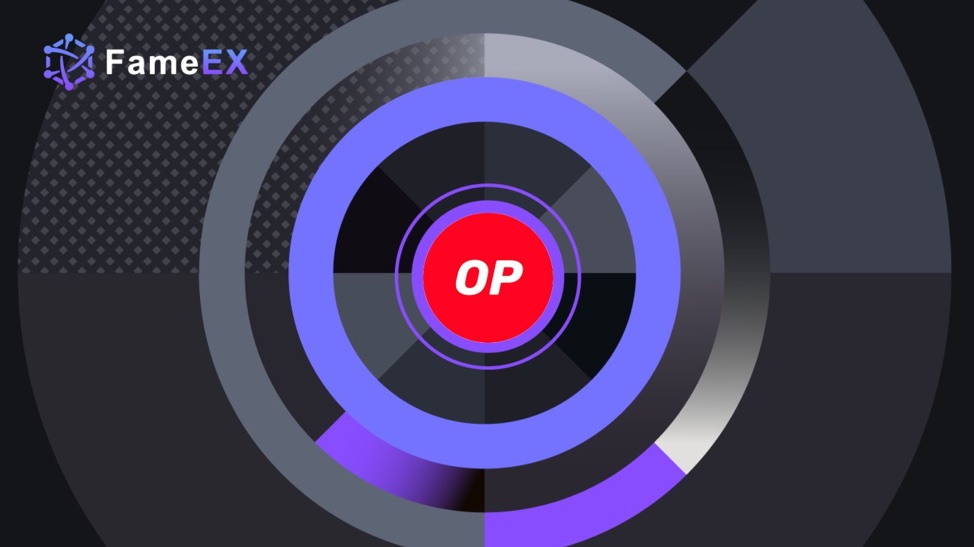 What is OP (Optimism)?
Optimism (OP) is an advanced layer-two blockchain protocol constructed over Ethereum. It capitalizes on the robust security infrastructure of the Ethereum mainnet, allowing it to amplify the scalability of the Ethereum ecosystem through a technology known as optimistic rollups. This implies that transactions are securely and trustful processed on Optimism, but ultimate security and verification are ensured on Ethereum.
Optimism has emerged as a formidable scaling solution for Ethereum, boasting over $300 million in total value locked (TVL). It serves as a platform for 35 protocols, the most significant of which are Synthetix (SNX), a derivatives exchange; Uniswap (UNI), a decentralized exchange; and Velodrome (VELO), an automated market maker. Users can commence their interaction with Optimism by incorporating the chain on their Metamask and transferring tokens like ETH to layer-two. On May 31, 2022, Optimism successfully carried out an anticipated airdrop of its OP token, attracting a surge of interest that momentarily impacted the speed of the Optimism blockchain. In addition, Optimism announced a name change to "OP Mainnet" via their official Twitter on 24th June, 2023.
How does OP (Optimism) work?
Optimism's utility primarily arises from its implementation of optimistic rollups. These are innovative means of constructing a blockchain designed to capitalize on the security provisions of a parent network such as Ethereum. In Optimism, blocks are securely stored in a distinct smart contract on Ethereum, known as the Canonical Transaction Chain or CTC. The CTC ensures the integrity of the list of blocks, preventing their alteration by newer transactions on Ethereum. This security can only be compromised if a reorganization occurs on the Ethereum network, causing a change in order.
In Optimism, block production is managed by an entity known as the 'sequencer.' The sequencer facilitates instant transaction confirmations and state updates, constructs and executes layer-two blocks, and submits user transactions to layer one. It operates without a mempool, meaning transactions are promptly accepted or rejected, in the order they are received. After validating the transactions, the sequencer applies them to the local state as pending blocks. These blocks are subsequently batched and submitted periodically to Ethereum's network for finalization.
OP (Optimism) market price & tokenomics
The introduction of the OP token was done through an airdrop, which disbursed 5% of the total supply to eligible users, including DAO voters, Multi-Sig signers, repeat Optimism users, and Gitrcoin donors. The team behind Optimism has indicated that there will be subsequent airdrops, with 19% of the total token supply set aside for this purpose. As of now, OP (Optimism) is ranked #48 by CoinMarketCap with a market capitalization of $5,243,844,422 USD. The current circulating supply of OP coins is 4,294,967,296.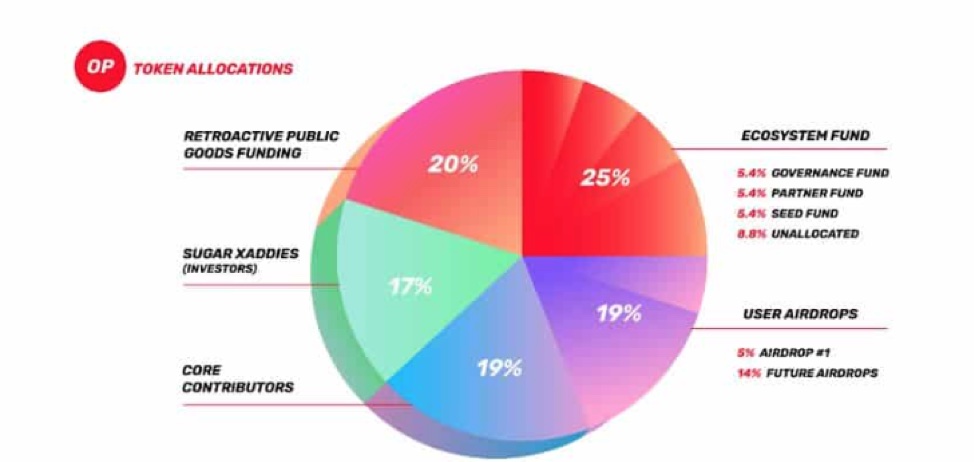 Source: Optimism website
Why do you invest in OP (Optimism)?
The escalating popularity and increased adoption of the cryptocurrency sector have heightened the demand for decentralized applications (dApps) across diverse fields, such as DeFi, gaming, education, trading, and investing. Despite this popularity, primary blockchains like Ethereum have struggled with issues related to scalability, affordability, and accessibility. Optimism presents a practical solution to these challenges by improving Ethereum's scalability. By offloading some transactional volume from Ethereum's main network, Optimism ensures smoother, faster, and more affordable transaction processing. Furthermore, the developers' commitment to future airdrops presents an appealing opportunity for potential investors.
Is OP (Optimism) a good Investment?
Given its fundamental role in improving Ethereum's scalability and the consistent growth of the Ethereum ecosystem, Optimism shows promising potential as an investment. As one of the leading scaling solutions for Ethereum, it addresses critical network issues, ensuring that dApps can run smoothly and affordably. Its ongoing developmental progress, including a proposal to upgrade the Optimism mainnet to Bedrock - a new generation of decentralized Rollup architecture, signals a promising future. It's also worth monitoring the progression of layer-two solutions in the coming years, as the battle between optimistic rollups and ZK-rollups continues.
Find out more about OP (Optimism):