Shiba Inu(SHIB)
SHIBA INU is a Decentralized Meme Token that Evolved into a Vibrant Ecosystem
2022-02-01 19:09:35
Once upon a time, there was a very special dog. That dog was a Shiba Inu, and this dog inspired millions of people around the world to invest money into tokens with the dog's image on it.

According to the SHIBA INU website, SHIB is the "DOGECOIN KILLER" and is listed on their own ShibaSwap, a DEX. Shiba Inu coin was created anonymously in August 2020 under the pseudonym "Ryoshi." Ryoshi says about himself that he is a nobody and not important and that the efforts to unmask his identity, even if successful, would be underwhelming.
Daily historical price (USD)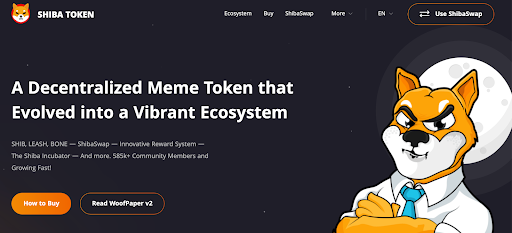 What is Shiba Inu?
Shiba Inu is an ERC-20 token running on the Ethereum Network instead of its own blockchain. In August 2020, an anonymous developer with a pseudonym Ryoshi started the project as an experiment in community governance, meaning a test of how a community could decide on changes. Another anonymous friend helped Ryoshi set up the smart contract token and invested 10 Ethers in an ETH-SHIB pair on Uniswap. The behavior indicates that users can give Uniswap some Ethers for "swapping" SHIBs.
Meme coin supporter Elon Musk then went on the stage in March 2020 with a tweet which resulted in unstoppable SHIB to surge 300%. However, it should be clear that Musk later told Twitter users that he did not have any SHIB.
During the same period of time, the developers of SHIB gave a huge amount of SHIB tokens to Ethereum co-founder Vitalik Buterin. People in the crypto community thought that the gesture was purely a campaign stunt. Later on, Buterin sold part of the SHIBs and then donated to charity, an India Covid relief fund. As for the remaining $6.7 billion dollars of SHIB, he burned them.
ShibaSwap
Owning a crowd of followers, SHIB has a thriving online community and its ecosystem consists of a decentralised exchange called ShibaSwap as well as two other tokens, $LEASH and $BONE .
ShibaSwap allows users to trade their SHIB to other cryptocurrencies without an intermediary which is pretty much the same as other DEXs such as SushiSwap or PancakeSwap work.
Users can also stake tokens to earn interest on ShibaSwap. BONE is the governance of the platform with a total of 250 million of supply while $LEASH is a secondary token used to track the price of DOGE at the very beginning in order to become the so-called Dogecoin killer. However, LEASH has just existed as a store of value now. Owning BONE is another story since it is a governance token, indicating you have a say in the DAO or decentralized autonomous organization of ShibaSwap which controls the future of SHIB.
ShibaSwap offers six functions for users, including NFTs, analytics platform, staking and liquidity pools. Users can "Dig" in the liquidity pools where users can exchange or yield farm to get some passive income. Staking function is named as "Bury" on the platform and it is for users to put up the coins to help the network operate and get paid out a return.
Best known as the Dogecoin killer, SHIB can use the smart contract feature thanks to the Ethereum Network while DOGE is very much a copy of Bitcoin as a digital money only. Therefore, SHIB could be utilized in a lot more aspects in the crypto market and staking is one of them.
The $SHIB Token
Though created to beat DOGE as another meme coin, SHIB seems to move forward to do "real deals" such as building up a DEX platform. However, the price is still highly dependent on the hype, speculation or simply Elon Musk's tweets. That's why to many investors SHIB is still more like a meme coin instead of a blockchain project with underlying value.
Now trading at $0.00002136, SHIB has decreased more than 76% from its all-time high since last October with the value of $0.00008845 and its market capitalization is now around 12.6 billion.
Find FAMEEX on 👇
Twitter: https://twitter.com/FameexGlobal
Instagram: https://www.instagram.com/fameex_global/
Telegram: https://t.me/fameexgroup
Facebook: https://www.facebook.com/FameexGlobal
Official Website: https://www.fameex.com/
Trade on-the-go with FAMEEX's crypto trading app (iOS/Android)