Touted by many as a potential rival to Ethereum as a blockchain platform, Solana has been in the news recently because of a huge exploit of wallet private keys. What's really going on with Solana?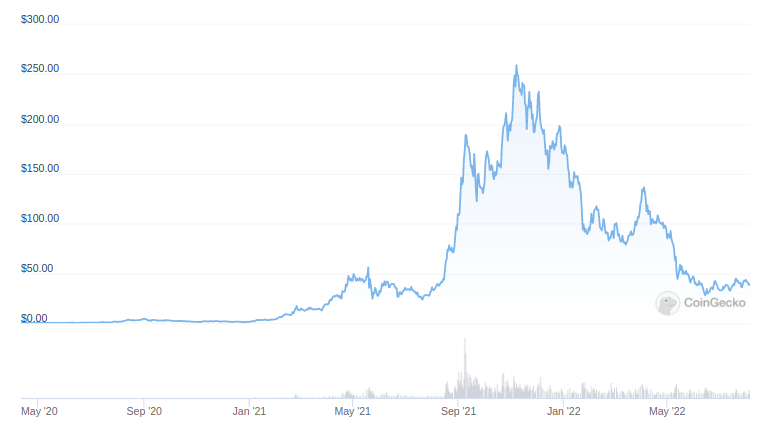 Coingecko.com - SOL price
The History of SOL
Solana was invented by Anatoly Yakovenko, Greg Fitzgerald and Stephen Akridge in 2017 and the genesis block occurred in 2020. The idea behind it is that it uses something the Solana team calls "Proof of History". Proof of History (PoH) is a network-wide, permissionless source of time that operates before consensus. PoH is not a consensus mechanism but a cryptographic solution to track time by creating timestamps in a blockchain network. It's a solution for the clock problem on the blockchain that uses a VDF (Verifiable Delay Function). Solana aims to solve the blockchain trilemma by sacrificing a bit of decentralization in favor of speed. Over the last 2 years, Solana has grown to become one of the biggest blockchains in the world in terms of market valuation.
Economics of SOL
According to solanabeach.io there are roughly 2000 validators listed on the Solana network, with 30 Validators accounting for more than 33.3% of the stake which would theoretically allow them to halt the network if they all colluded.
There is no total max supply of SOL. Solana has a future planned inflation rate of 1.5%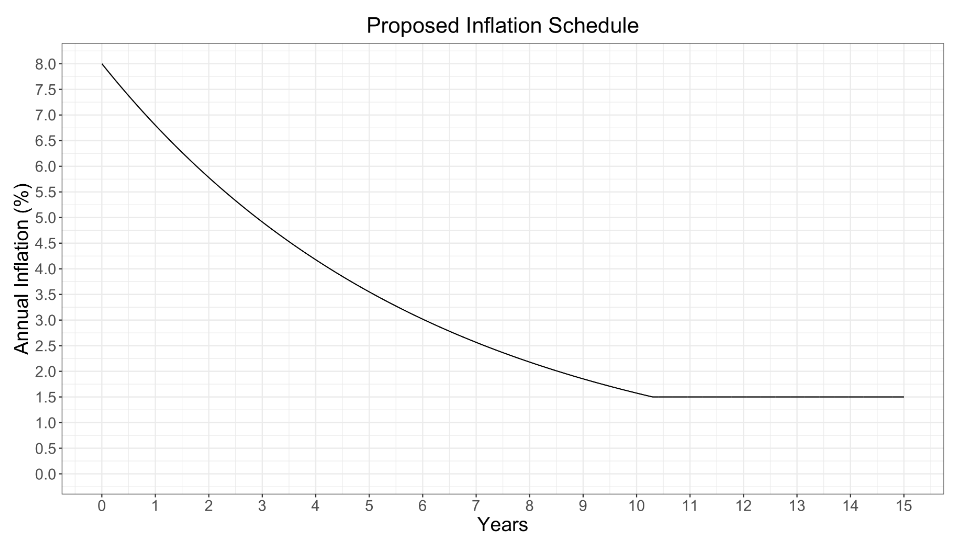 docs.solana.com
According to data from Coinmarketcap Solana has a circulating supply of 346 Million, and in 8 years time there will be a total supply of 700 Million, and then a continuing inflation rate of 1.5%.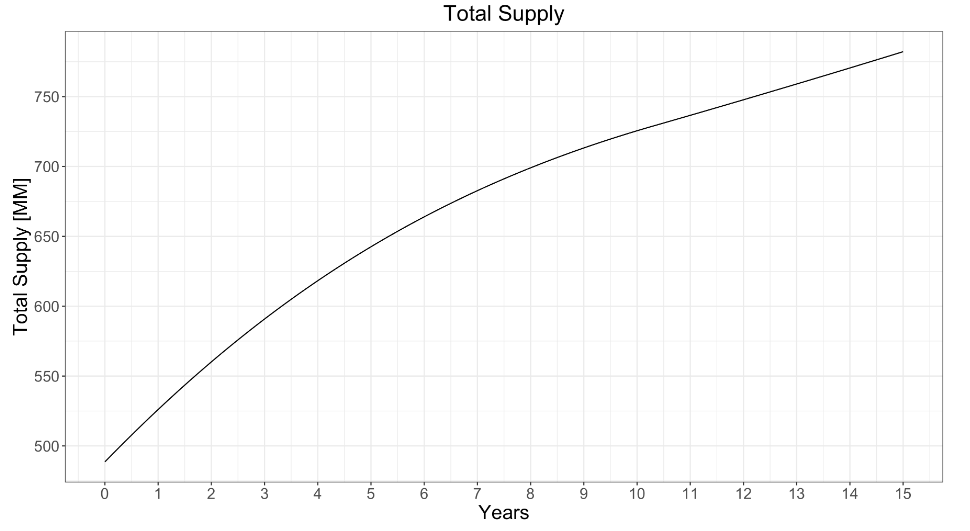 docs.solana.com
This inflation is in the form of staking rewards for validators, providing them with a yield.
Solana has a wide range of dapps and projects built on the network. Aside from the usual stablecoins that can be found on other blockchains such as USDT and USDC, there are also Dexes, such as Serum, Orca and Mercurial.fi. Other large Dapps include STEPN, the largest 'Move 2 Earn' game, Solend, a lending protocol and a multitude of DeFi, NFT and Metaverse apps drawn to Solana by its fast and cheap transactions.
Fast Blockchain
Developers are drawn to Solana due to its speed. We interviewed developers who moved over from working on Ethereum to developing on Solana. The general opinion is that although the initial learning curve is steep due to having to learn Rust programming language, the blockchain itself runs super fast and the transactions are cheap.
In Solana, smart contracts are coded in Rust, a language quite popular with professional programmers. You can also choose to use C or C++, and there are a number of other unofficial SDKs (Software development kits) that use the Solana JSON RPC API that use Java, C#, Python, Go, Swift, Dart-Flutter and Kotlin.
The idea behind this was to attract professional software developers to use Solana. And it seems to be working, Solana has one of the fastest growing developer communities in the blockchain space.
Investors Backing Solana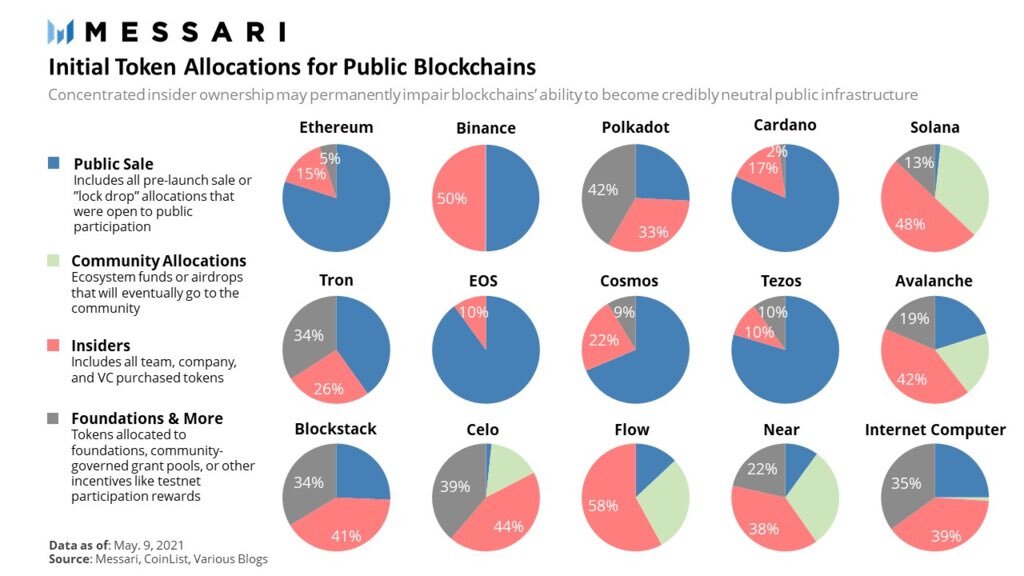 Source: Messari
In this chart compiled by Ryan Watkins of Messari research, the blue slices of the pies show that insiders and community allocations make up the vast majority of the initial tokens distributed on Solana. "Token distribution is critical in determining the distribution of power in blockchains," Watkins wrote. "Concentrated insider ownership may permanently impair projects' ability to become credibly neutral public infrastructure. Oligarchy is the system we're supposed to be disrupting."
Recent Problems
Solana has suffered from outages and transaction overloads at various points in time since it launched. In 2022 it suffered a total of 5 outages due to various problems such as RPC node DDOS and transaction overloads and bugs within the consensus mechanism. These caused widespread issues with users unable to use the blockchain, some even causing crashes in the SOL price of up to 14%.
Most recently, a security hole in a Solana wallet provider called 'Slope' resulted in users having a combined $5 Million dollars worth of SOL and other tokens stolen.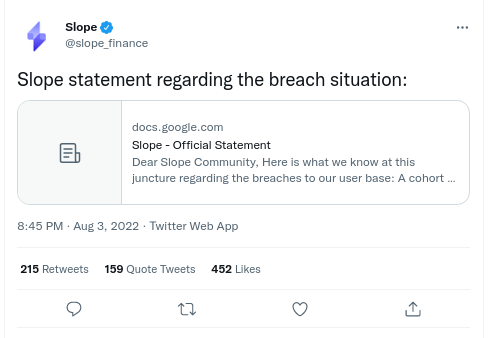 Twitter: @slope_finance
Even though the hack was due to a third party wallet leaking users' private keys and not a bug within Solana itself, this incident has still left users of the relatively young ecosystem shaken and wary.
Solana Summary
Solana provides a fast and cheap very versatile blockchain, the ecosystem has grown very fast and SOL is now the 9th largest cryptocurrency by market cap. It's backed by some of the most well-known venture capitalists in the space such as Polychain Capital and a16z.
This backing has allowed it to leapfrog ahead of its competition and secure a large market share in the blockchain world. But due to its fast rate of growth many bugs still need to be ironed out, and the VC involvement has created a potentially large sell pressure on the token in its midlife journey.
The fast growth has also attracted lots of developers to use the platform to build their blockchain applications further generating demand for SOL. As always though, the fast growth comes with a trade off in the level of decentralization. Only 30 validators have enough stake to block or change transactions on the network. Even so, SOL has become one of the fastest growing success stories in the industry.
For business enquiries, contact us at Business@mail.fameex.info
Trade on-the-go with FAMEEX's crypto trading app (iOS/Android)
Find us on:
Twitter: https://twitter.com/FameexGlobal
YouTube: https://www.youtube.com/channel/UCMRYZgPUFtrSkAu9_owUbxg
Instagram: https://www.instagram.com/fameex_global/
Telegram: https://t.me/fameexgroup
Discord: https://discord.gg/V8yvKPxVCk
LinkedIn: https://www.linkedin.com/company/fameex
Facebook: https://www.facebook.com/FameexGlobal
Contact us: Service@mail.fameex.info