1. Log in to your FAMEEX app and you will see the icon for [Derivative] at the bottom. Click the icon and then you'll be directed to the [Futures] section. If you haven't activated your Futures Trade Agreement, please read and tap [Agree] before setting up your Options trading due to its shared balance. Tap [Options] on the top to enter.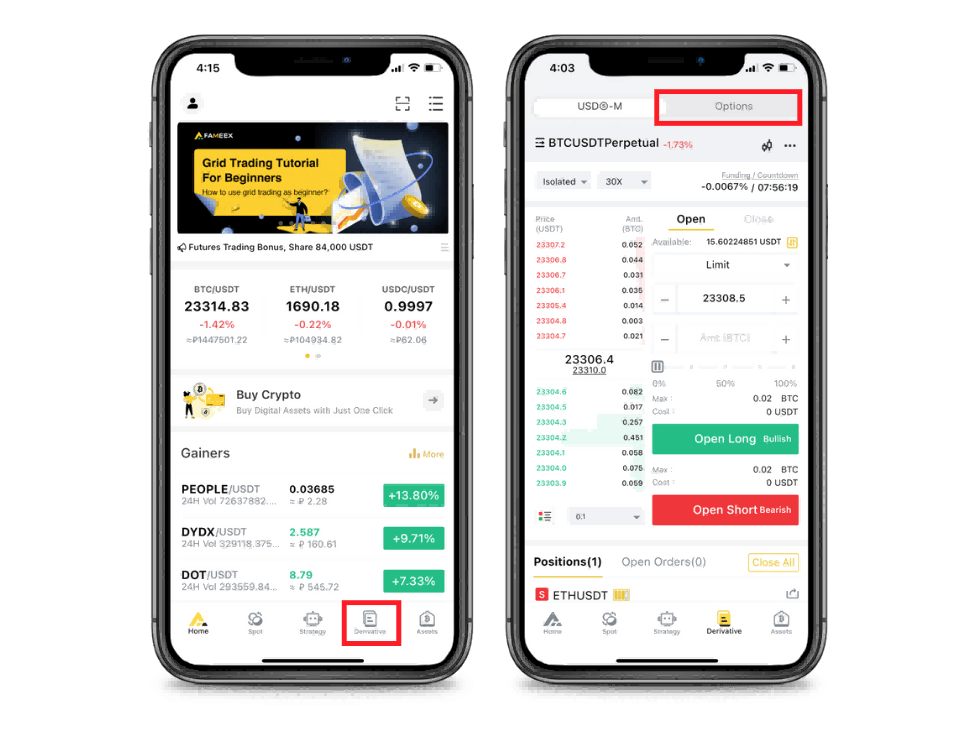 2. Please read and accept your Options Trade Agreement before starting your first options trade. Tap [Agree] to confirm.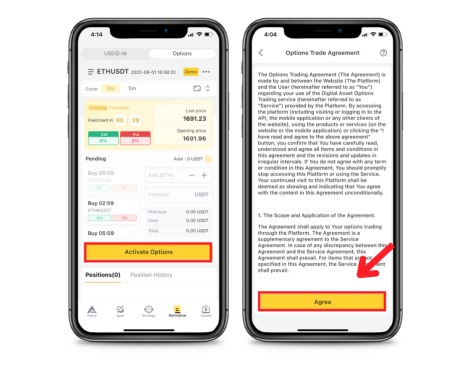 3. Make sure you have sufficient balance in your Derivative Wallet since USDT-Margined futures trading and options trading share the same available balance. You can transfer funds to your derivative wallet if you don't have enough balance. Click the arrow icon on the top right to enter the Transfer page. Select your transfer direction, preferred coin and amount then tap [Transfer] to complete the process to transfer the USDT to the derivative wallet.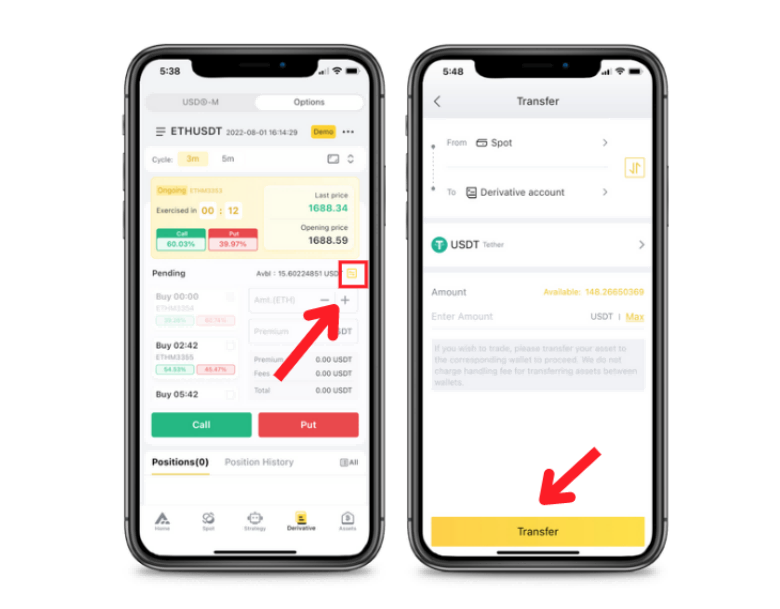 *Options and futures share the available balance in the derivative wallet. In order to protect your funds from liquidation, please make sure to have enough margin in USDT-Margined futures before starting options trading. When you gain profits from options trading, your revenue will be added to the derivative wallet which means that the margin in your futures trading account will increase at the same time.
4. After transferring, you can see your available balance in USDT at the upper right. Tap the trading pairs icon to select your preferred pair. Choose the corresponding options trading pair to trade, e.g. ETH/USDT. Click on the [Full Screen] icon on the upper right to switch to the relevant candlestick chart.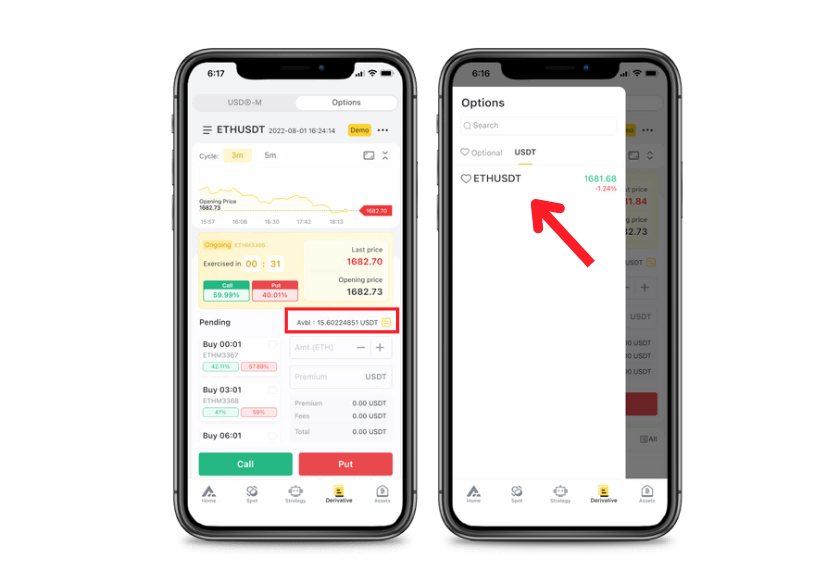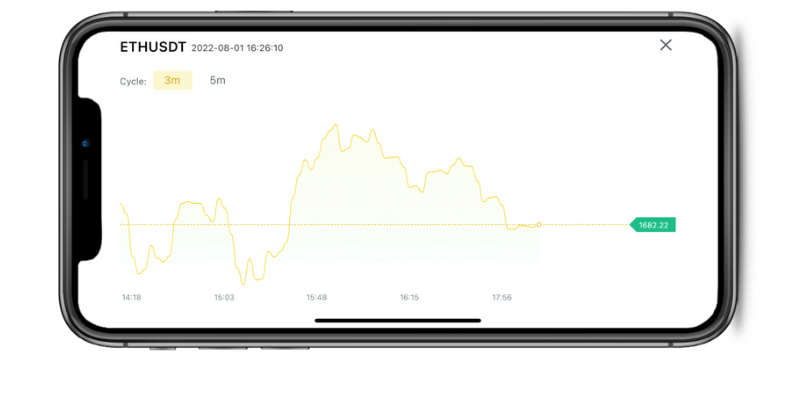 5. FAMEEX supports demo trading features in options trading to let users practise options trading. Click the [Demo] icon on the top to enter. In demo mode, it the simulates options with real-time price and data. In this demo mode, FAMEEX will provide 100,000 (DEMO)USDT for users to try out options trading each month. At the end of the month, our system will automatically clear and remove all the trading data in demo mode.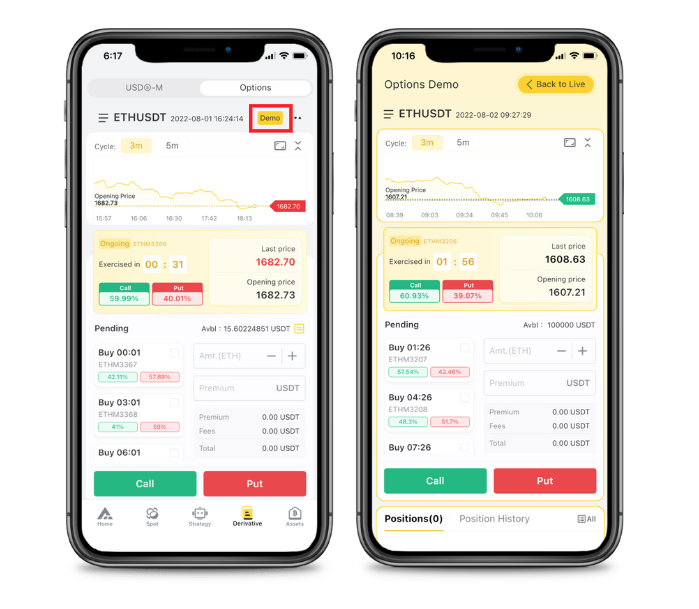 6. FAMEEX supports two kinds of cycles, 3-minute or 5-minute, in options trading. Click the [3m] or [5m] icon to switch to a different cycle with its own candlestick charts and orders. When users buy options in different cycles, each order will be settled separately and not affect each other.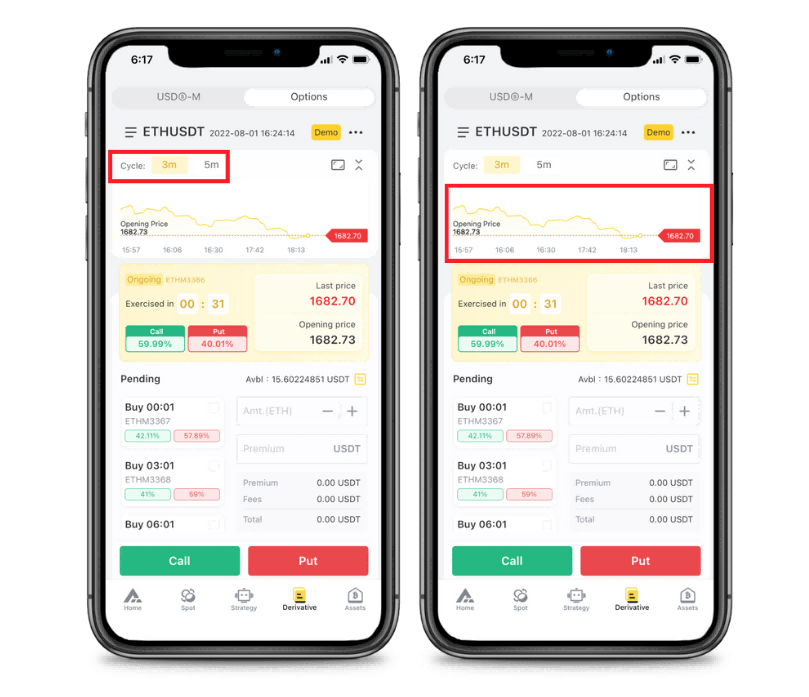 7. In the middle of the yellow section (current options) show ratios of buying ETH in each direction, last price, and opening price. Under the left section, pending options are coming in sequence. You can place your order in the right panel.
FAMEEX supports two ways to place your order:
1) Buy with [Amt.]: You can choose to enter either an "amount" or "premium" to trade options. Our system will automatically convert the required fee and premium into USDT based on the latest price. The real quantity might be different due to market conditions. All orders will be according to the real-time price.
2) Buy with premium [USDT]: Enter your USDT amount for premium. Our system will automatically calculate the required fee to place your order.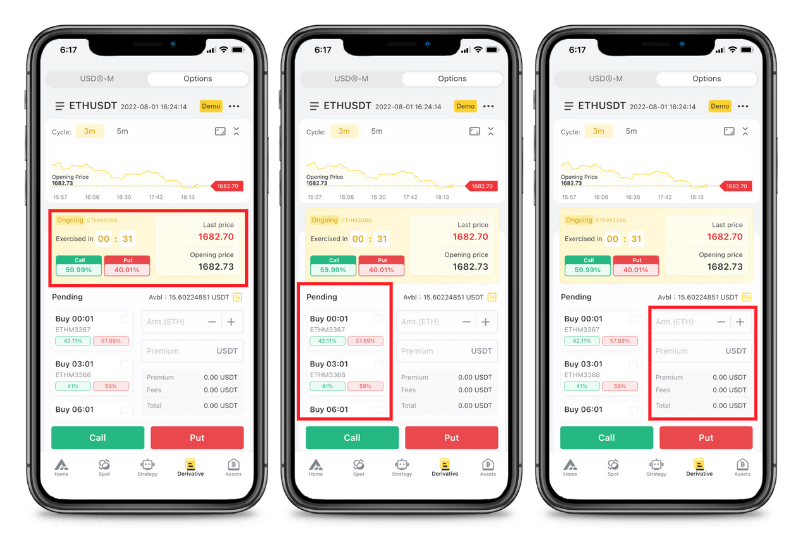 8. After setting up the time cycle and amount, you can choose [Call] or [Put] to buy in options. Then click [Confirm], and you're all good to trade.
Your current position will be displayed under [Positions]. After exercising, your order history will pop up in [Position History]. Clickquan to view your past 90 days' trading history such as Positions History, Order History, and Transaction History.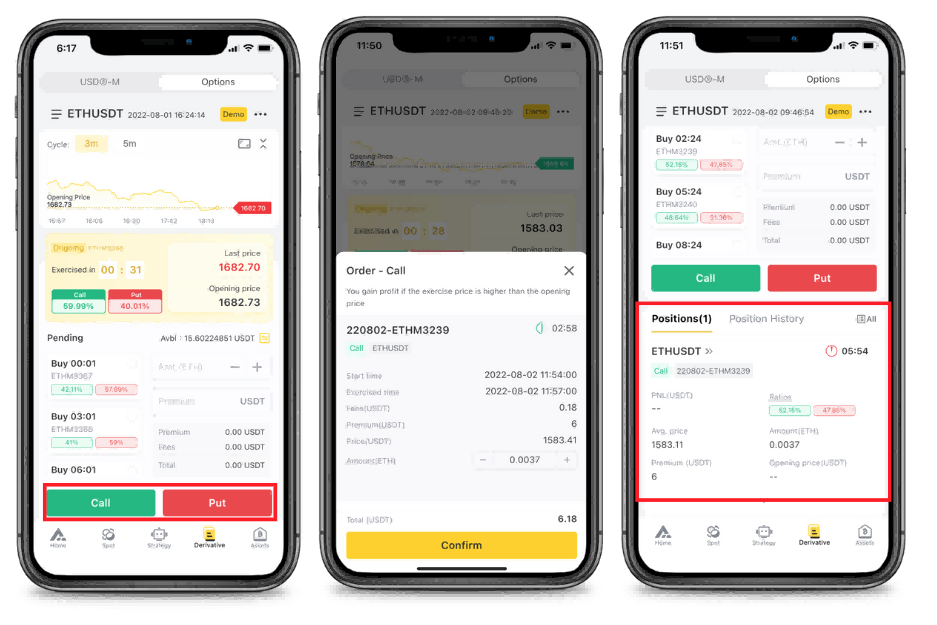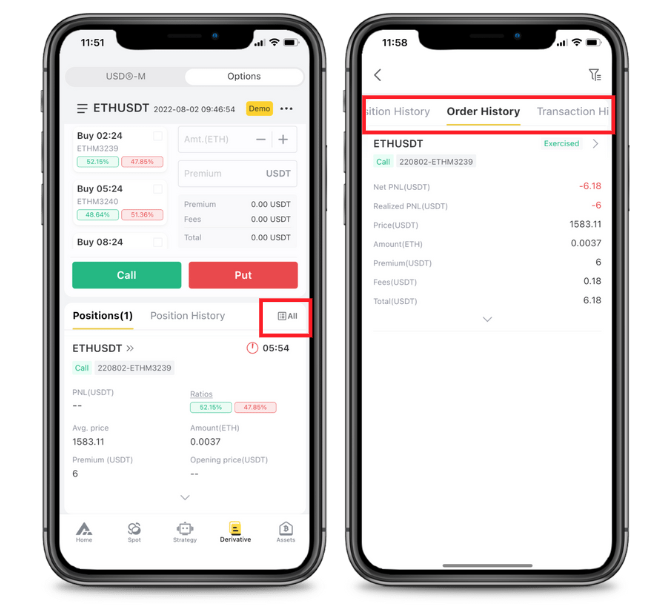 *FAMEEX options trading is speculation on the price movement of assets to move in a certain direction. For example, there are 3 options in ETH/USDT: either [Call], [Put] and [Range] options. However, when there is no volatility or the market is very stable, FAMEEX will close the [Range] options in order to prevent you placing an invalid trade and losing the fee.
9. Click the calendar icon under the Time to select the period within the last 90 days order history. Our system will keep track of your last 90-days of options trading data. This allows you to easily analyze your profit/loss, net profit, and total realized profit/loss. Tap the [Funnel] icon on the right, users can switch between different statuses like fee, premium, profit, premium return, fee return…, etc.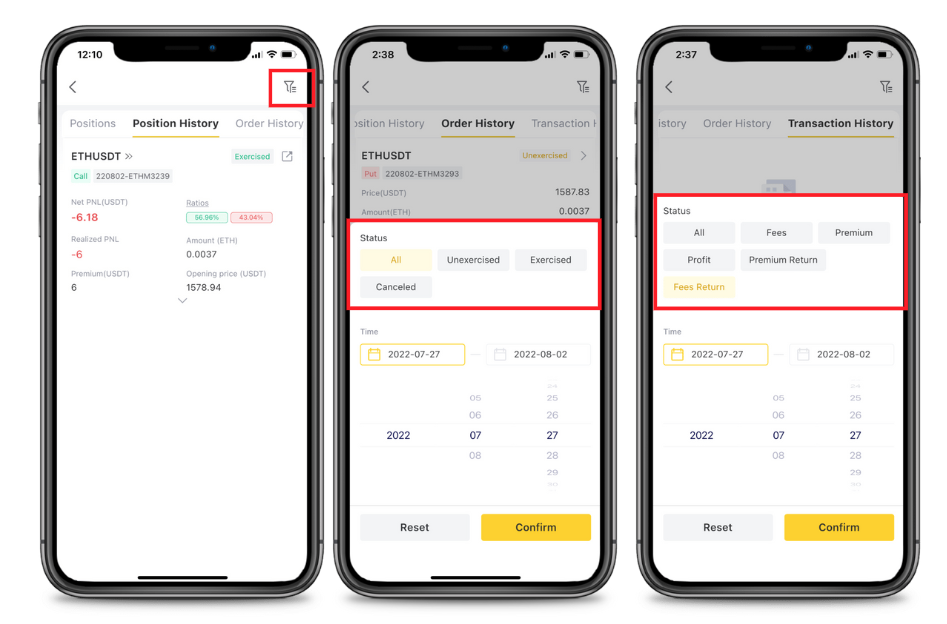 FAMEEX candlestick charts are based on the timeframe in each cycle. The previous time node is treated as an opening time for placing current options trades while the next one is closing. After each settlement, a candlestick chart will be displayed as a turning point.