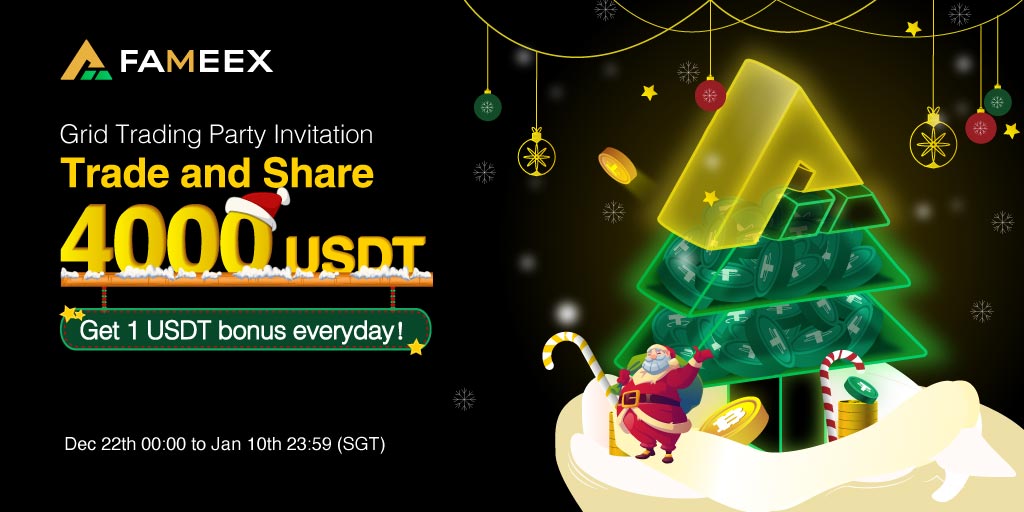 Dear FAMEEX users,
FAMEEX is thrilled to launch our new Grid Trading Bonus Campaign! During the campaign period, everyone will stand a chance to get 1 USDT every day no matter you're new or current users.
Competition Period: 2021.12.22 00:00:00——2021.01.10 23:59:59 (SGT)
Promotion: Trade on FAMEEX everyday to earn 1 USDT
During the campaign period, if your daily order matches over 2 times on grid trading, you can claim for 1 USDT bonus everyday. Each UID can only receive up to one time everyday and is limited to only the first 200 people everyday.
Terms & Conditions:
1. Eligible only for users who complete primary verification.
2. How to Redeem: After completing the tasks, users can claim the bonus on the FAMEEX campaign page at 16:00 everyday. Bonus will be distributed on a first-come, first-served basis.
3. Forbiddance: It's ineligible to trade among different accounts with the same IP address. FAMEEX will cancel your qualification in this campaign.
4. Eternal suspension: FAMEEX reserves the right to disqualify trades that are deemed to be wash trades or illegally bulk registered accounts, as well as trades that display attributes of self-dealing or market manipulation.
FAMEEX Team
21 Dec 2021
FAMEEX - The secure, efficient and edge-cutting cryptocurrency trading platform. Invite your friends to register now and receive up to 60% rebate!
Trade on-the-go with FAMEEX's crypto trading app (iOS/Android)
Find us on:
Official Website: https://www.fameex.com/
Twitter: https://twitter.com/FameexGlobal
Instagram: https://www.instagram.com/fameex_global/
Telegram: https://t.me/fameexgroup
Youtube: https://www.youtube.com/channel/UCMRYZgPUFtrSkAu9_owUbxg/videos
Facebook: https://www.facebook.com/FameexGlobal
Contact us: Service@mail.fameex.info