How to buy Bitcoin (BTC) with Credit Card or Debit Card Instantly
2023/10/19 12:57:30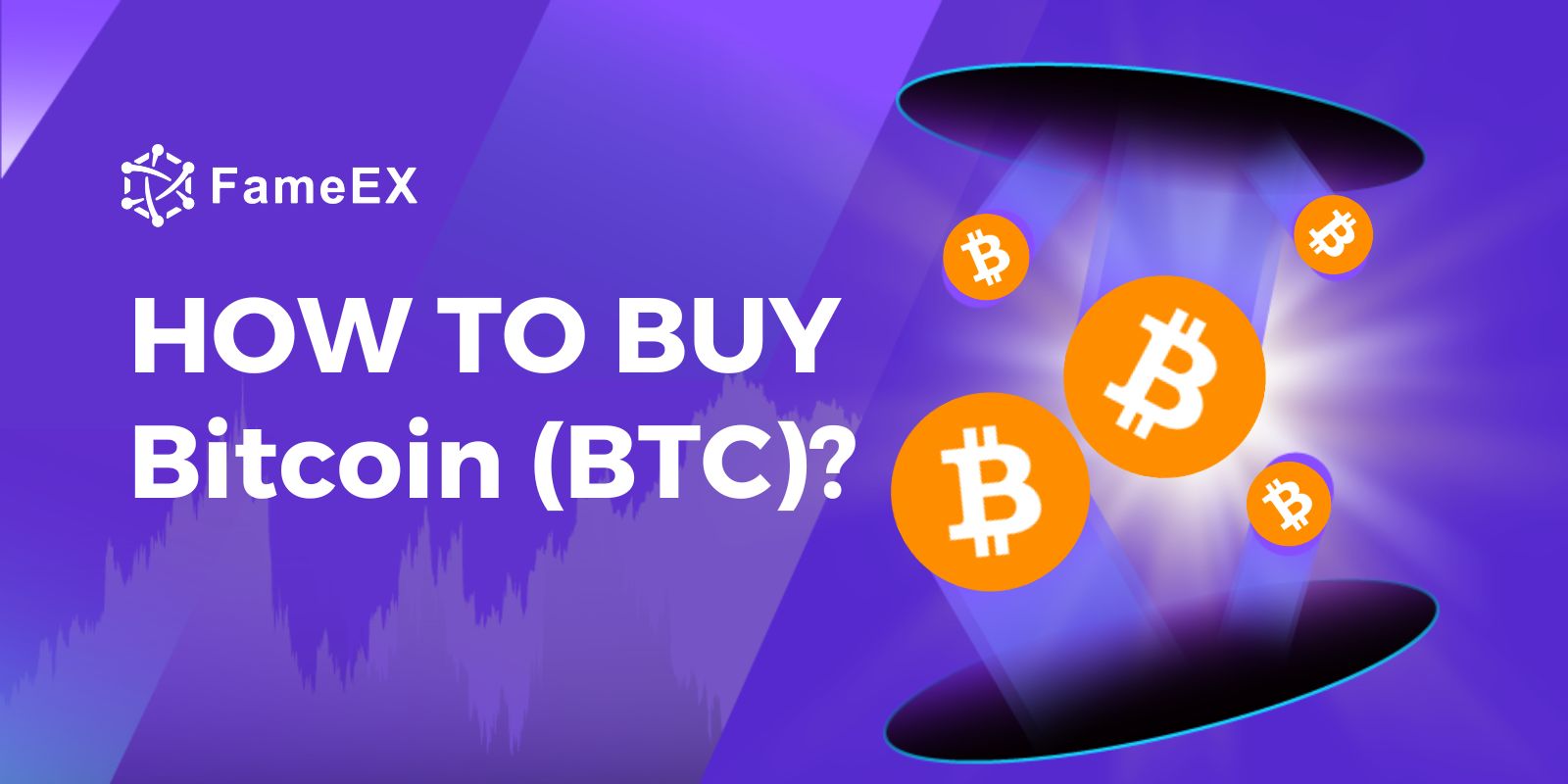 Are you interested in investing in Bitcoin but don't know how to do it? If so, you'll need to learn how to buy Bitcoin.

Luckily, it's a relatively simple process that can be done with your credit or debit card instantly on FameEX. In this article, we will guide you through the steps of purchasing Bitcoin on FameEX, providing you with a hassle-free investment experience.
How to Buy Bitcoin(BTC) in Australia?
If you're looking for a fast and efficient way to buy Bitcoin, here's a simple guide on how to buy Bitcoin on FameEX:
Step1 - Setting up an account: In order to hold Bitcoin securely, you will need a crypto wallet. FameEX exchange offers a convenient managed wallet method for the account. Select the wallet option that meets your needs and follow the straightforward setup instructions provided.

Step 2 - Purchasing BTC: After your account is created, you can buy BTC by following steps:
・Go to the [Spot] - [Trade] page and select the BTC trading pair.
・Enter the amount you want to buy.
・Review and confirm the details of the transaction.
・Wait for the transaction to be completed.

Step 3 - Receive your BTC: Upon completion of the transaction, your Bitcoin, like any other crypto assets, will be transferred to your wallet. Ensure its protection by storing it securely and safeguarding the information necessary to access it.
Quickest Way to Buy Bitcoin Online
Looking to purchase Bitcoin quickly using your preferred payment method? FameEX has got you covered. With multiple payment options available, you can buy cryptocurrency instantly and effortlessly. Simply follow a few easy steps and get your crypto in a snap.
1. Register for an account
2. Link your Visa, credit or debit card, including Mastercard.
3. Add funds to your account using your preferred payment option, such as visa and Mastercard.

Buy Bitcoin with Credit Card without ID
If you are new to the crypto world and don't have a credit card, you don't have to worry about it. You can fund your FameEX account through a bank transfer or use our new cooperation partner, BANXA, to buy and sell BTC without a credit card. These options make it easy for you to start your journey of exchanging cryptocurrencies for BTC on FameEX exchange, with no verification required.
What is Bitcoin (BTC)?
Bitcoin (BTC) is a decentralised digital currency that operates independent of any central bank or single administrator. It is a peer-to-peer network that enables users to send and receive bitcoins without the need for intermediaries. Bitcoin transactions are verified by network nodes through cryptography and recorded on a public ledger called a blockchain. Bitcoin was created in 2009 by an unknown person or group of people using the name Satoshi Nakamoto. It is often referred to as the first cryptocurrency and has become the most widely known and adopted digital currency in the world.
Where to buy Bitcoin (BTC) in Australia?
Are you currently on the lookout for a platform to buy Bitcoin (BTC) online in the Australia, but feeling unsure which one to go for?
FameEX provides third-party solutions for purchasing BTC but does not offer direct support for the acquisition of the cryptocurrency using fiat currency. If your intention is to buy BTC using USD or AUD, we suggest considering FameEX as a dependable option.

Here we understand that everyone has their unique preferences when it comes to payment options and services. With our user-friendly interface and competitive rates, we're confident you'll find FameEX to be a reliable and convenient choice.

Whether you prefer bank transfers or credit cards, we've got you covered! So why wait? Come join us and start your Bitcoin journey today!
Benefits of Buying Bitcoin with FameEX
・Security and reliability
・Fast and easy transactions
・Competitive fees
With a reliable platform, competitive rates, and user-friendly interface, it's a popular choice for purchasing Bitcoin. Always choose a reputable platform and check the fees charged before making any purchases.
FAQ
Q: What is cryptocurrency?
A: Cryptocurrency is a digital or virtual currency that uses cryptography for security. It operates independently of a central bank and is decentralised, meaning it is not controlled by a government or financial institution. Cryptocurrencies, such as Bitcoin, are bought and sold on online platforms and can be used to make purchases or traded for other cryptocurrencies or fiat currency. Unlike traditional currency, cryptocurrencies have no physical form and are stored in digital wallets. They offer a potential alternative to traditional banking systems and can provide greater security and privacy for transactions.
Q: What cryptocurrency should I buy?
A: As a beginner in cryptocurrency, it's important to do your research and consider a range of factors before deciding which cryptocurrency to buy. Some popular options include Bitcoin, Bitcoin Cash, Ethereum, and Litecoin, which have a track record of stability and strong market performance. However, it's also important to consider the technology behind each cryptocurrency, its use cases, and the potential for growth. Ultimately, the best cryptocurrency to buy will depend on your investment goals and risk tolerance. It's recommended to start with a reputable platform like FameEX to buy and sell cryptocurrencies securely and easily.
Q: Is it safe to use a credit card to buy Bitcoin?
A: Yes, it is safe to use a credit card to buy crypto on reputable platforms like FameEX. FameEX provides a secure and easy-to-use platform for beginners to purchase Bitcoin with a credit card. As with any financial transaction, it's important to be cautious and take steps to protect your personal information and assets, but we offer strong security measures and a user-friendly experience.
Q: Can I use a prepaid credit card to buy Bitcoin?
A: Of course, you can use a prepaid credit card to buy crypto on FameEX. Using a prepaid card is a convenient way to purchase crypto without needing to link your personal bank account or credit card. FameEX offers multiple payment options, including prepaid cards, and has competitive fees and a user-friendly interface, making it an excellent choice for beginners looking to invest in cryptocurrency.
Q: What are the fees associated with buying bitcoin with a credit card?
A: When buying Bitcoin with a credit card, there are typically fees involved. These fees can vary depending on the platform or exchange used. At FameEX, we offer competitive fees and multiple payment options to make buying Bitcoin easy and affordable for beginners.
Q: Is Bitcoin a good investment?
A: Absolutely! Bitcoin is a thrilling investment opportunity for beginners looking to break into the world of cryptocurrency. With its revolutionary decentralised technology and limited supply, Bitcoin has the potential to generate massive returns. However, it's important to keep in mind the potential risks and volatility associated with investing in Bitcoin. With FameEX, you can easily and securely buy and sell Bitcoin at competitive rates, making it a smart choice for beginners looking to dive into the exciting world of crypto.