Dear FAMEEX users.

In order to develop and grow the blockchain community and expand the rights and interests of our partners, FAMEEX has officially launched the "Angel Program" and is recruiting "Angel" partners worldwide. FAMEEX has set up a $500,000 commission pool for the "Angel Program" and invites community owners, KOLs, and experienced blockchain enthusiasts to join and invite their friends to share the rewards.
A. Time and Entrance
Event duration: 2022.04.01 00:00:00 - 2022.12.31 23:59:59 (UTC+8)
How to apply: Entrance
B. Angel's rights and interests
1. High commission: you can enjoy up to 60% of the spot commission, 80% of the contract commission.
2. High bonus: up to 200USDT per month additional bonus, and the opportunity to get an iPhone (XR)!
C. Angel level and benefits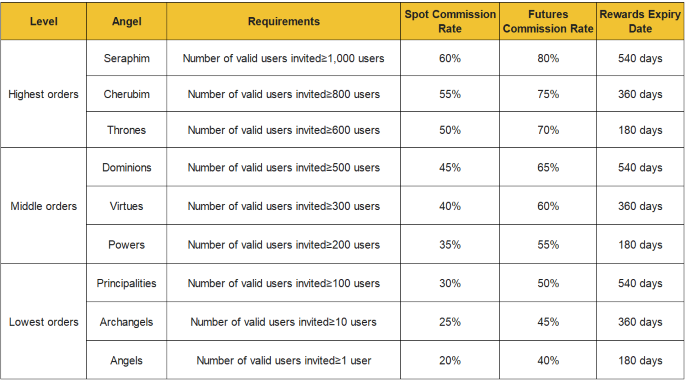 Note: A valid user is an invitee who signs up for FAMEEX through the exclusive invitation link of Angel and has deposited ≥ 10 USDT.


D. Angel's extra reward
1、Share to earn
Angels who share FAMEEX's Event (assigned posters) to other blockchain-related communities( ≥5000 users) can receive extra rewards by submitting your screenshots after sharing.

1)Shared screenshots can be submitted to the admin of the official CM of FAMEEX Telegram.

2) The poster must be an ongoing FAMEEX event poster.
3) Rewards will be distributed on the 16th and 30th of each month.
2. Monthly performance

1) Ranking criterion: the deposit amount of all invitees registered through the "Angel" referral link.

2) Qualification: monthly performance must be the top 3; average monthly performance ≥8,000USDT and number of users making deposit ≥3.
3) Accounting Period: From 00:00:00 on the first day of each month to 23:59:59 on the last day of each month.
4) If the referred user deposited non-USDT tokens, that is, according to the user's token price at the deposit time converted to USDT.
5) The previous month's award will be paid on the 16th of each month.
E. Terms & Conditions:
1. Angels need to complete Advanced KYC verification.
2. The invitee must register through the exclusive invitation link of Angel, otherwise, the invitation data cannot be counted and the reward cannot be distributed.
3. Users will be disqualified under certain following conditions below:
(1) Users who have the trial fund in their account can not conduct Futures trading through API.
(2) If more than 2 people use the same deposit or withdrawal address, the account will be frozen.
(3) Operating multiple accounts with the same or over 2 IP addresses is prohibited. If discovered, the bonuses will be retracted.
(4) Multiple users registering through the same or over 2 devices are forbidden and users can only claim the bonus through a certain device.
(5) Users from Mainland China are not allowed to participate in the campaign.
(6) Users who are deemed to be wash trades or illegally bulk registered accounts, as well as trades that display attributes of self-dealing or market manipulation.
4. FAMEEX reserves all rights to the final interpretation of this activity.
FAMEEX Team
31 March 2022
FAMEEX - The secure, efficient and edge-cutting cryptocurrency trading platform. Invite your friends to register now and receive up to 60% rebate!
Trade on-the-go with FAMEEX's crypto trading app (iOS/Android)
Find us on:
Twitter: https://twitter.com/FameexGlobal
YouTube: https://www.youtube.com/channel/UCMRYZgPUFtrSkAu9_owUbxg
Instagram: https://www.instagram.com/fameex_global/
Telegram: https://t.me/fameexgroup
Discord: https://discord.gg/V8yvKPxVCk
LinkedIn: https://www.linkedin.com/company/fameex
Facebook: https://www.facebook.com/FameexGlobal
Contact us: Service@mail.fameex.info