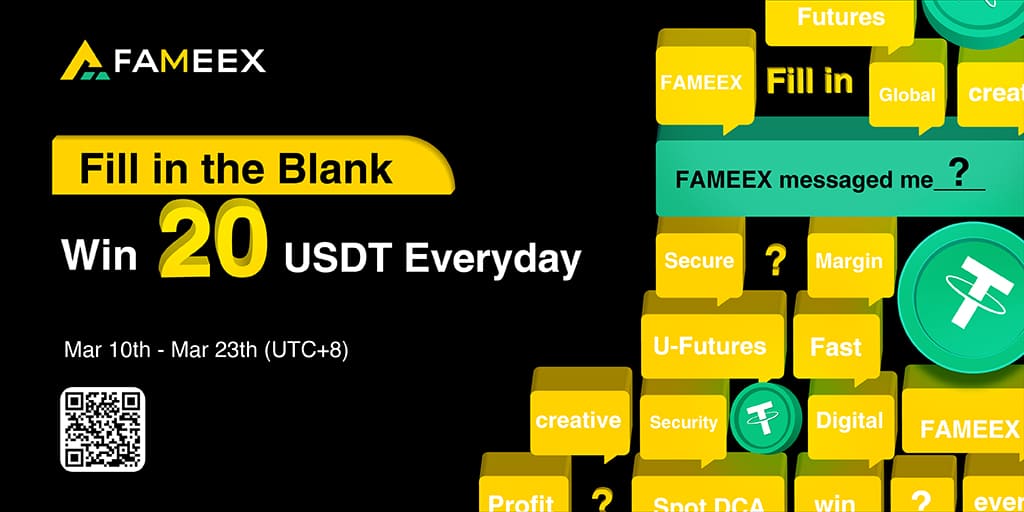 Dear FAMEEX users,
FAMEEX is extremely excited to launch the "Fill in the Blank, Win 20 USDT Everyday'' campaign for our users to earn 20 USDT everyday. Join our official Telegram group to fill in your creative thoughts then you will be able to earn the bonus!
Campaign Period: 2022.03.10 00:00:00 — 2022.03.23 23:59:59 (UTC+8)
How to participate?
During the campaign period, join our official Telegram group and fill in the below sentence then tag our FAMEEX admin (@FameexOfficial) in the group.
[ FAMEEX messaged me ____________ ]
*Note: Fill in at least 3 words to conjure up a creative sentence.
Terms & Conditions:
1. FAMEEX will select one of the most creative winner everyday during the campaign period. 20 USDT trial fund for each winner.
2. Answer and fill the blank during 00:00 to 23:59 in Telegram everyday to join the campaign.
3. Reward Announcement: FAMEEX will announce the winners the next day before 12:00 in the Telegram group.
4. Reward Distribution: FAMEEX will distribute the trial fund to users' futures wallets on 18:00 18th March and 18:00 25th March (UTC+8).
5. How to Claim the Prize? Winners need to send their UID to our official admin, Sofie (@EiF0S) as a private message.
6. Winners need to activate the futures account and complete Advanced KYC verification to claim the rewards. We do not provide other ways to distribute prizes.
7. Please note that users can utilize the trial fund in futures trading and the revenue from the trading belongs to users. The trial fund will be valid for 6 hours. Afterward, FAMEEX will retrieve the bonuses compulsorily. If users still hold a position while retrieving, our system will liquidate based on the portion of the trial fund. The trading volume of the trial fund will not be calculated in the rebate program.
8. If there are the following situations, FAMEEX will cancel the qualification of the participants, retrieve the reward and the relevant account will be frozen.
a. Users can not use multiple Telegram accounts to join during the campaign.
b. Over 2 people use the same deposit address or withdrawal address.
c. Register over 2 different accounts with the same IP address.
d. Register and log in with more than 2 accounts on the same device.
e. Users from Mainland China, Hong Kong, and Macau are not allowed to participate in the campaign.
f. If there is any cheating behavior such as malicious wash downloads, illegally bulk registered accounts, self-dealing, privately matched orders, etc.
g. FAMEEX reserves all rights to the final interpretation of this activity.
FAMEEX Team
09 March 2022
FAMEEX - The secure, efficient and edge-cutting cryptocurrency trading platform. Invite your friends to register now and receive up to 60% rebate!
Trade on-the-go with FAMEEX's crypto trading app (iOS/Android)
Find us on:
Twitter: https://twitter.com/FameexGlobal
YouTube: https://www.youtube.com/channel/UCMRYZgPUFtrSkAu9_owUbxg
Instagram: https://www.instagram.com/fameex_global/
Telegram: https://t.me/fameexgroup
Discord: https://discord.gg/V8yvKPxVCk
LinkedIn: https://www.linkedin.com/company/fameex
Facebook: https://www.facebook.com/FameexGlobal
Contact us: Service@mail.fameex.info