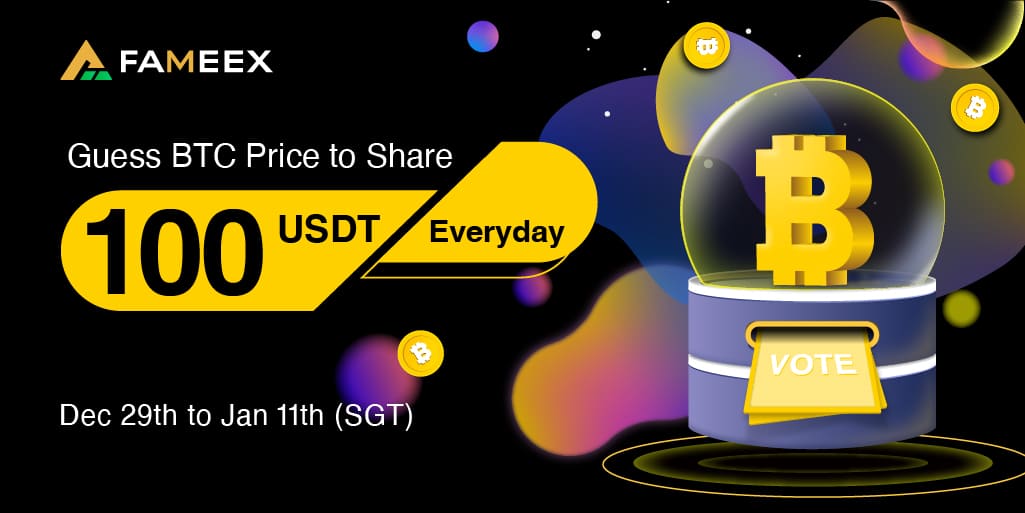 Dear FAMEEX users,
FAMEEX is excited to launch our "Guess BTC Price to Share 100 USDT" campaign! During the campaign period, you can join our official Telegram group to vote within 3 options and predict the daily change of Bitcoin (BTC) price each day from 15:00 to 15:00 the next day.
Competition Period: 2021.12.29 —2022.01.11 (SGT)
How to Participate?
Join our official Telegram to vote from below options and predict the daily change of BTC price:
---Option 1: 3% Change to share 30 USDT
---Option 2: 5% Change to share 50 USDT
---Option 3: 9% Change to share 100 USDT
Terms & Conditions:
1. Voting will start from 15:00 to 24:00 (SGT) everyday in FAMEEX official Telegram. Each user can only vote once everyday.
2. The result of winners will be announced everyday before 20:00 in our official Telegram.
3. Eligible users will need to provide UID to our Telegram admin as a private message to claim the prize.
4. Reward Distribution Time:
1) Rewards from Dec 30 to Jan 4 will be distributed on Jan 5.
2) Rewards from Jan 5 to Jan 11 will be distributed on Jan 12.
5. Forbiddance: It's ineligible to trade among different accounts with the same IP address. FAMEEX will cancel your qualification in this campaign.
6. Multiple users registering through the same device is forbidden and each user can only claim the prize through the certain device.
7. If more than two users log in through the same device, FAMEEX will detect them as high risk accounts which will be frozen.
8. Users from Mainland China, Hong Kong and Macau are not allowed to participate in the campaign.
9. Eternal Suspension: FAMEEX reserves the right to disqualify trades that are deemed to be wash trades or illegally bulk registered accounts, as well as trades that display attributes of self-dealing or market manipulation. FAMEEX reserves all rights to the final interpretation of this activity.
FAMEEX Team
29 Dec 2021
FAMEEX - The secure, efficient and edge-cutting cryptocurrency trading platform. Invite your friends to register now and receive up to 60% rebate!
Trade on-the-go with FAMEEX's crypto trading app (iOS/Android)
Find us on:
Twitter: https://twitter.com/FameexGlobal
Instagram: https://www.instagram.com/fameex_global/
Telegram: https://t.me/fameexgroup
YouTube: https://www.youtube.com/channel/UCMRYZgPUFtrSkAu9_owUbxg
Facebook: https://www.facebook.com/FameexGlobal
Contact us: Service@mail.fameex.info