Dear FAMEEX users,
FAMEEX is excited to launch our "Win 100% Winner Rate Lucky Draw on Spot Trading" campaign! During the campaign, you will stand a 100% chance to win the rewards in the lucky draw. Join together now by starting your first spot trading!
Event Period: 2022.06.10 00:00:00 — 2022.06.15 23:59:59 (UTC+8)
How to Participate?
During the event period, all registered users stand up to 100% chance to win random gift boxes with various bonuses inside in the lucky draw.
1. Users who complete the following requirements will be considered qualified users: Complete Advanced KYC Verification and Spot Trading Volumes ≥20 USDT.
*Fill in this form to join: New Users Bonus: Win 100% Winner Rate Lucky Draw on Spot Trading
2. The rewards will be distributed as follows: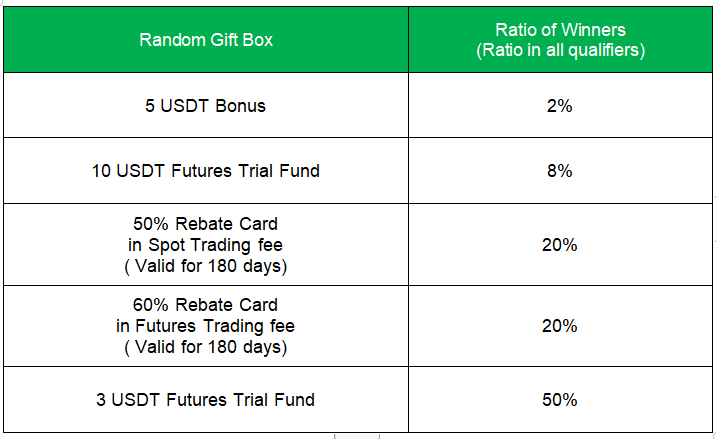 Terms & Conditions:
1. Only eligible for new users. All prizes will be randomly distributed by FAMEEX.
2. The rewards will be distributed after the end of the campaign. Users can check their accounts to see whether you're the winner.
3. The trial fund will be valid for 72 hours. Please click here to learn more about the Rules of Trial Fund.
4. Rebate Card is automatically generated by the system. Users can check from the [My Rebate] page to view more details.
5. Users will be disqualified and frozen accounts under certain following conditions below:
a. Conduct Futures trading through API.
b. If more than 2 people use the same deposit or withdrawal address, the account will be frozen.
c. Operating multiple accounts with the same or over 2 IP addresses is prohibited. If discovered, the bonuses will be retracted.
d. Multiple users registering through the same or over 2 devices are forbidden and users can only claim the bonus through a certain device.
e. Users from Mainland China are not allowed to participate in the campaign.
f. Users who are deemed to be wash trades or illegally bulk registered accounts, as well as trades that display attributes of self-dealing or market manipulation.
6. FAMEEX reserves all rights to the final interpretation of this activity.
FAMEEX Team
10 June 2022
FAMEEX - The secure, efficient and edge-cutting cryptocurrency trading platform. Invite your friends to register now and receive up to 60% rebate!
Trade on-the-go with FAMEEX's crypto trading app (iOS/Android)
Find us on:
Twitter: https://twitter.com/FameexGlobal
YouTube: https://www.youtube.com/channel/UCMRYZgPUFtrSkAu9_owUbxg
Instagram: https://www.instagram.com/fameex_global/
Telegram: https://t.me/fameexgroup
Discord: https://discord.gg/V8yvKPxVCk
LinkedIn: https://www.linkedin.com/company/fameex
Facebook: https://www.facebook.com/FameexGlobal
Contact us: Service@mail.fameex.info