Long a skeptic of cryptocurrency, Elizabeth Warren now seems to be focusing on it as her reelection campaign gets underway.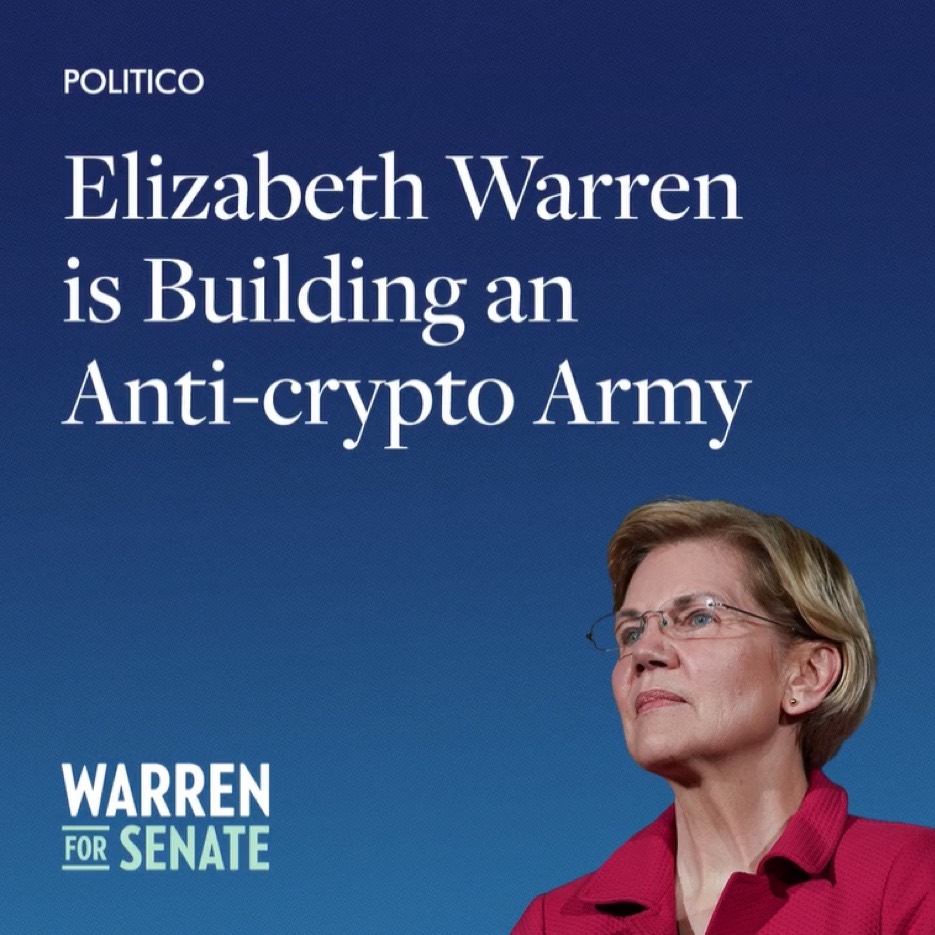 Source: news.coincu.com
Despite studies showing that the majority of Americans believe crypto is a critical innovation for the future, Massachusetts Senator Elizabeth Warren is making her "anti-crypto" agenda a focal point of her reelection campaign. Elizabeth Warren prominently highlighted a Politico headline that read, "Elizabeth Warren is assembling an Anti-crypto Army," on March 30, implying that she was attempting to put "government on the side of working families."
The Senator was attacked on Twitter by the Pro-crypto Army. Coin Bureau, a well-known YouTuber, mocked the tactic by asking, "Imagine believing that assembling an 'anti-crypto army' is going to get you votes?" Lord TJ, a supporter of cryptocurrency, asserted that the position would drive innovation overseas. Even while the senator surely has access to her own in-depth private polling on the subject, recent surveys paid for by the industry indicate that the majority of people will not support the position.
A staggering 76% of the representative sample in a study conducted on February 24 by cryptocurrency exchange agreed that "cryptocurrency and blockchain are the future." Similar thoughts were expressed in a November 2022 study commissioned by the digital asset management company Grayscale Investments; curiously, the findings suggested that 59% of Democrats believed cryptocurrency to be the financial technology of the future. Compared to Republicans, who stated the same thing by 51%, this is more.
To Warren's advantage, the crises of 2022, like the failures of BlockFi, FTX, and Terra Luna, have had a significant impact on public perception of cryptocurrencies. A recent Morning Consult study found that popular confidence in cryptocurrencies has decreased over the course of the year.
Elizabeth Warren is starting to recruit conservative Senate Republicans to her anti-crypto cause and getting some early positive vibes from bank lobbyists, according to a Politico article published on February 14. Here is where it was initially reported that Elizabeth Warren was creating an anti-crypto army. Yet given that she made the slogan a key part of her re-election campaign, the senator must have grown fond of it. Warren has long been a strong opponent of cryptocurrencies, and immediately after the demise of the crypto exchange FTX, he even predicted that they will destroy the economy in an opinion piece for the Wall Street Journal.
On February 14, Warren promised to reintroduce a measure she had previously supported that would require unhosted wallets, miners, and validators to apply AML regulations. The law would also extend to decentralized finance (DeFi) and decentralized autonomous organizations (DAOs).
Disclaimer: FameEX makes no representations on the accuracy or suitability of any official statements made by the exchange regarding the data in this area or any related financial advice.