Chiliz is the leading digital currency for sports and entertainment by the eponymous Malta-based FinTech provider. It operates the blockchain-based sports entertainment platform Socios, which enables users to participate in the governance of their favorite sports brands. Multiple fan tokens by Socios.com are an example of that. For sports clubs and associations, fan tokens offer a way of connecting with their fans and unlocking new revenue streams.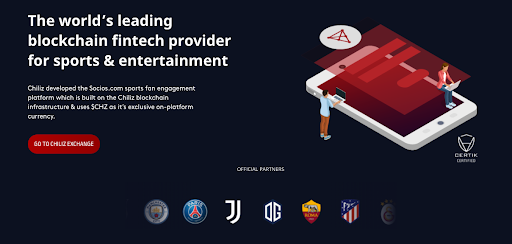 Powered by blockchain technology, Chilliz is a network optimized for sports and entertainment engagement. Chiliz has partnered with multiple sports big names including former VP of the NBA Sam Li, CEO of French e-sports team Vitality Nicolas Maurer and prominent video game streamer Dr. DisRespect.
What is Chilliz?
Founded in 2012 by Alexandre Dreyfus, Chiliz's utility token CHZ is built on the Ethereum blockchain which is used as the official crypto currency for the Socio.com platform.
The purpose of Chiliz is to engage professional sports teams and leagues and bring them into digital environments where they can offer their supporters multiple rewards and exclusive services.
In some cases, these teams and leagues offer voting rights to holders of the so-called "Fan Tokens" which are issued on Socio.com by teams and leagues. This process is called a Fan Token Offering(FTO).
Fan Engagement
Traditionally, fans show their support through watching games and buying merchandise. The Chiliz network, however, has brought out a different landscape.
If the sports team you love has a crypto asset or Fan Tokens that allows holders of the tokens to decide on certain issues relating to the team, will you as a fan go buy the tokens, too? If you say yes, then we can talk about how to gain the Fan Tokens. The answer is by CHZ coin. That is the attraction of Socios.com and the Chiliz network.
CHZ is a digital currency used in the world of Socio.com. In short, Chiliz aims to give millions of sports fans a coin to buy direct voting power in their favorite clubs and organizations.
Proof-of-Authority (PoA)
The Chiliz network runs on a PoA consensus mechanism. Instead of relying on network decentralization PoA gives a group of pre-approved nodes the power to create and validate new blocks in the chain.
Authority node operators are often revealed publicly in order to establish trust in the system. The Chiliz ecosystem is powered by CHZ coins. Both the Socio.com platform and the Chiliz Exchange depend on CHZ to operate and again, to acquire Fan Tokens, users have to own CHZ first.
For now, at least 25 international sports teams and organizations have held FTO for their supporters on the Chiliz network, including the basketball team Golden State Warriors, soccer team FC Barcelona and Aston Martin Cognizant Formula1 team.
The $CHZ Coin
With the Non-Fungible Token(NFT) frenzy starting from 2021, Chiliz announced to cooperate with Chainlink in creating exclusive NFTs to celebrate the special moment for players. CHZ gained 170% soon after launching in-game NFTs for Fan Token holders in mid November last year. Now CHZ's price is around $0.2536 with a market capitalization of $1,499,916,628 according to CoinMarketCap.