Dear FAMEEX users,
FAMEEX is excited to launch our new high commission program to global crypto influencers. Together, we can bring more excellent partners to build a greater blockchain industry and aim to better explore industrial development. To achieve our vision of everyone in the world for our users, we sincerely invite you to apply our global agent program to build a diverse ecosystem with FAMEEX.
Program Period: 2022.05.10 00:00:00 - 2022.12.31 23:59:59 (UTC+8)
How to apply? Fill the form here: https://forms.gle/bdDMwqiULhG55zNHA
Category of Agents: We're recruiting three different kinds of agents such as market agent, brand agent, and business agent.
Rules of Market Agent:
1. Qualification: Individuals related to the blockchain and finance industry with resource to expand and promote FAMEEX with more users to trade.
2. Definition of Valid Trading Invitees: Invitees register on FAMEEX through your referral link of "Market Agent" and complete at least any spot or futures trading.
3. FAMEEX will review each Market Agent's monthly performance to determine the level on the last day of each month. Also, we will adjust your next month's rebate ratio based on your level.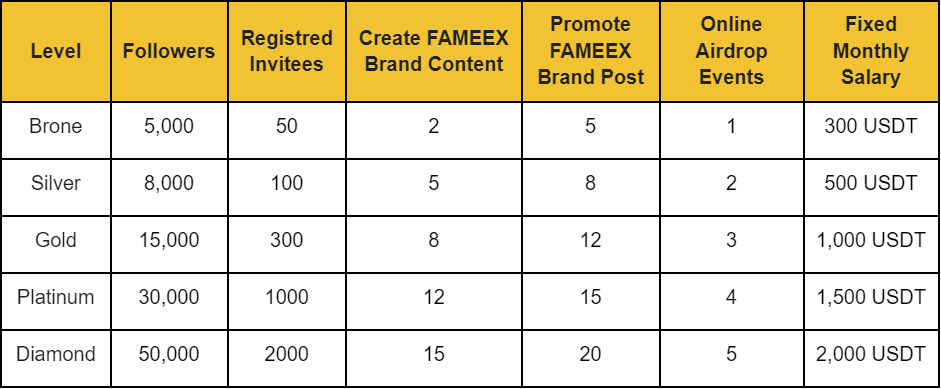 1. Qualification: Individuals with more than 5,000 followers on social media such as Facebook, Twitter, YouTube, etc.
2. Rebate Benefit: The Brand Agent who successfully passes FAMEEX evaluation will get a 40% commission on spot and a 60% commission on Futures which are valid within 365 days.
3. Since FAMEEX will cover the event cost, all Online Airdrop Events need to be evaluated by FAMEEX team to proceed.
1. Qualification: Individuals with excellent business resource channels such as project team, trading strategy team, high-profit clients, institutions or community, etc.
2. Rebate Benefit: 100 to 500 USDT commission as long as you successfully bridge new collaborations with the different project teams.
3. Extra Rewards: 1% to 10% of listing fee if successfully recommend a new project to list on FAMEEX.
Terms & Conditions:
1. Validity Period: FAMEEX will review all Agent applications each Monday and Thursday and release the final results.
2. Reward Distribution: All salary and commission will be distributed to all agents' spot wallets before the 5th of each month.
3. Invitation Rule: Invitees need to register through the Agent's referral link to calculate referral data no more otherwise way.
4. Evaluation Period: System will calculate your revenue automatically from the 1st at 00:00:00 to the last day at 23:59:59 of each month.
5. Market Agent and Brand Agent can also apply for Business Agent to earn salary based on different criteria.
6. All agents can't join FAMEEX Super Rebate Program together.
7. Agents will be disqualified under certain following conditions below:
(1) Users who have the trial fund in their account can not conduct Futures trading through API.
(2) If more than 2 people use the same deposit or withdrawal address, the account will be frozen.
(3) Operating multiple accounts with the same or over 2 IP addresses is prohibited. If discovered, the bonuses will be retracted.
(4) Multiple users registering through the same or over 2 devices are forbidden and users can only claim the bonus through a certain device.
(5) Users from Mainland China are not allowed to participate in the campaign.
(6) Users who are deemed to be wash trades or illegally bulk registered accounts, as well as trades that display attributes of self-dealing or market manipulation.
8. FAMEEX reserves all rights to the final interpretation of this activity.
FAMEEX Team
23 June 2022
FAMEEX - The secure, efficient and edge-cutting cryptocurrency trading platform. Invite your friends to register now and receive up to 60% rebate!
Trade on-the-go with FAMEEX's crypto trading app (iOS/Android)
Find us on:
Twitter: https://twitter.com/FameexGlobal
YouTube: https://www.youtube.com/channel/UCMRYZgPUFtrSkAu9_owUbxg
Instagram: https://www.instagram.com/fameex_global/
Telegram: https://t.me/fameexgroup
Discord: https://discord.gg/V8yvKPxVCk
LinkedIn: https://www.linkedin.com/company/fameex
Facebook: https://www.facebook.com/FameexGlobal
Contact us: Service@mail.fameex.info