Are you interested in investing in OMG but don't know how to do it? If so, you'll need to learn how to buy OMG.

Luckily, it's a relatively simple process that can be done with your credit or debit card instantly on FameEX. In this article, we will guide you through the steps of purchasing OMG on FameEX, providing you with a hassle-free investment experience.

How to Buy OMG Network (OMG) Instantly?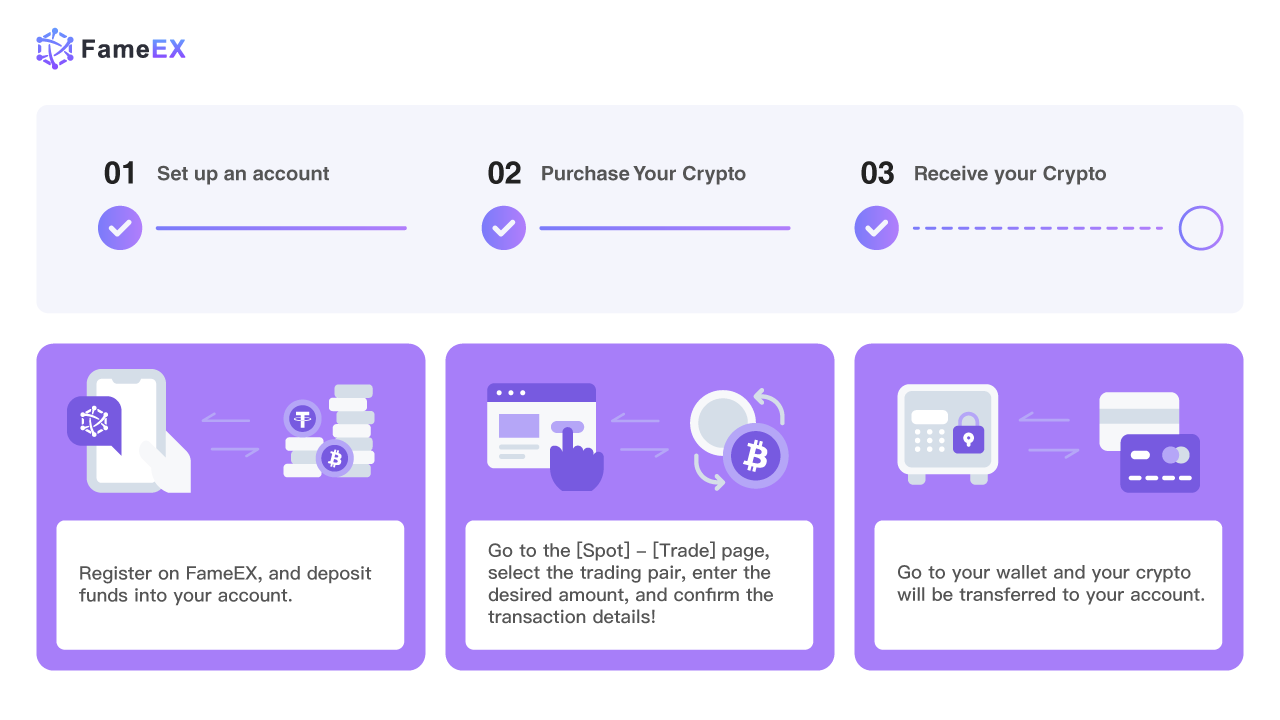 If you're looking for a fast and efficient way to buy OMG, here's a simple guide on how to buy OMG on FameEX:

Step 1 - Setting up an account: In order to hold OMG securely, you will need a crypto wallet. FameEX exchange offers a convenient managed wallet method for the account. Register on FameEX and deposit the fund into your OMG wallet. Select the wallet option that meets your needs and follow the straightforward setup instructions provided.

Step 2 - Purchasing OMG: After your account is created, you can buy OMG by following steps:

・Go to the [Spot] - [Trade] page and select OMG trading pair.
・Enter the amount you want to buy.
・Review and confirm the details of the transaction.
・Wait for the transaction to be completed.

Step 3 - Receive your OMG: Upon completion of the transaction, your OMG, like any other crypto assets, will be transferred to your account. Ensure its protection by storing it securely and safeguarding the information necessary to access it.

Buy OMG with Credit Card
Looking to purchase OMG quickly using your preferred payment method? FameEX has got you covered. With multiple payment options available, you can buy cryptocurrency instantly and effortlessly. Simply follow a few easy steps and get your crypto in a snap.

1. Register for an account
2. Link your Visa, credit or debit card, including Mastercard.
3. Add funds to your account using your preferred payment option, such as visa and Mastercard.

What is OMG Network (OMG)?
The OMG Network, previously known as OmiseGO, is a Layer-2 Ethereum scaling solution focused on enhancing the scalability and speed of Ethereum. Through its implementation of Plasma architecture, it accelerates transaction processing to thousands per second, mitigating Ethereum's congestion and high fees. OMG Network facilitates swift, secure, and economical value transfers, ideal for micro-transactions and high-volume, low-value transactions. The network's native token, OMG, is instrumental in transaction validation and security upkeep. By addressing blockchain's key issues of interoperability, scalability, and decentralization, OMG Network expands the potential and efficiency of the Ethereum ecosystem, thereby playing a vital role in the evolution of blockchain technology.

Where to Buy OMG Network (OMG)?
Are you currently on the lookout for a platform to buy OMG online in the USA, but feeling unsure which one to go for?

FameEX provides third-party solutions for purchasing OMG but does not offer direct support for the acquisition of the cryptocurrency using fiat currency. If your intention is to buy OMG using USD or EUR, we suggest considering FameEX as a dependable option.

At FameEX, we understand that everyone has their unique preferences when it comes to payment options and services. With our user-friendly interface and competitive rates, we're confident you'll find FameEX to be a reliable and convenient choice.

Whether you prefer bank transfers or credit cards, we've got you covered! So why wait? Come join us and start your OMG journey today!

Why Buy OMG Network (OMG) through FameEX?
・Security and reliability
・Fast and easy transactions
・Competitive fees

With a reliable platform, competitive rates, and user-friendly interface, it's a popular choice for purchasing OMG. Always choose a reputable platform and check the fees charged before making any purchases.
FAQ
Q: Can you buy OMG with paypal?
A: Yes, you can buy OMG with PayPal on some cryptocurrency exchanges. However, not all exchanges support PayPal as a payment method, so it's important to research and find a reputable platform that offers this service. Additionally, it's worth noting that buying OMG with PayPal may incur higher fees compared to other payment methods, such as bank transfers or credit/debit cards.
Q: Do I need an ID to purchase OMG?
A: Great news! You don't have to go through the hassle of verification to buy OMG anymore! Banxa, the trusted payment processor, offers a lightning-fast and effortless way to purchase OMG. You can use your credit or debit card to buy OMG without any worry about the security of your financial information and digital assets. With Banxa, you can now experience the thrill of investing in OMG without the unnecessary delay and complicated verification process. No more waiting around or worrying about the security of your transactions - Banxa makes it fast and easy to get your hands on some OMG!