Cryptocurrency exchanges have transformed how individuals and businesses carry out transactions and investments in the digital economy. With several digital assets available for trade, including Bitcoin, Ethereum, and many others, it's essential to know how to get started. This guide will provide a step-by-step overview of registering for a crypto account, managing it securely, and addressing common concerns.

What Is a Cryptocurrency Exchange?
A cryptocurrency exchange is a platform where individuals can buy, sell, and trade digital currencies. Just like traditional stock exchanges, a crypto exchange operates under specific regulations, ensuring transactions are secure and legitimate. Some popular exchanges include Binance, Coinbase, Crypto.com and FameEX.


However, the user experience can differ significantly among crypto exchanges. Some are designed for casual investors, while others are tailored towards seasoned traders looking for advanced features. A notable example of a beginner-friendly platform is FameEX, which we will discuss later in the article.

How to Start a Crypto Exchange in 5 Simple Steps
Starting a crypto account can seem like a daunting task, but it's quite straightforward when broken down into simple steps.

1. Select a Cryptocurrency Exchange That Suits Your Needs and Prioritizes Security
When choosing a crypto exchange, consider your trading needs. Are you planning to trade frequently, or are you looking for a long-term investment? Different trading platforms offer various features, like spot trading, futures contracts, and margin trading.
FameEX platform offers diverse and comprehensive products including fiat-crypto and crypto-crypto transactions, grid trading, futures, options, margin and spot trades, and a highly sought-after referral and affiliate program to better fit users' needs in different markets. You can easily find the "Register" button on the upper right side of the FameEX website's homepage.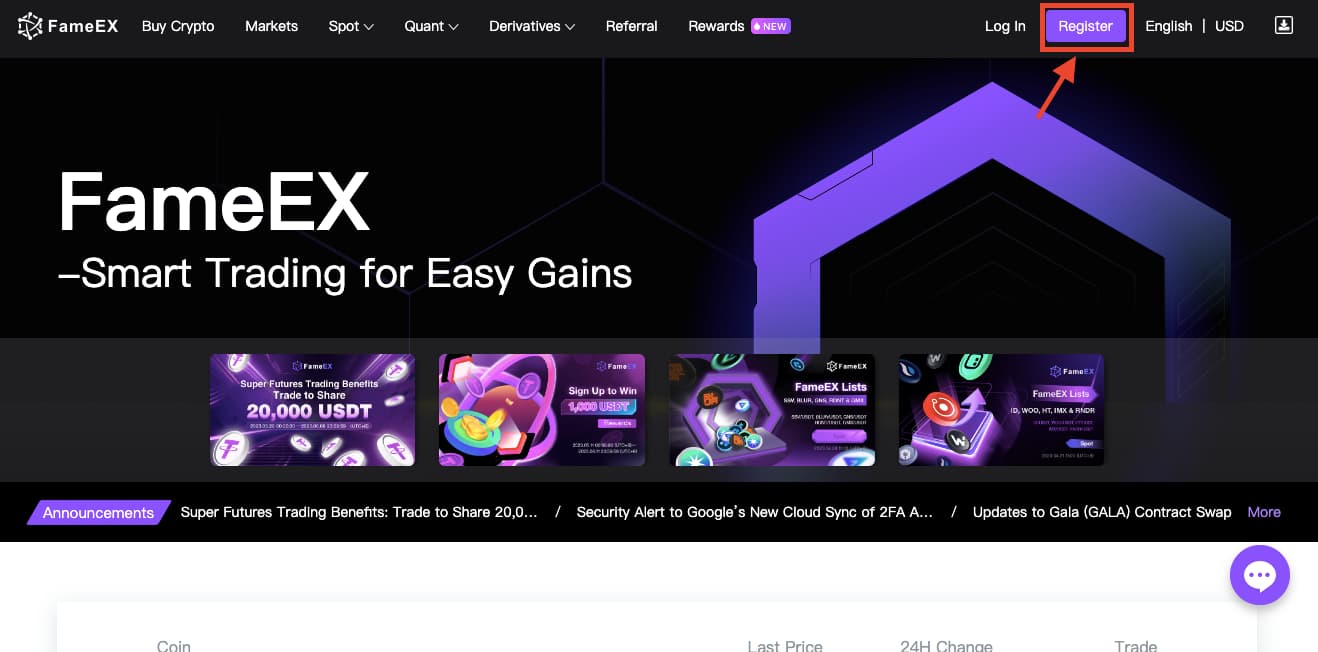 2. Create and Verify Your Account
After picking your preferred crypto exchange, the next step is to create an account. You'll typically need to provide an email address and create a strong password. The exchange will then send you a verification email. Click on the link within this email to verify your account.
Registering in FameEX is a straightforward procedure, necessitating nothing more than a personal email address and a chosen password. Upon completion of the registration info, a verification code will be dispatched to your email to enable the activation of your account. This uncomplicated procedure establishes your cryptocurrency account with FameEX, facilitating a swift and seamless entry into the realm of cryptocurrency trading.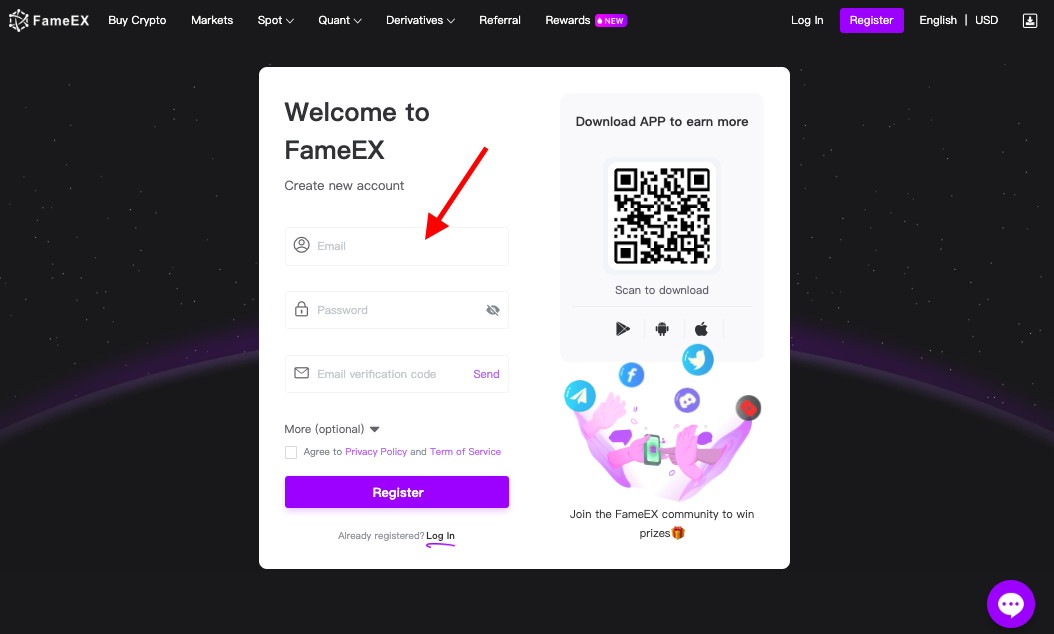 3. Deposit Fiat to Invest
Once your account is set up, it's time to deposit funds. Most exchanges allow you to fund your account using a credit card, debit card, or bank transfer. Some also accept other payment methods like PayPal or even other cryptocurrencies. If you're just starting out in the realm of cryptocurrency and lack a credit card, there's no cause for concern. Funding your FameEX account can be achieved through a bank transfer, or alternatively, by using our new third-party partner, Coinfy or BANXA. This partnership enables the purchase of crypto without the need for a credit card. Such options streamline your initiation into the world of cryptocurrency trading on the FameEX exchange.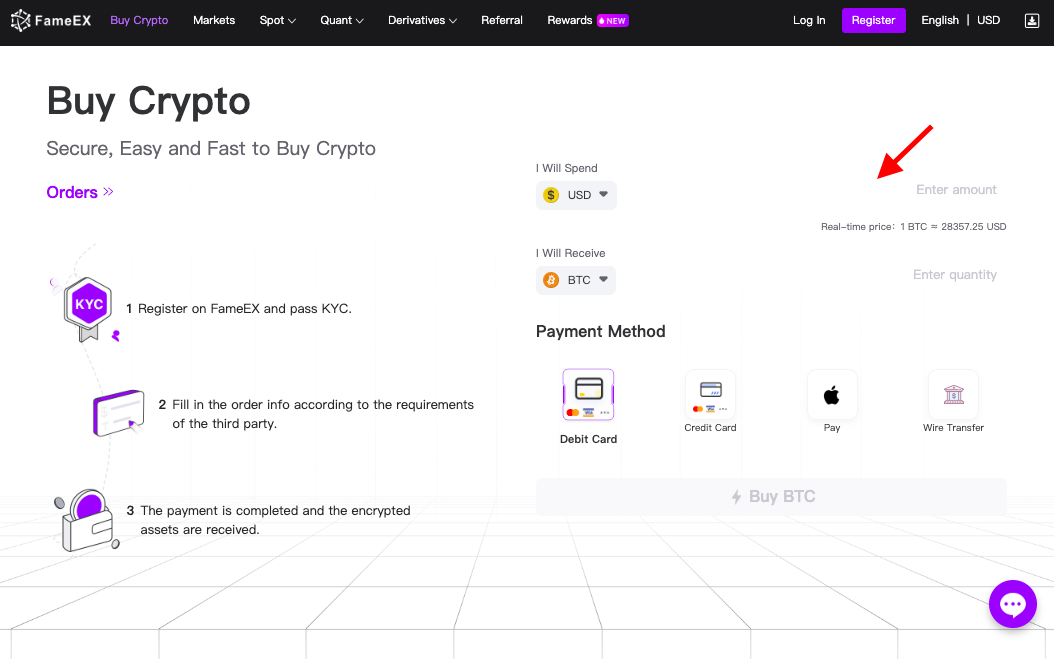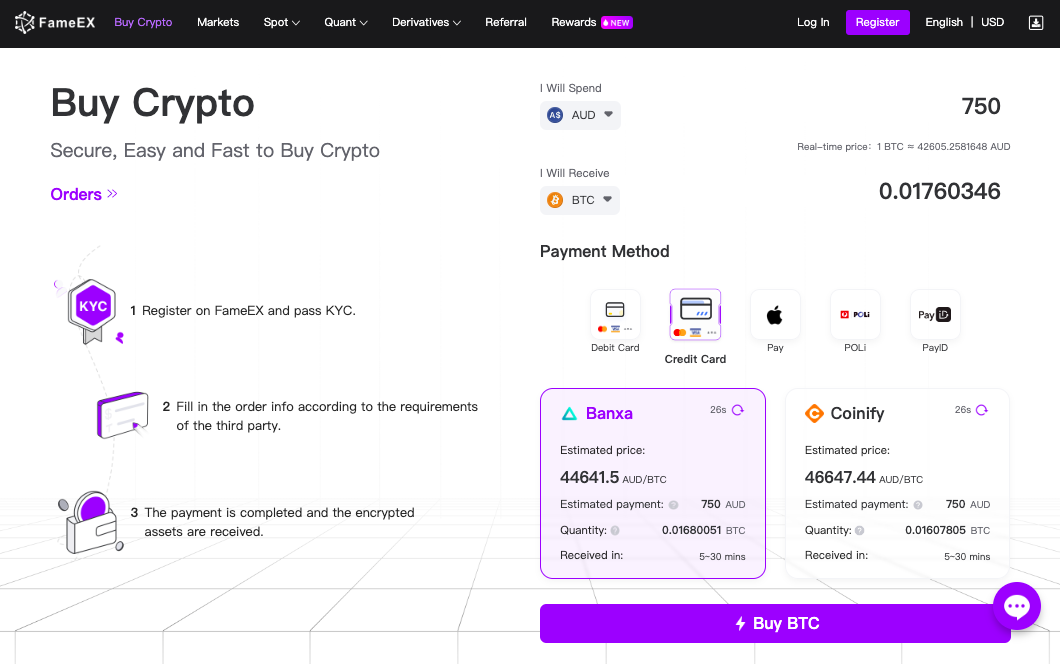 4. Place Your Cryptocurrency Order
After depositing funds, you're ready to buy crypto. Navigate to the exchange's marketplace, select the cryptocurrency you wish to purchase, enter the amount you want to buy, and confirm your order.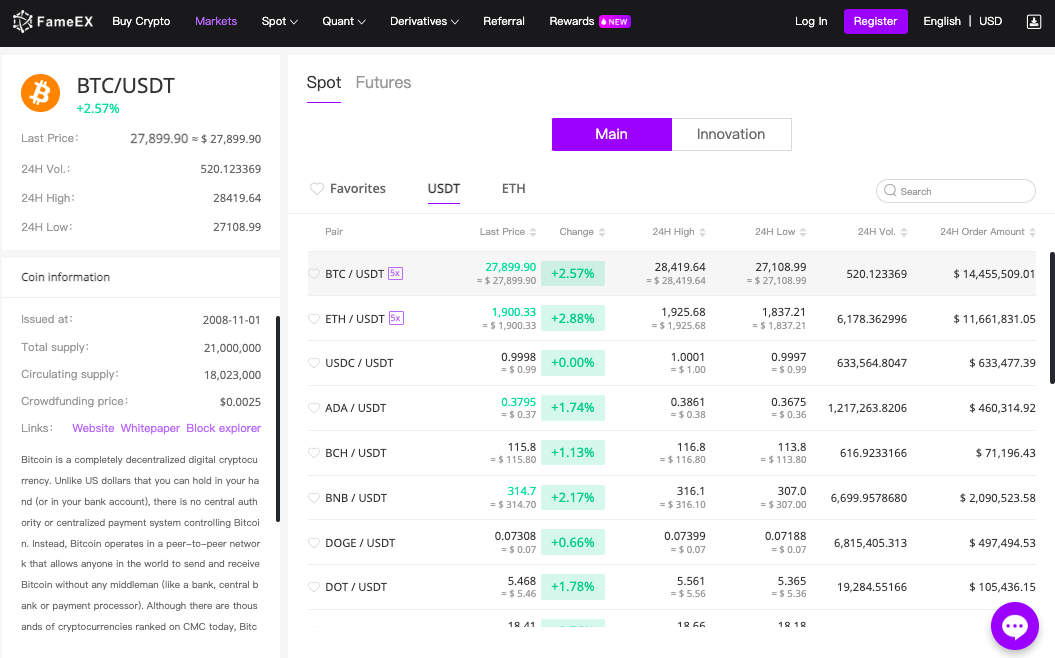 5. Select a Storage Method
Lastly, you'll need a place to store your purchased cryptocurrencies, often referred to as a crypto wallet. There are two main types of wallets: hot wallets, which are connected to the internet and provide quick access to your assets; and cold wallets, which are offline and provide increased security. A cryptocurrency wallet on an exchange is a digital interface that facilitates the storage, sending, and receiving of various types of cryptocurrencies. These wallets, akin to personal bank accounts for digital currencies, utilize cryptographic security measures, including public addresses for receiving funds and private keys for accessing funds. However, these private keys are controlled by the exchange, not the user, introducing potential security risks. In addition to facilitating transactions, these wallets are integrated with their respective exchanges, allowing users to easily trade their cryptocurrencies. The wallets generally provide a user-friendly interface for managing balance and transaction history. If you're interested in the difference between Custodial vs Non-custodial Crypto Wallet, you can find more information here.

Tips for Securely Managing Your Crypto Account
Properly managing your crypto account is crucial for safeguarding your investment. Here are a few tips to enhance your account security. FameEX provides an array of eight distinct security measures, ranging from email verification to meticulous security logs. These comprehensive features enable you to maintain and safeguard the integrity of your account from every angle.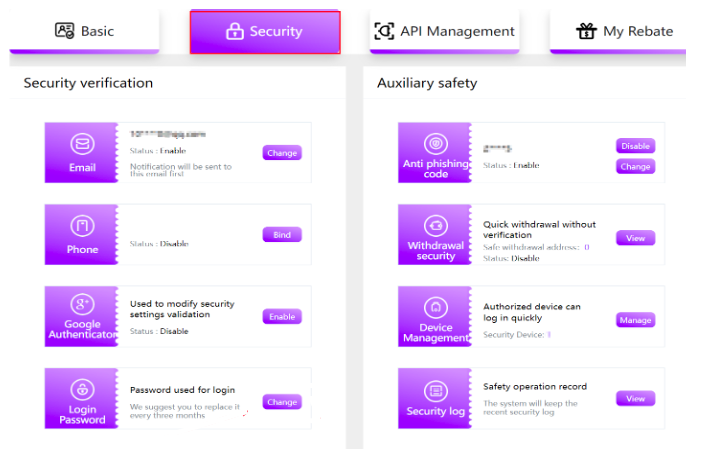 Regularly Update Your Account Password
Just like with any online account, it's essential to frequently update your crypto account's password. Use a strong, unique password and consider using a password manager to keep track of it. FameEX suggests all users to set up passwords with 8-20 characters, including at least 3 of the following elements: uppercase letters, lowercase letters, digits, and special symbols.

Use a Separate Email Address for Your Crypto Account
Creating a separate email address for your crypto account can add an extra layer of security. This way, if your primary email is compromised, your crypto account remains secure. If you're curious about whether your email, along with your personal info or passwords, might be at risk, consider visiting 'haveibeenpwned', a handy site that helps you check if your data has been compromised. Many people use the same email on various platforms without realizing it might have been leaked. Changing passwords is useful, but it won't save you if your personal info, like your address or bank details, is out there. One helpful hint for added safety is to avoid talking about your investments on platforms that can link back to your personal details or to an exchange. It might also be a good idea to use several emails on various exchanges and keep your cryptocurrency in different wallets. Just like you spread your investments, it's wise to diversify your security measures too.

Be Cautious of Phishing Attempts and Scams
Always be on the lookout for phishing attempts and scams. Cybercriminals often mimic crypto exchanges in an attempt to steal your login credentials. Only interact with official communications from your exchange and report any suspicious activity. It's clear to see that certain individuals are masquerading as official representatives of FameEX's marketing team, only to engage in fraudulent activities. To combat this, FameEX has launched a new feature that allows users to confirm the authenticity of these individuals. This tool, named 'FameEX Verify', lets you search for their usernames or links. If you're intrigued, you can utilize this feature on the FameEX site to ensure you're interacting with genuine FameEX representatives.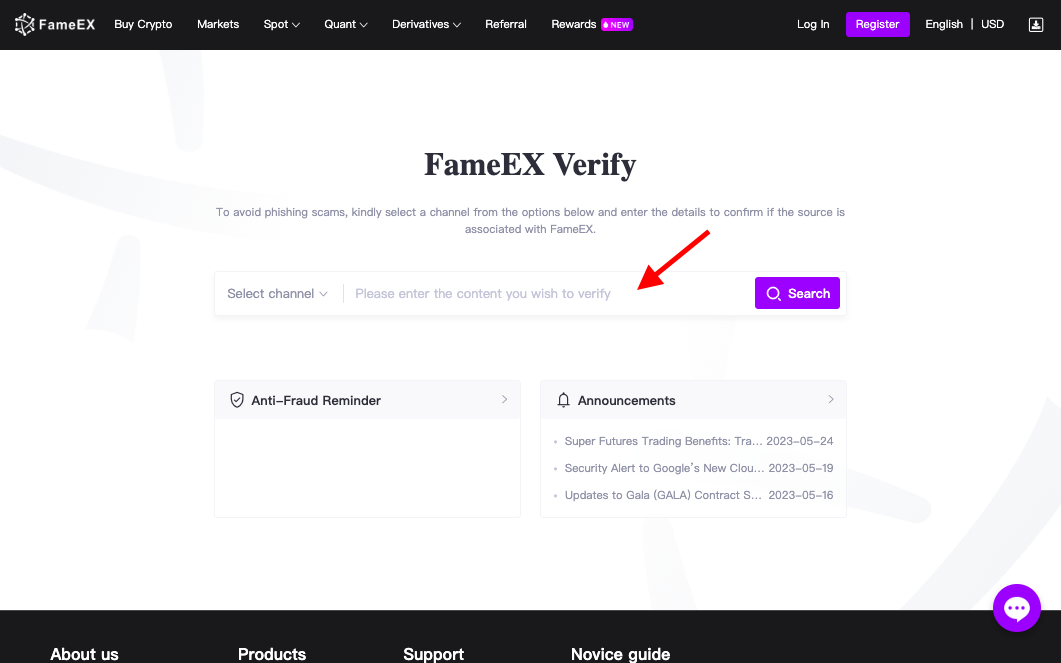 In conclusion, getting started with a cryptocurrency exchange may seem intimidating at first, but the process becomes straightforward once you understand the steps involved. Keep security as your top priority, and make sure to research thoroughly before choosing the right crypto exchange for your needs. Happy trading!

FAQ
How long does it take to register?
The registration process is usually quick, taking only a few minutes. However, the KYC verification process can take a bit longer, sometimes up to several days, depending on the exchange and the information they require.
What are KYC and AML requirements?
KYC (Know Your Customer) and AML (Anti-Money Laundering) are regulatory requirements that crypto exchanges must adhere to. They involve verifying a user's identity to prevent illegal activities such as money laundering or fraud.
What if I get denied based on my country of residence?
Some exchanges may not operate in certain countries due to local regulations. If you get denied based on your country of residence, consider looking for other reputable exchanges that accept users from your country.
How to exchange cryptocurrencies?
Trading cryptocurrencies on an exchange is straightforward. After depositing funds into your account, navigate to the trading platform's marketplace, select the crypto pair you wish to trade, specify the type and amount of your order, and confirm.
Why should you trust FameEX?
FameEX is a secure cryptocurrency exchange with a robust security framework and a user-friendly interface. It provides an easy trading experience for beginners and experienced traders alike.
What cryptocurrencies does FameEX support?
FameEX supports a wide variety of cryptocurrencies, including but not limited to Bitcoin, Ethereum, Litecoin, and Cardano. Its broad selection of digital assets provides users with plenty of investment opportunities.

This is not investment advice. Please conduct your own research when investing in any project.