Top Trending Crypto News Today
The Bankruptcy Court for FTX is Debating Whether to Appoint an Independent Examiner
https://www.fameex.com/en-US/news/the-bankruptcy-court-for-ftx-is-debating-whether-to-appoint-an-independent-examiner
According to a Reuters article dated February 6th, a bankruptcy court has heard arguments on both sides of whether FTX should be subject to an impartial review.
Visa Eyes High-Value USDC Settlement Payments on Ethereum
"We've been testing how to actually accept settlement payments from issuers in USDC starting on Ethereum and paying out in USDC on
Ethereum
," Cuy Sheffield, head of crypto at Visa, said during the StarkWare Sessions 2023 event in Tel Aviv. Visa hasn't yet integrated blockchain tech to support regular money movement on its network, but is currently exploring the move. Still, the company has already launched a blockchain-powered business-to-business payments network called B2B Connect. (Source:
Blockworks
)
Daily Crypto Market Analysis - Growing and Forecast
Yesterday, 45.63M USDT longs and 25.87M USDT shorts were liquidated on the entire network. The net liquidation was 19.76M USDT longs. Yesterday's total liquidation amount did not change much, and the market activity remained flat.
The Fear & Greed index fell slightly to 56. Overall, market sentiment remains stable and investors are cautiously optimistic.
Bitcoin Ahr999 has dropped slightly to 0.58, and is now above the bottom line (0.45) and below the DCA line (1.2). The numbers reflect that the current short-term trend is no longer so weak, but the long-term trend is still a bear market.

In the last trading day, the three major US stock indexes all fell. The DJI was relatively strong, down -0.10%, the S&P 500 was down -0.62%, and the Nasdaq was the weakest, down -1.00%. The two major cryptocurrencies both fell slightly yesterday, with BTC and ETH down -0.65% and -0.48% respectively.

In terms of politics and economy, investors will continue to pay attention to the earnings season, and will will listen closely to Federal Reserve Chairman Jerome Powell's speech on Tuesday at the Economic Club of Washington on Tuesday, as well as the State of the Union address by US President Joe Biden on Wednesday.

Federal Reserve Bank of Atlanta President Raphael Bostic said in an interview on Monday that the U.S. non-farm payrolls report far exceeded expectations in January, which may mean that the U.S. central bank has to do more work, and need to increase interest rates to a higher peak than previously expected.

Geopolitical concerns are heating up, with Bloomberg citing sources reporting that the Russia-Ukraine war has lasted for nearly a year. The United States is preparing to impose a 200% tariff on Russian-made aluminum as soon as this week, continuing to put pressure on Russia.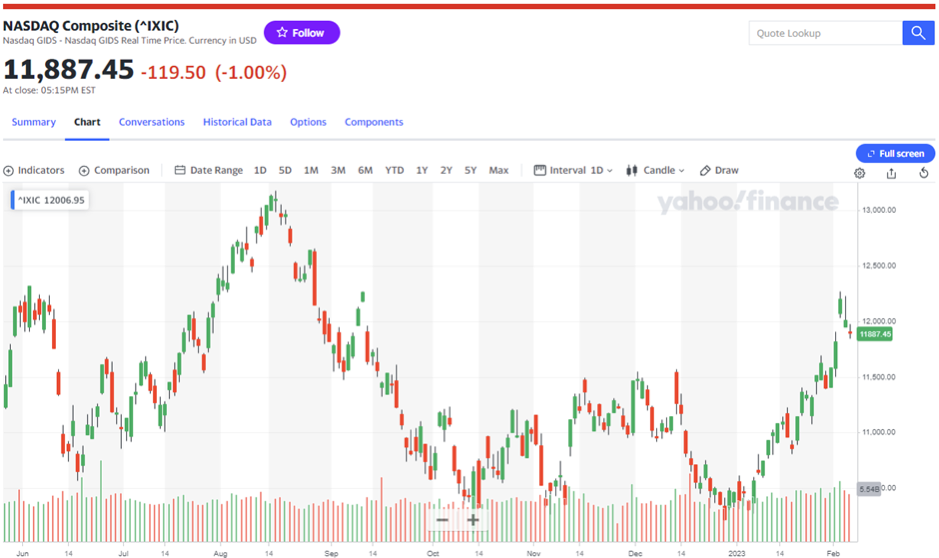 The mainstream currencies rose and fell mixed yesterday, ranging from -2.29% to 0.85%. Among them, ADA was down -2.29% today in contrast to yesterday's strength. MATIC, on the other hand, was the strongest, up 0.85%. The two major currencies are both down slightly, with BTC and ETH down -0.65% and -0.48% respectively.

Looking at BTC from the 4-hour candles, since the beginning of 2023, BTC has started a new bullrun with an increase of up to nearly 50%, which is very impressive. At present, the price has entered a consolidation stage, with the upper pressure at 24255 and the lower support at 22300. Neither the long-side nor the short-side has an obvious attack. And the price has fallen below MA7, there will be a lot of pressure in the short term. MA25 is providing lower support.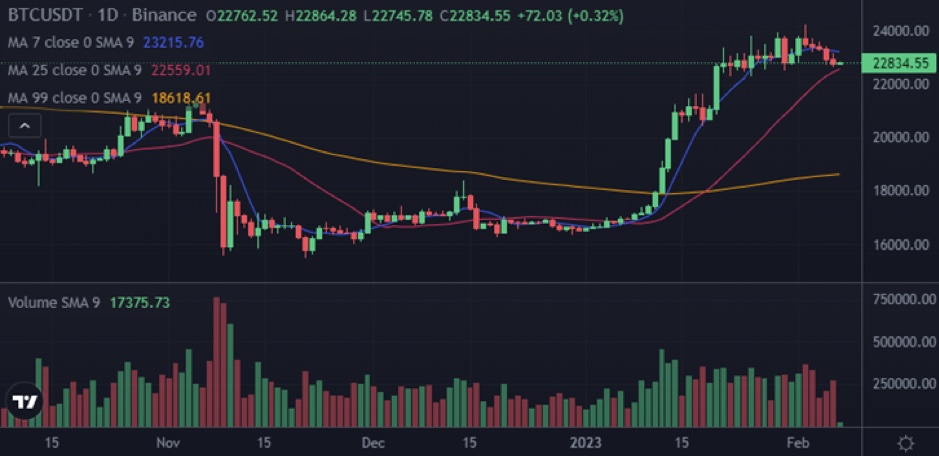 Disclaimer: The information provided in this section is for informational purposes only, doesn't represent any investment advice or FAMEEX's official view.