FameEX Weekly Market Trend | September 21, 2023
2023-09-21 18:34:51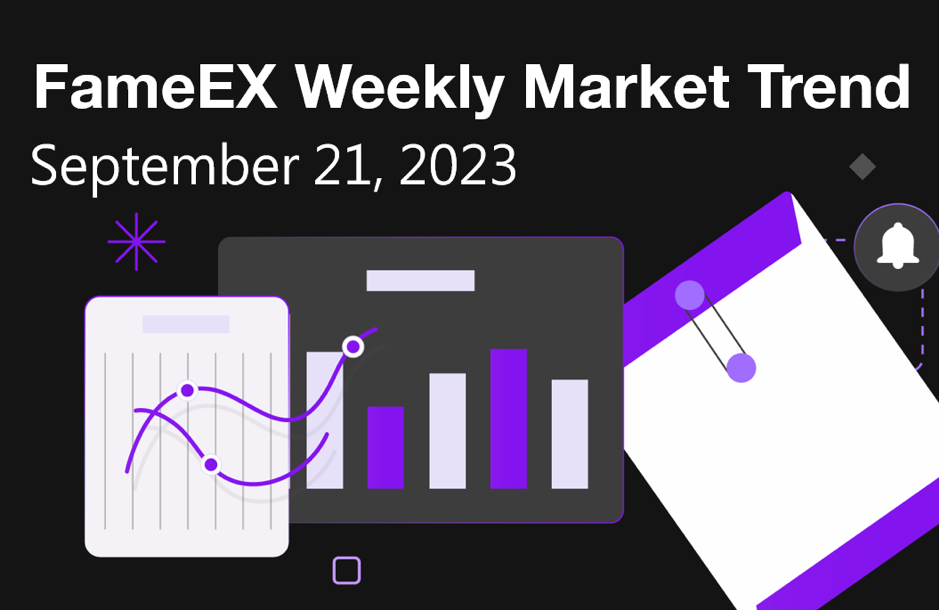 1. Market Trend
From Sep. 18 to Sep. 20, BTC traded between $26,377.35 and $27,483.57, with a volatility of 4.19%. Since BTC surged past $26,000, it hasn't dipped below. Prior analysis advised exiting at $26,000 and aiming for $27,000+. From 9/18 to 9/20, BTC broke $27,000 with robust volume, hitting $27,483. On the 15-minute chart, when BTC nears or dips below $27,000, it quickly bounces back (3 occurrences). So, watch the rebound speed and volume near $27,000 to gauge support and the main players' intent. This will help enhance your judgment for entry and exit. On the 1-hour and 4-hour charts, BTC is supported by the 25-day MA since breaking $26,000, steadily rising. Currently, a daily chart adjustment is in progress with the 25-day MA (around $26,100) slowly rising; this adjustment should finish in 3 days. Without a sharp pullback (staying above $26,500), it is likely to see continued upward momentum. Entry around $26,900 with a $26,500 exit (if not reclaimed in 1 hour), targeting $28,000+.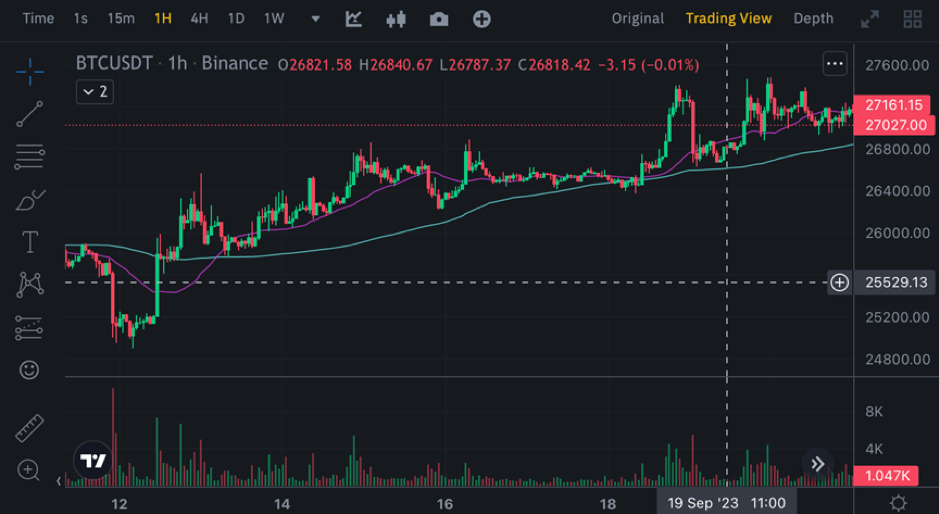 Source: BTCUSDT | Binance Spot

Between September 18 and September 20, the price of ETH/BTC fluctuated within a range of 0.05994-0.06132, showing a 2.30% fluctuation. In previous analysis reports, it was consistently advised to stay away from this cryptocurrency as it was highly likely to continue setting new lows. Between 9/18 and 9/20, ETH/BTC reached its lowest price position in nearly a year, falling below 0.06. Currently, there are no signs of a rebound, and it still appears to be in a clear bearish trend. It is advisable to steer clear of this cryptocurrency in the near term.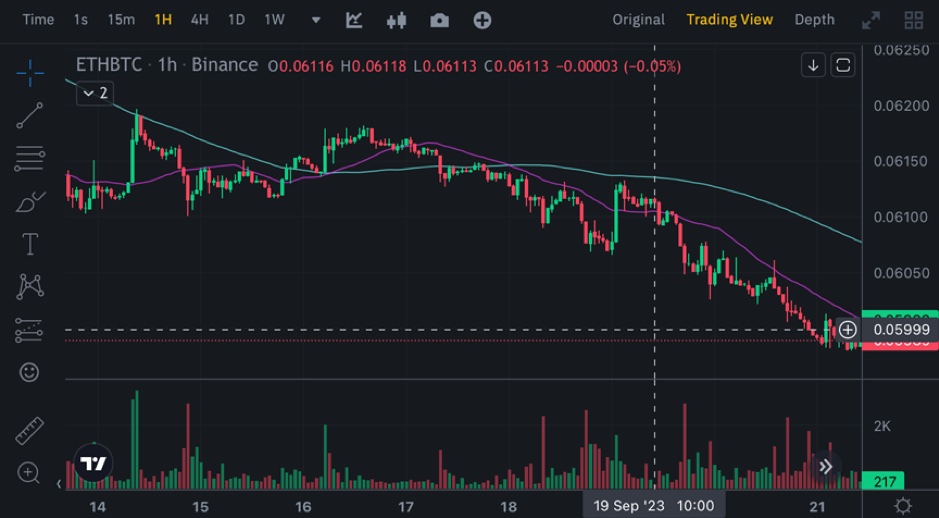 Based on the overall analysis, the market pace has slowed down considerably. BTC is gradually climbing in price, and there are several other coins following this upward trend, although their gains are limited. The overall market environment is progressing in a positive direction. Currently, there are no coins in the market apart from BTC that can significantly influence the overall market trend. BTC is currently oscillating above $27,000, and as long as it doesn't drop below $26,500, the market can continue to develop steadily, leading to sustained high capital inflows and trading volume. Otherwise, there may be a certain degree of sluggishness in the market.
The Bitcoin Ahr999 index of 0.45 is below the buy-the-dip level ($27,150). Therefore, it is advised to purchase popular coins in the spot market at low points.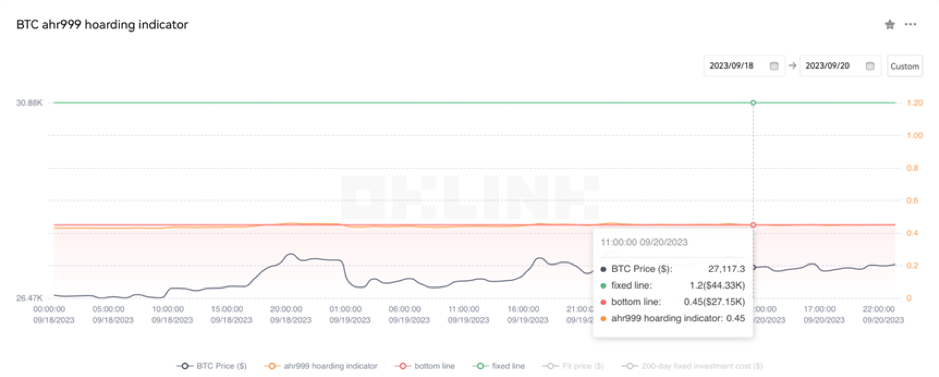 From the perspective of MVRV Z-Score, the value is 0.448. When the value is greater than 6, it enters the market tops, while a value below 2 indicates that it enters the market bottoms. Currently, the present value exceeds the buy-the-dip range (-0.47-0.06).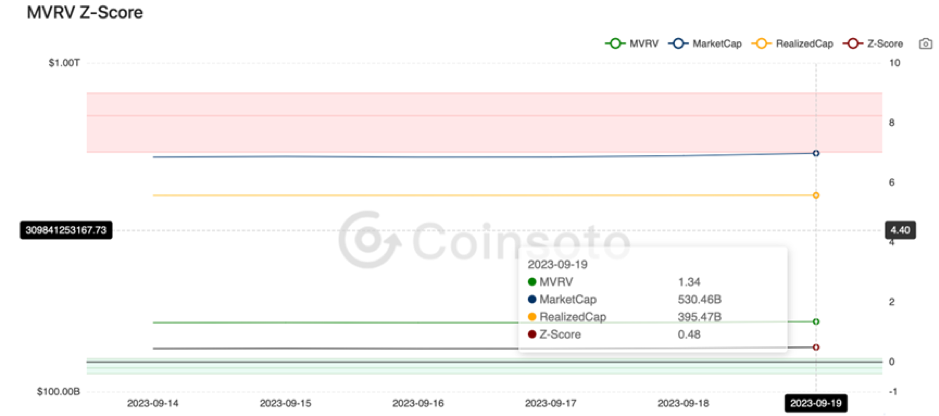 2. Perpetual Futures
In general, the 7-day cumulative funding rates for the popular coins across major exchanges have generally trended toward balance, indicating a relatively tense situation between longs and shorts.

There were barely any changes in the BTC and ETH contract open interest from major exchanges.
Exchange BTC Contract Open Interest: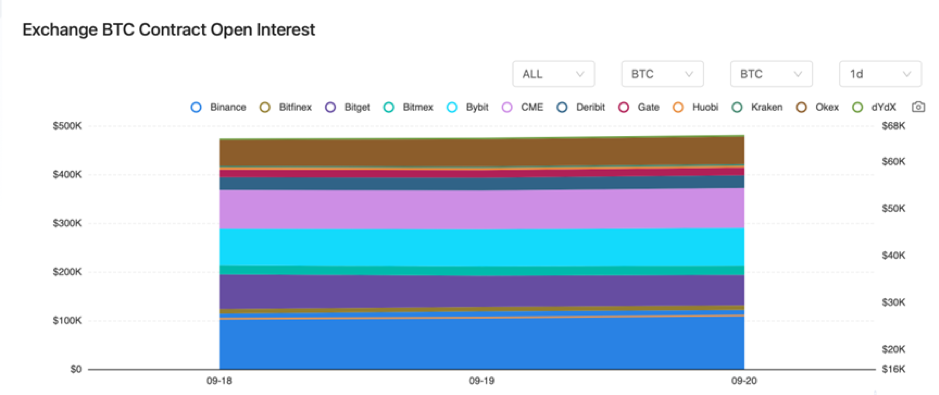 Exchange ETH Contract Open Interest: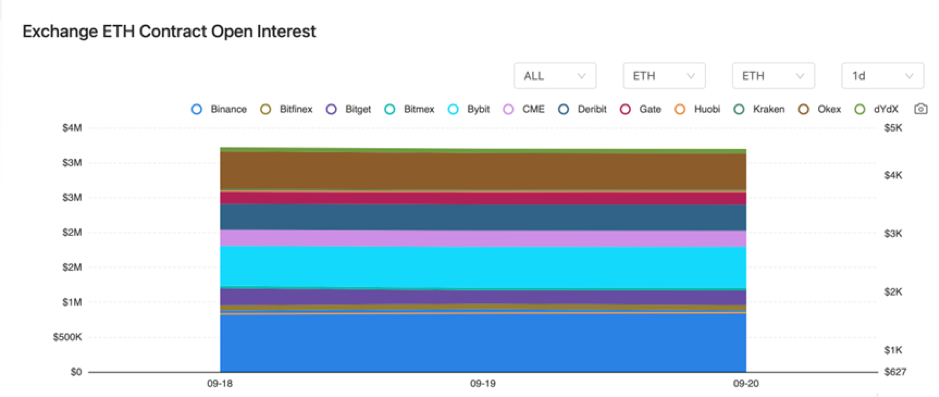 3. Industry Roundup
1) On September 18, South Korean regulatory authorities began monitoring OTC trading.
2) On September 18, it was believed that Web3 practitioners need to pay more attention to the business logic in smart contracts.
3) On September 18, Grayscale announced abandoning its ETHW token rights.
4) On September 19, Musk considered charging all X (formerly Twitter) users.
5) On September 19, the final reset of dYdX Chain's testnet was completed.
6) On September 19, Citibank introduced token services allowing customer deposits to be converted into digital tokens.
7) On September 20, USDC was launched on the Polkadot mainnet.
8) On September 20, Stanford University stated that it would return a donation worth over $5.5 million from FTX.
9) On September 20, Grayscale applied for a new Ethereum futures ETF.
10) On September 20, CZ stated that a $250 million loan was provided to BAM instead of borrowing from it.
Disclaimer: FameEX makes no representations on the accuracy or suitability of any official statements made by the exchange regarding the data in this area or any related financial advice.