A new stablecoin tethered to the euro received scathing criticism from certain commentators, however, it is now unavailable to the public.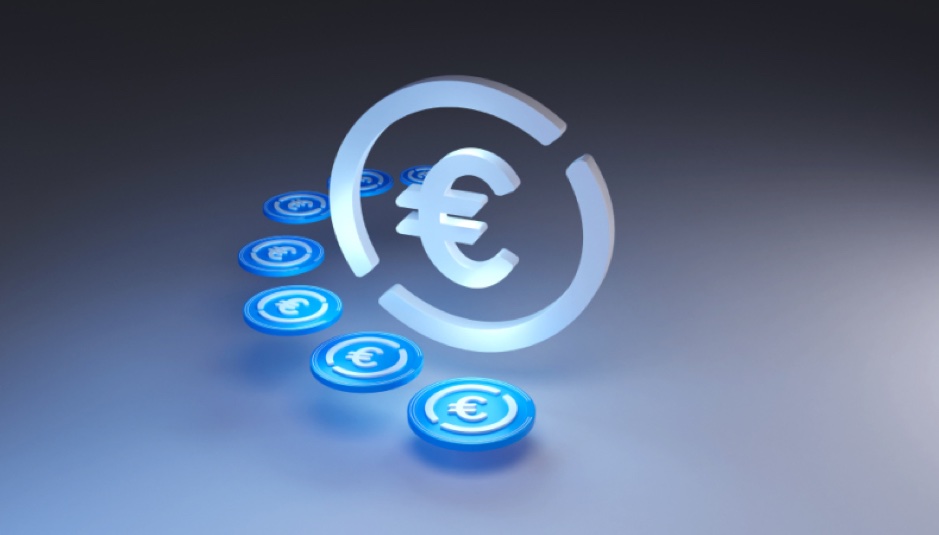 Source: cryptodaily.co.uk
Due to the decision to limit peer-to-peer transactions, a new euro-pegged stablecoin launched in France has come under fire. The Ethereum-based stablecoin named EUR CoinVertible (EURCV), which is only available to qualify institutional clients, was launched by the French bank Societe Generale-Forge (SGF) on April 20. Observers who examined its smart contract code claim that before an ERC-20 transfer can be completed, it must first be approved by a centralized registrar, most likely one that is under the authority of the bank.
An anonymous smart contract programmer who goes by alephv.eth revealed in a tweet on April 20 that "they coded it, so they have to whitelist all users, process all user payments, and even process your ERC20 permissions before they process your 'transferFrom' lmao.'' In a second piece, she derided the code once again, calling it a "radical commitment to inefficiency in the name of the regulation. The inventor of the Non-fungible Token (NFT) project, foobar, tweeted to his over 127,000 followers on April 20 that the stablecoin's coding was "the worst I've ever seen" and called it a "laughingstock." The code was described as absolutely horrible by crypto expert Mason Versluis, who also advised the French bank to "stop trying to weasel" into cryptocurrency.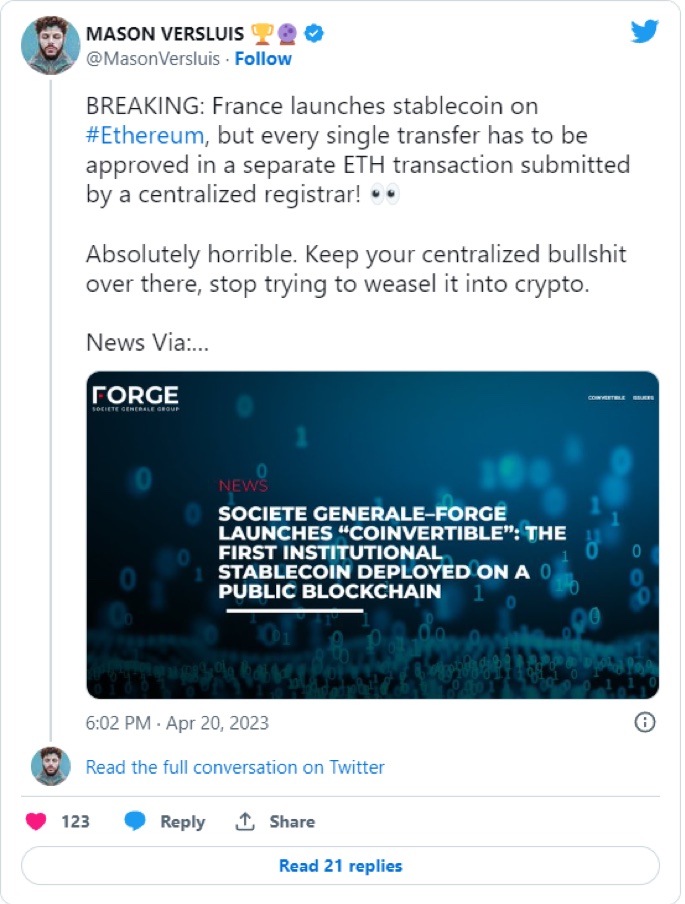 Tweet by Mason Versluis
SGF may not be the first bank to introduce an institutional stablecoin on a public blockchain, according to Berckman. He cited the National Australia Bank's (NAB) AUDN stablecoin, which it was said was the second bank to introduce a stablecoin and was created on Ethereum in March.
However, Berckman anticipates that additional financial institutions will follow suit in the upcoming months, adding that he is "certain" SGF won't be the only institution to introduce a stablecoin on a public network.
If The Use of Stablecoin Expands, The Central Bank of Israel Says CBDC May Be Issued
The stablecoin created by SGF isn't initially meant for usage by the public. According to the bank's release on April 20, EURCV is only strictly accessible to institutional clients who have been onboarded by the bank following its Know Your Customer (KYC) and Anti-Money Laundering (AML) protocols. Stablecoin is intended to fill the gap between assets in conventional financial markets and the ecosystem of digital assets. Ethereum explorer Etherscan shows that a total of 10 million EURCV tokens were created on Ethereum three days ago. One wallet address has all 10 million tokens. The growing desire for a new settlement asset to handle on-chain transactions led to the introduction of the stablecoin.
Disclaimer: FameEX makes no representations on the accuracy or suitability of any official statements made by the exchange regarding the data in this area or any related financial advice.