FameEX's Exclusive Sign-Up Bonus and Anniversary Celebration Draw 30,000+ Participants
2023-03-20 17:44:40
FameEX, the secure and global cryptocurrency exchange, has recently marked its third anniversary with a series of commemorative events and an unveiling of its ambitious Web3 strategy for the upcoming years. The exchange has also taken the opportunity to rebrand its previous image with a new platform, design, and logo format, further solidifying its position as a game-changer in the cryptocurrency ecosystem.
During the celebrations, the community of FameEX users came together online, exhibiting their unwavering passion for the exchange. Many seasoned users spoke about their journey with FameEX and how the exchange has accompanied them every step of the way, making their experience in the industry unforgettable. They commended FameEX's growth and development, which they believe reflects their own progress in the field. New users also shared their positive experiences with FameEX, expressing their appreciation for its user-friendly products, attentive service, and engaging activities. Their voices echoed the sentiment of many, hoping for FameEX's continued evolution and success in the future.
In comparison to Binance's 5th Anniversary bonus which only offers rewards to users who refer one friend and obtain BNB or receive exclusive benefits for VIPs, FameEX has successfully concluded its 3-year anniversary celebration by offering an exclusive celebration to its valued users. The platform's lower threshold for participation and more lucrative rewards has provided an opportunity for new users to benefit from a sign-up bonus, deposit bonus, trading rewards, and an affiliate reward of 90 USDT or more for referring friends. The 'Celebrate 3-Year Anniversary: 30,000 USDT to Give Away' events were designed to show appreciation towards its users for their continuous support, and even FameEX royal users can easily avail themselves of a grand prize pool of 30,000 USDT. Overall, the range of profitable rewards and generous sign-up bonus makes FameEX reach over 30,000 participants and become an ideal platform for those looking to explore cryptocurrency trading.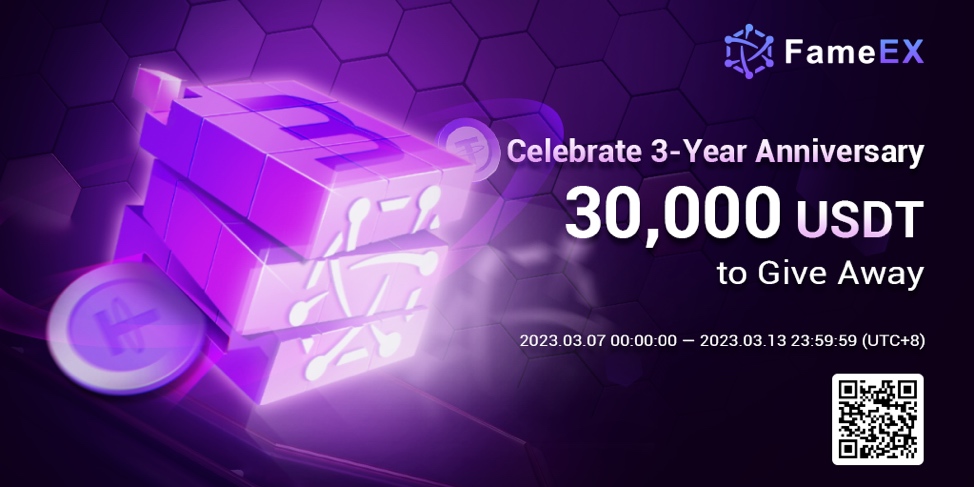 In addition, FameEX also initiated a range of anniversary benefit activities on its official social media platforms under the theme "3 Year Anniversary: $333 USDT Giveaway," thereby extending a cordial invitation to global users to partake in its 3rd anniversary social media endeavors. Throughout the campaign, users who followed FameEX's Twitter and altered their profile pictures to FameEx's 3rd anniversary image as tweets were eligible to be considered for the 333 prizes offered by FameEx. Ultimately, this event garnered substantial participation and reaching more 26,000 impressions.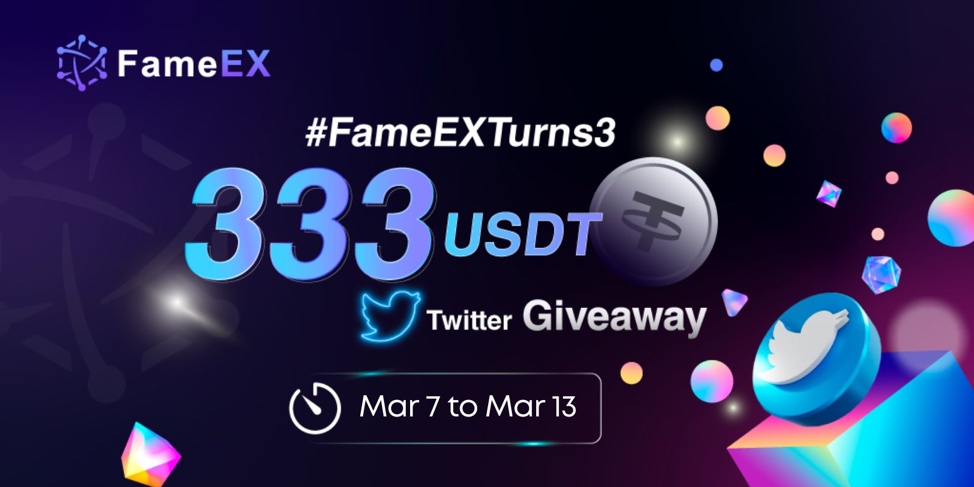 FameEX's third-anniversary celebrations had been a testament to its position in the cryptocurrency world, with a strong community that stands behind it. As it forges ahead with its Web3 strategy, FameEX is set to usher in a new era of innovation and advancement in the industry. Through its celebratory events, FameEX is committed to providing generous benefits with a low threshold for participation. The platform has assured that all users can easily enjoy the rewards as a genuine gesture of gratitude. For upcoming events, please stay tuned to the FameEX website.
About FameEX: Best and Safest Crypto Exchange in Australia
Launched in 2020. FameEX is a global cryptocurrency exchange that currently provides fiat-crypto, crypto-crypto, grid trading, futures, options, margin, spot and a hugely popular referral and affiliate program. With more than 300,000 users across 50 countries and regions. FameEX provides a secure, stable and efficient 24/7 trading platform.
Currently, FameEX is undergoing rapid expansion of the user base and is a reliable crypto exchange broker which operates under a policy of transparency and fairness. Moreover, the trading platform offers a high level of sophistication, with plenty of engaging trade choices to help traders accomplish their goals.
In addition, FameEX keeps pushing the boundaries of the crypto exchange industry, exploring frontier growth opportunities and strengthening core competencies, expanding into adjacent product offerings and developing innovative business models that lead the way in bringing Web3 solutions into the crypto ecosystem including recruiting more Web3 developers and researchers to enrich the Web3 product that will support those visionary traders.
Find FameEX on:
Website: https://www.fameex.com/en-AU
Twitter: https://twitter.com/FameEXGlobal
YouTube: https://www.youtube.com/c/FameEX
Telegram: https://t.me/fameexgroup
Discord: https://discord.gg/V8yvKPxVCk
Trade on-the-go with the FameEX app (iOS/Android)