The year 2022 has been a year of ups and downs for the web3 industry. However, it's also a good chance for those new and potential projects. DeNet started our journey early this year. We are devoted to serving the best service to all of our clients. And we are so grateful that we've had a great journey together since then. Now the end of 2022 is just around the corner, it's time to celebrate what we've achieved so far and give back to our amazing community.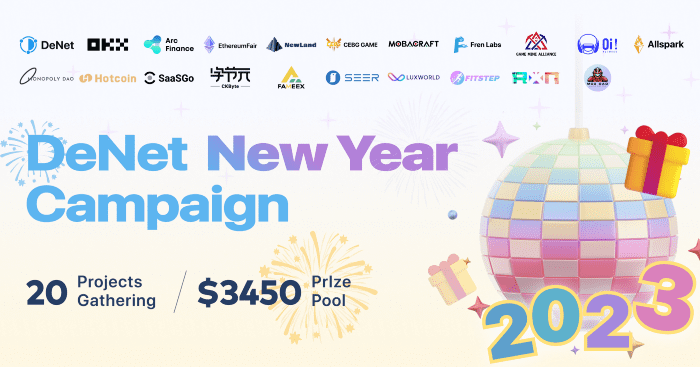 For an inspiring 2023, DeNet has invited 20 partners as our guests and are pooling $3450 worth of rewards because we hope to create precious memories at the end of 2022.
🥂DeNet New Year Campaign Guests' Schedule
We have invited 8–10 projects to celebrate the New Year Campaign every day, a total of five rounds of "hide and seek" for you! After you have completed the tasks for that day, you'll be able to get the rewards immediately, and remember to come back to this page to share the total prize pool of $3450! Invite your friends to join this campaign! The more you invite, the more you will get.


DeNet New Year Campaign Round 4
⏰ 30th, Dec, 2022 – 5th, Jan, 2023
👼Guests: DeNet, CKBMeta, FAMEEX, Seer
Giveaway Entrance:
💰 Click 👇
https://twitter.com/FAMEEXGLOBAL/status/1608719081993297920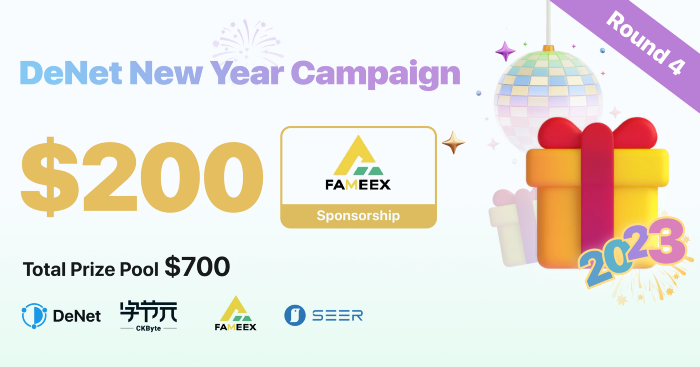 Come and join us for an immersive Web3 experience like you've never seen before!
Keep an eye on the DeNet official Twitter account https://twitter.com/denet2022 to stay up to date on the tasks which will be rolled out these days! Wish you all good luck and Happy New Year!


Notes:
1. Users must complete all tasks on Twitter;
2. Rewards will be distributed immediately after finishing all tasks;
3. The DeNet team reserves the right to make the final decision on the outcome of this event;
4. Each user can only use one Twitter account to participate in the event. If users are found to use multiple Twitter accounts to participate in the event repeatedly, DeNet has the right to disqualify the users.


About DeNet:
DeNet is a business growth platform for web3 projects. DeNet Giveaway is a unique giveaway function that allows you to reward participants with NFT, Whitelist, Token and any type of gift to your giveaway participants to attract them to finish tasks at your request. This will help build engagement and participation in your giveaway, which will lead to increased exposure on social media.
LinkTool is a clickable Twitter card which can help brands display external link in tweet better. Brands can customize cover, title and description in an easy way. Besides, brands can set some tasks to make followers unlock links, such as follow, retweet, like, paid by NFT, etc.


More information👇
https://denet-2022.medium.com/join-denets-new-year-campaign-sharing-3450-prize-pool-f43073609749