The BTC market valuation will reach over $200 trillion if Back and Finney's $10 million price forecast comes to through.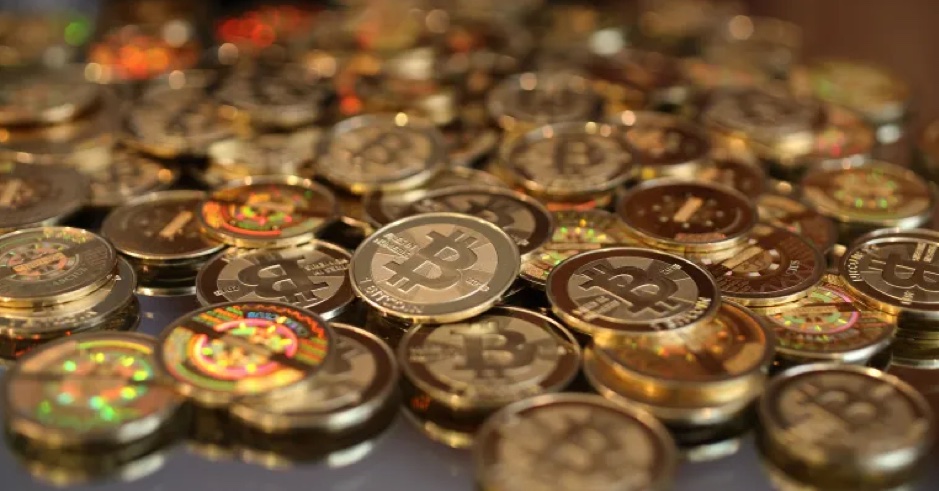 Source: blockpublisher.com


According to Blockstream CEO Adam Back, if Bitcoin layer-2 technology and wallet infrastructure continue to advance, the price of Bitcoin (BTC) might reach $10 million by the conclusion of the sixth halving in 2032.

Back, one of the Bitcoin core developers, was describing to his 509,000 followers on Twitter on February 12 how Hal Finney's $10 million price forecast for BTC may materialize. He pointed out that, since 2013, the price of Bitcoin has increased by double on average year and highlighted that, if this pattern holds, the price of Bitcoin would hit $10M and have a $200 trillion market value in around nine years.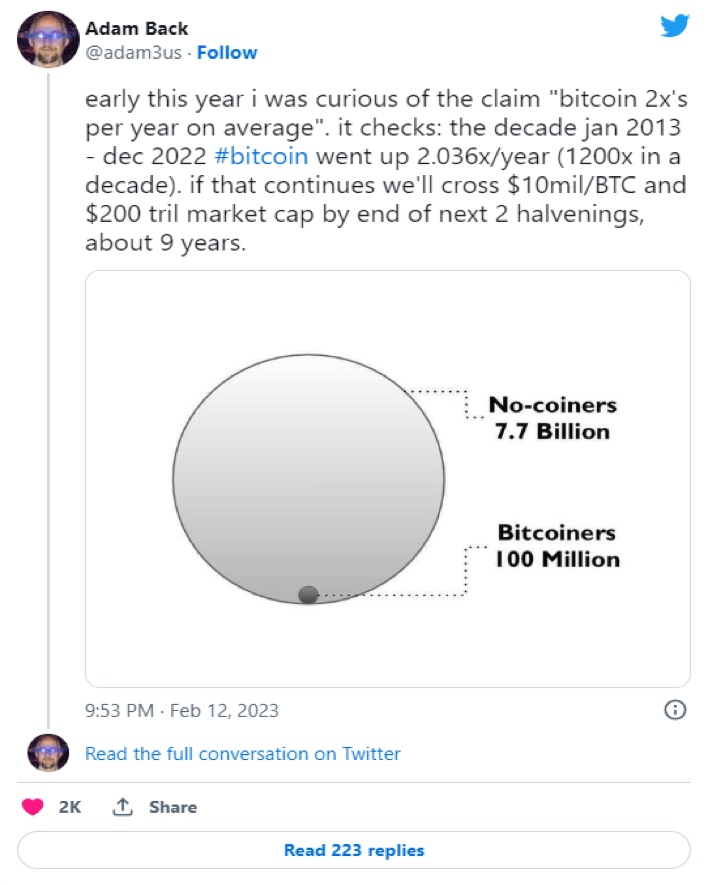 Tweet by Adam Back

Back said that in order to attain that number, advancements in wallet infrastructure and layer-2 Bitcoin technologies must be accelerated to provide for time for these breakthroughs to scale:

I predict that things will get "interesting" during the course of the next two halves. We must advance technology swiftly since we don't have much time. Without compromising main-chain security, we need a place where the next billion users may store their own keys and UTXOs in cold storage that is censorship-resistant.

It "probably" refers to sidechains or drivechains as a compromise, according to Back. More lightning optimization is needed since wallets, interoperability, and integration require time to develop in technology.

In response to a comment, Back stated that he thought Bitcoin adoption hadn't yet reached the S-bottom curve's because just 1% to 2% of the world's population had used Bitcoin. More investors will start to "stack" bitcoin into cold storage wallets, according to his forecast: "Given volatility, I think #bitcoin can overreach massively and touch one of these $100-300 trillion market values, drop, and then recover a steadier adoption over time. I predict that individuals with average entry points in relation to the price at the time won't have many incentives to sell in bulk.

The CEO outlined how individuals in hyperinflationary circumstances will "run" to bitcoin as part of the upcoming surge of adoption, which he refers to as "hyperbitcoinization spurts":Back did acknowledge, though, in response to another comment that "we've absolutely failed to financialize bitcoin" thus far. The cypherpunk proposed using Bitcoin in mortgages where real estate is used as the collateral and Bitcoin is utilized as the interest.

"The market for financialization based on bitcoin is young and essentially undeveloped. Bitcoin-structured products, mortgages with real estate backing but interest guarantees provided by BTC, and other products make it simpler and more suitable for a wider range of risk profiles. This stimulates further development.''

Back said, "BTC would also need to "displace" a sizable percentage of store of value premiums in bonds, real estate, gold, and stock portfolios in order to approach $10 million."

Disclaimer: FAMEEX makes no representations on the accuracy or suitability of any official statements made by the exchange regarding the data in this area or any related financial advice.