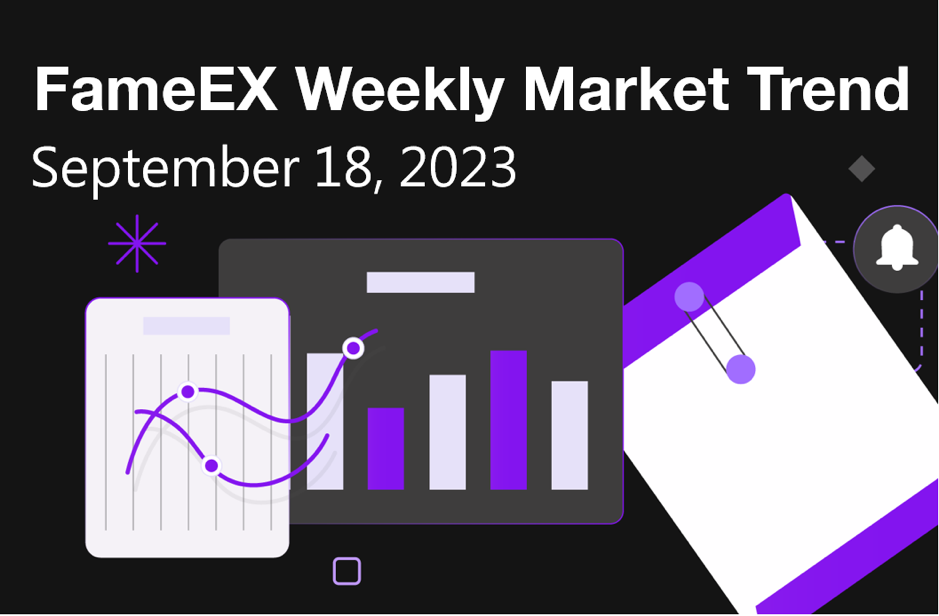 1. Market Trend
From September 14 to 17, BTC traded between $26,055.00 and $26,888.00, with a volatility of 3.19%. In the prior analysis, we noted an unusual pattern: despite BTC surpassing $26,000, it didn't undergo a significant pullback. Instead, it maintained support at $26,000 and continued its upward climb without falling below that level. This trend persisted from 9/14 to 9/17, with the lowest point reaching $26,055. BTC firmly held the psychological support at $26,000. These developments suggest subtle changes in BTC's month-long sideways trend, requiring close monitoring. The previous $25,500-$26,500 trading range shifted, revealing a new pattern centered around $26,000, indicating a slow upward trend. On the 1- and 4-hour charts, the 25- and 99-day MAs crossed below $26,500, potentially forming a bullish pattern with a continued uptrend. On the daily chart, a four-day oscillation near $26,500 is evident. The 25-day MA has shifted upwards, after suppressing coin prices for over a month. This suggests a potential reversal and a robust support level for BTC prices, ensuring stability. The market currently indicates clearing trends, making it crucial to follow suit, with $26,000 as an exit point (if it falls below and doesn't recover within 2 hours).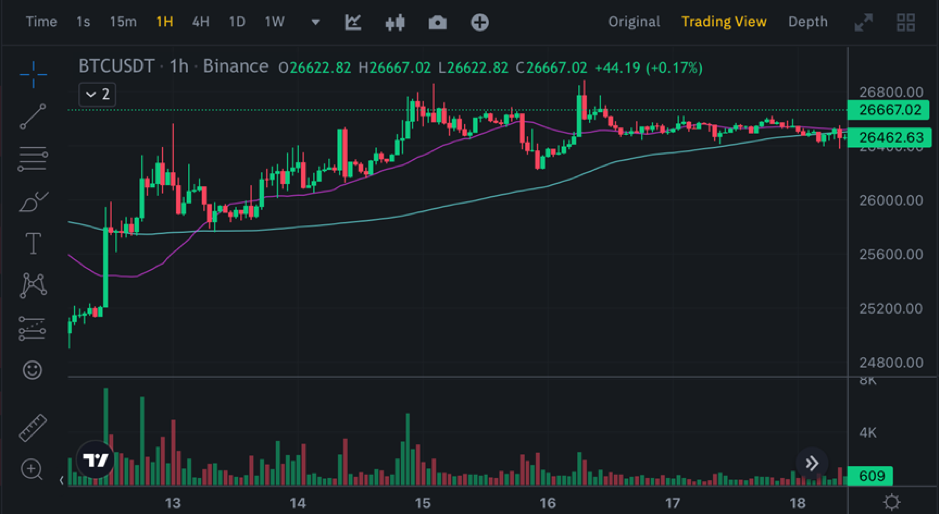 Source: BTCUSDT | Binance Spot
Between September 14 and September 17, the price of ETH/BTC fluctuated within a range of 0.06090-0.06197, showing a 1.75% fluctuation. The previous analysis report pointed out that it's advisable to stay away from this cryptocurrency in the near term. During the period from 9/14 to 9/17, it continued to set new lows and remained suppressed by various moving averages at different levels. There is a high probability that the price will continue to follow a downward trend, creating new lows.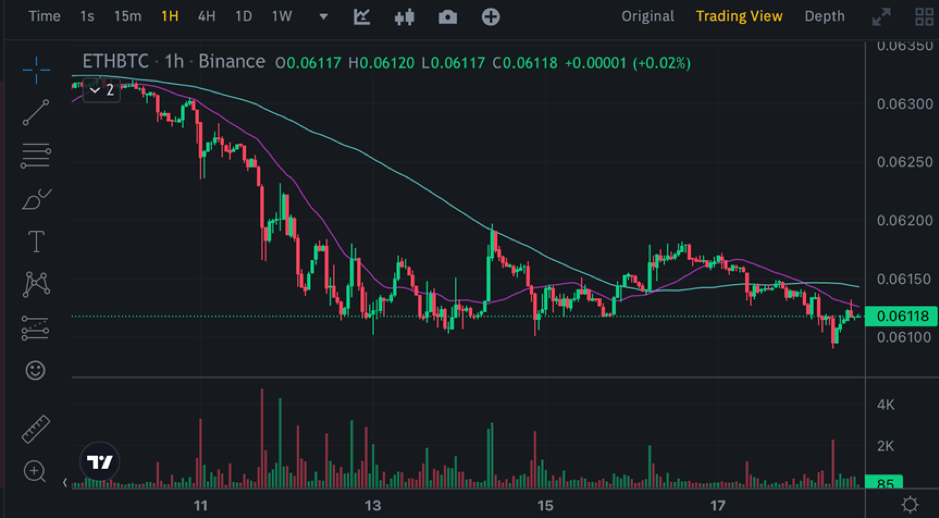 Based on the overall analysis, the market situation has become somewhat clearer. BTC has been trading above $26,000 for the past week, breaking the month-long consolidation trend. Apart from BTC, many popular coins have also seen some gains, with noticeable increases in trading volume, turnover rate, volatility, and capital inflow. If the market needs more changes, BTC's high volatility (significant upward or downward movements) is required. However, only upward movements will sustain the overall market vitality. If BTC can break through and stabilize above the psychological level of $27,000 within this week, it will lead to another step up in terms of capital inflow and trading volume for the entire market. For specific trading strategies and entry points, it is recommended to refer to the analysis provided above regarding BTC.
The Bitcoin Ahr999 index of 0.43 is below the buy-the-dip level ($27,070). Therefore, it is advised to purchase popular coins in the spot market at low points.

From the perspective of MVRV Z-Score, the value is 0.44. When the value is greater than 6, it enters the market tops, while a value below 2 indicates that it enters the market bottoms. Currently, the present value exceeds the buy-the-dip range (-0.36-0.06).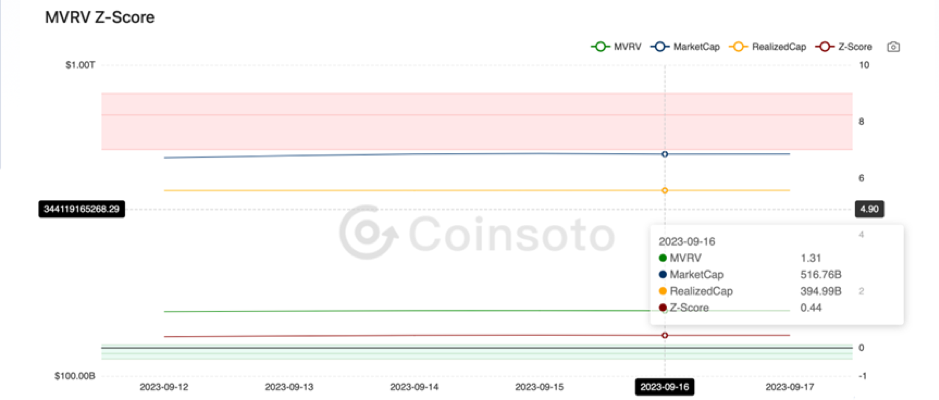 2. Perpetual Futures
In general, the 7-day cumulative funding rates for the popular coins across major exchanges are positive, indicating that long leverages are relatively high.

There were barely any changes in the BTC and ETH contract interest from major exchanges.
Exchange BTC Contract Open Interest: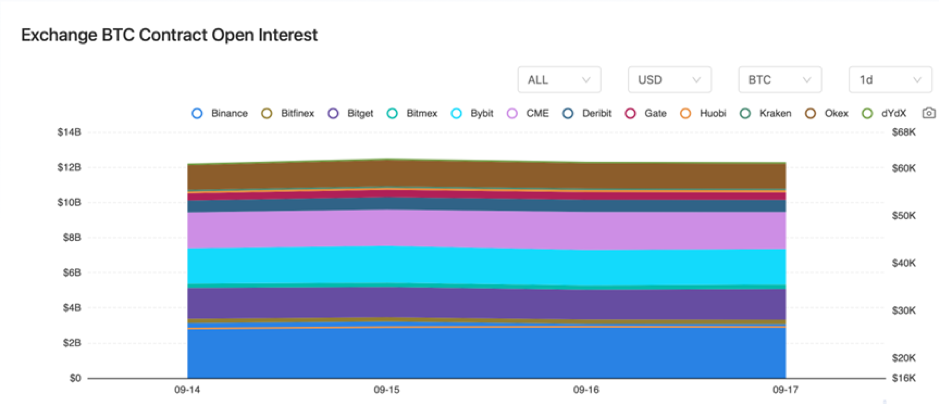 Exchange ETH Contract Open Interest: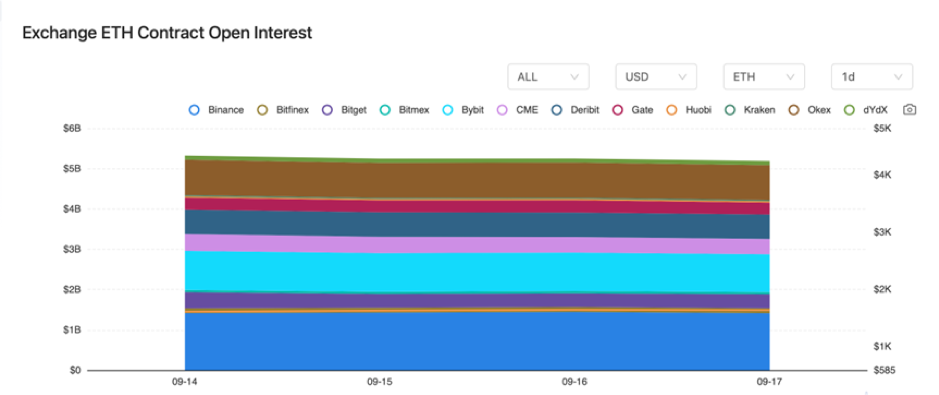 3. Industry Roundup
1) On September 14, Circle launched native USDC on NEAR.
2) On September 14, foreign media reported that SBF's father had close involvement in the operations of FTX.
3) On September 14, the European Central Bank raised all three major interest rates by 25 basis points.
4) On September 15, Bitfinex reported that outflows from the crypto market in August reached $55 billion.
5) On September 15, the head of the South Korean National Tax Service announced plans to strengthen efforts to combat tax evasion involving virtual assets.
6) On September 15, the Japanese government announced it would allow startups to raise funds using cryptos.
7) On September 16, the Ethereum Holesky testnet officially launched.
8) On September 16, the Ethereum Holesky testnet experienced a failed launch due to network configuration errors.
9) On September 17, as of September 14, the circulating supply of USDC had risen to 26 billion.
10) On September 17, Ripple Labs CTO revealed the release of the Ripple EVM sidechain on the horizon.
Disclaimer: FameEX makes no representations on the accuracy or suitability of any official statements made by the exchange regarding the data in this area or any related financial advice.