FameEX Weekly Market Trend | September 28, 2023
2023-09-28 19:58:00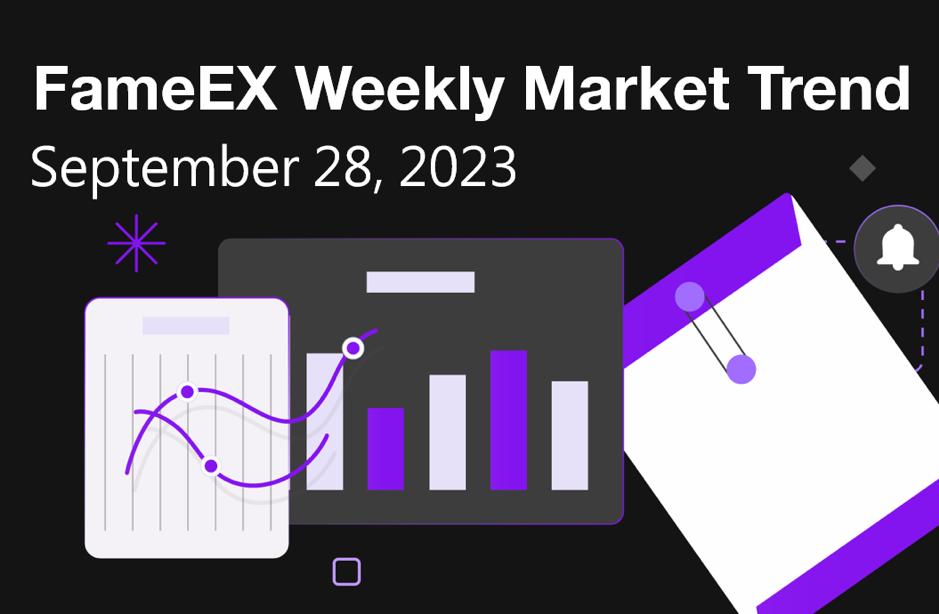 1. Market Trend
From Sept. 25 to Sept. 27, BTC traded between $25,990.46 and $26,850.00, with a volatility of 3.30%. As to the 1-hour chart, BTC has shown rapid price swings in recent days, characterized by rapid upward and downward movements, returning to its starting point. When BTC hit $26,000, it saw a surge in trading volume and bounced back. Likewise, nearing $27,000 prompted significant volume retracement. These are typical signs of a consolidating trading range. Currently, we're in its early stages. Whether it solidifies into a range is uncertain. For now, it is viable to consider it a potential range ($25,800 to $26,900). The daily chart shows a head and shoulders pattern, mainly in the right shoulder. If it drops below $25,000, it'll complete a bearish head and shoulders top pattern, likely leading to a bearish trend lasting over a quarter. Bulls won't defend at $25,000 but may target $25,500 or $26,000 to counter bears, aligning with the emerging trading range for a clearer strategy.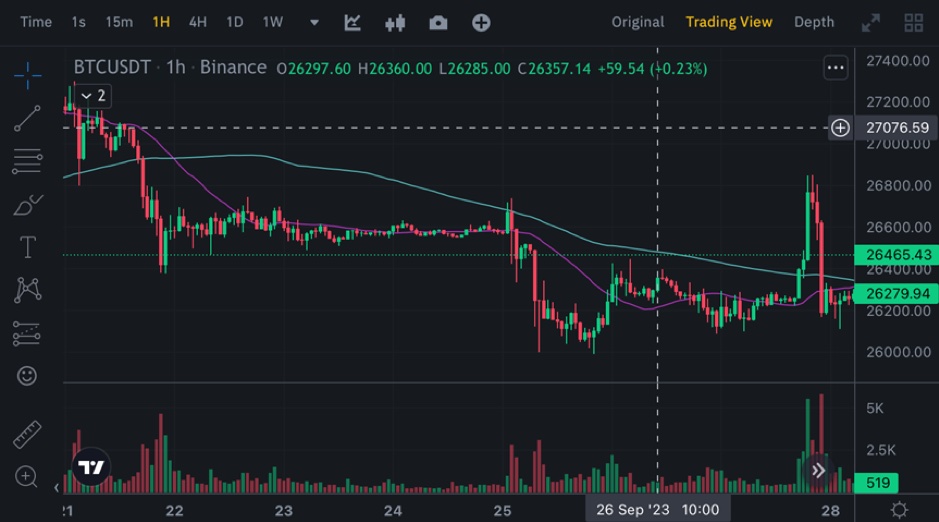 Source: BTCUSDT | Binance Spot
Between Sept. 25 and Sept. 27, the price of ETH/BTC fluctuated within a range of 0.05967-0.06122, showing a 2.59% fluctuation. In the previous analysis report, it was suggested that the downtrend in ETH/BTC has essentially reached its end, and it is currently suitable for employing moving average strategies for trading. Presently, ETH/BTC has been steadily rising along the 25-day MA, which has become a solid support for ETH/BTC prices. The 1-hour, 2-hour, and 4-hour charts have completely broken out of the downtrend and have surpassed the resistance of the MAs. The daily chart has also been on a multi-day bullish streak, with the next target being the 25-day MA at the daily chart level. At this moment, the moving average strategy remains applicable, but for those who have already entered the market during the upward momentum, it is essential to exercise patience. If suitable opportunities do not present themselves, it is unwise to enter the market forcefully.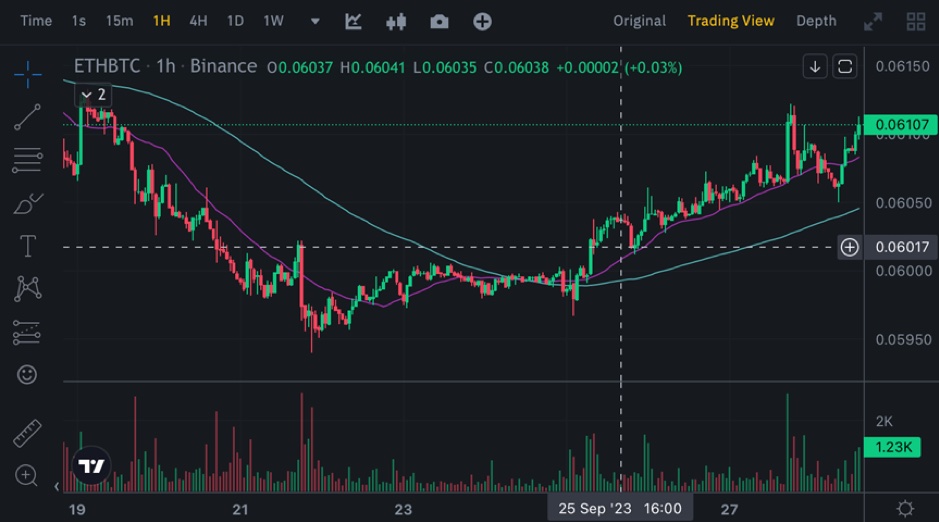 Based on the overall analysis, the market is once again moving towards a volatile trend. There have been several attempts to surge past the crucial resistance level of $27,500, but subsequent retracements have been substantial, indicating failures. It was mentioned earlier that if BTC breaks through $28,500, it would be a significant turning point from a bearish to a bullish market. To break through successfully, based on past experiences, there needs to be a rapid surge in trading volume to breach $28,500, and the support level after the retracement should hold above $27,500. The current approach to trading should align with the analysis provided above regarding BTC.
The Bitcoin Ahr999 index of 0.41 is below the buy-the-dip level ($27,360). Therefore, it is advised to purchase popular coins in the spot market at low points.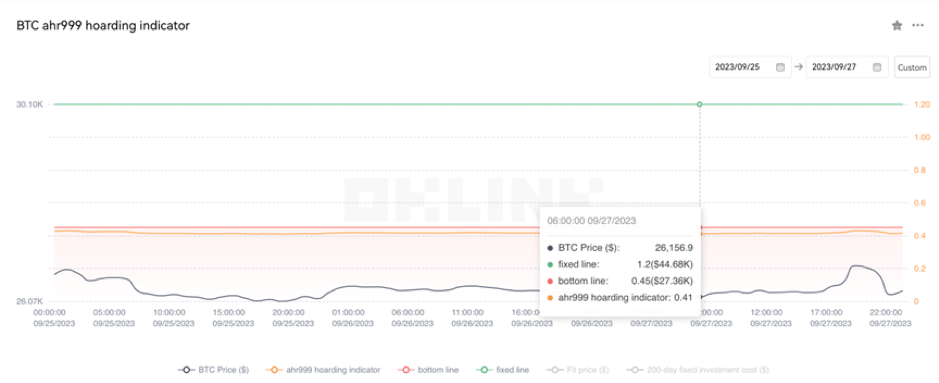 2. Perpetual Futures
In general, the 7-day cumulative funding rates for the popular coins across major exchanges are positive, indicating that long leverages are relatively high.

There were rarely any changes in the BTC and ETH contract open interest from major exchanges.
Exchange BTC Contract Open Interest: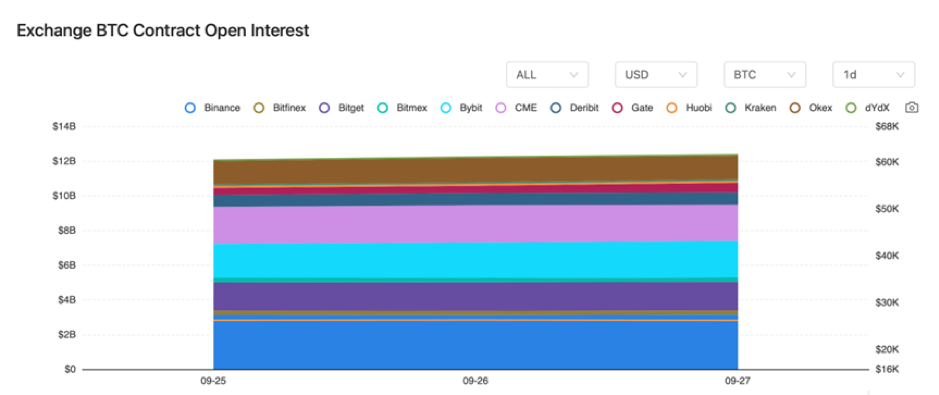 Exchange ETH Contract Open Interest: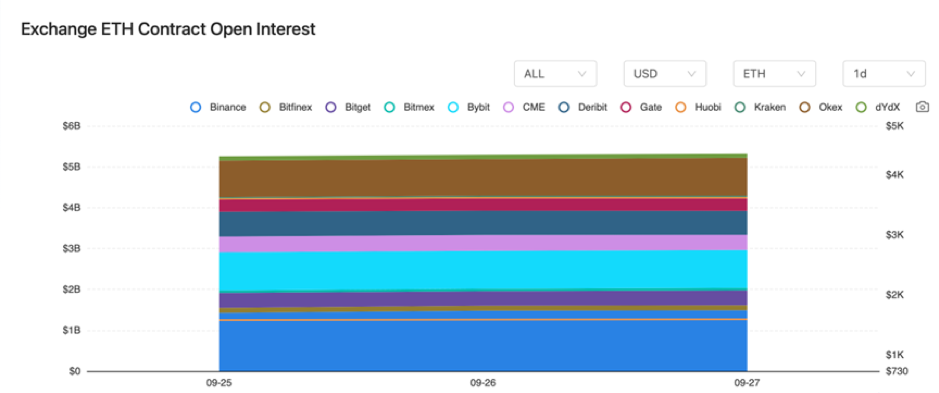 3. Industry Roundup
1) On September 25, MicroStrategy purchased approximately $147.3 million worth of 5,445 Bitcoins.
2) On September 25, the President of the European Central Bank stated that the digital euro pilot project might still require at least 2 more years.
3) On September 25, Circle announced that native USDC would soon be launched on the Polygon network.
4) On September 26, the Federal Reserve released a report indicating that tokenized assets could transfer volatility from the crypto market to traditional asset markets.
5) On September 26, the CEO of JPMorgan Chase warned that the world is not prepared for a 7% interest rate set by the Federal Reserve.
6) On September 26, the Federal Reserve's Kashkari stated an expected rate hike followed by a period of stability.
7) On September 27, South Korean securities firms KB, NH, and Shinhan formed a consortium for tokenized securities.
8) On September 27, the Optimism Foundation distributed 67.17 million OP tokens to 21 different addresses from a multi-signature address.
9) On September 27, the SEC Chairman stated that Bitcoin is not a security.
10) On September 27, data revealed that approximately 70% of Bitcoins have not been moved in the past 365 days.
Disclaimer: FameEX makes no representations on the accuracy or suitability of any official statements made by the exchange regarding the data in this area or any related financial advice.