FameEX Weekly Market Trend | October 12, 2023
2023-10-12 20:02:55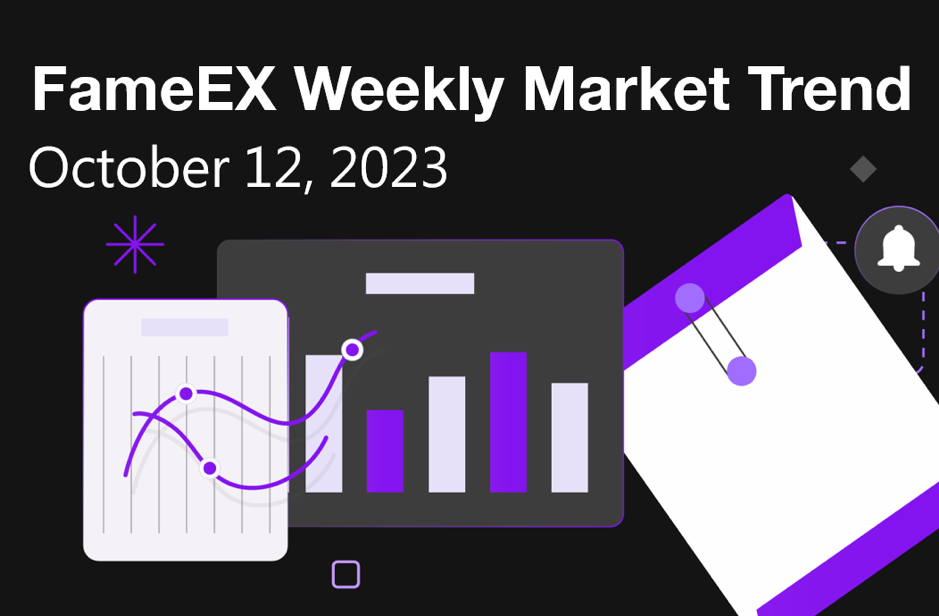 1. Market Trend
From Oct. 7 to Oct. 11, the BTC price fluctuated between $26,538.66 and $28,295.00, with a volatility of 6.62%. The prior analysis report said that to engage in the market, BTC should break above the 99-day MA on the daily chart at $28,200 and remain stable, with the exit point being a drop below this MA. In the following two days, BTC surged to $28,029 and $28,095, surpassing the MA, suggesting strong resistance. It then retraced to about $26,500, with the MA dropping below $28,000. If BTC maintains its position above $26,500, this retreat might be seen as a strategic move by the bulls to secure gains after the initial advance, preparing for multiple attempts at the crucial $28,000 level with higher volatility. Entering the market after BTC stabilizes above the 99-day MA would be a wiser approach. In a broader perspective, if BTC keeps declining and falls below $25,000 without recovery, the entire market will likely stay bearish with limited short-term rebounds. Hence, medium to short-term investors may consider using $25,000 as their exit point, while long-term value investors can disregard this. Currently, many altcoins and popular coins (excluding BTC) have experienced sharp declines this year, with some nearing their lowest possible levels. If the bulls gain control later, it would be smart to allocate some funds to other coins at that time.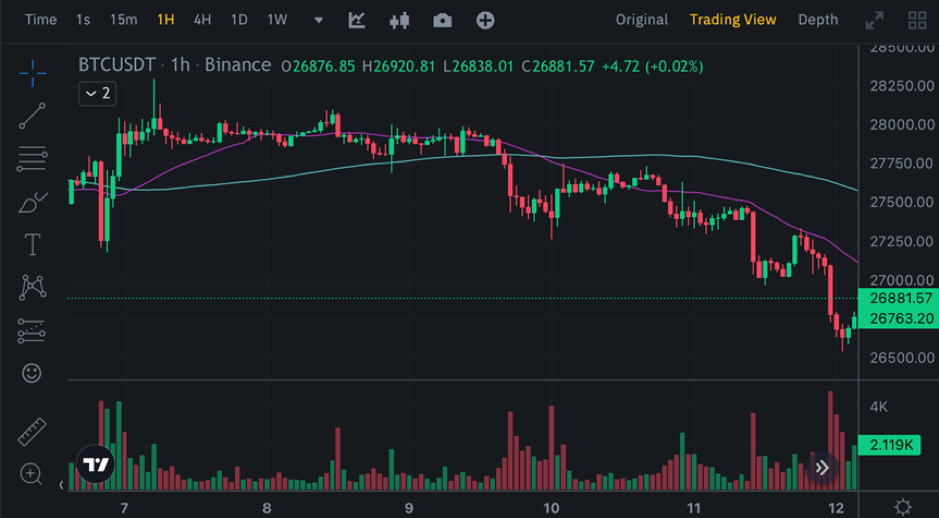 Source: BTCUSDT | Binance Spot

Between Oct. 7 and Oct. 11, the price of ETH/BTC fluctuated within a range of 0.05675-0.05924, showing a 4.03% fluctuation. ETH/BTC hit its lowest point in over 15 months in recent days. Finally, on October 11, ETH/BTC saw a decent rebound, but the sustainability of this uptrend requires further observation. It's advisable to stay away from this currency pair for the time being. It's better to wait until ETH/BTC regains a position above 0.06 before conducting a specific analysis of the corresponding market, rather than blindly attempting to bottom out.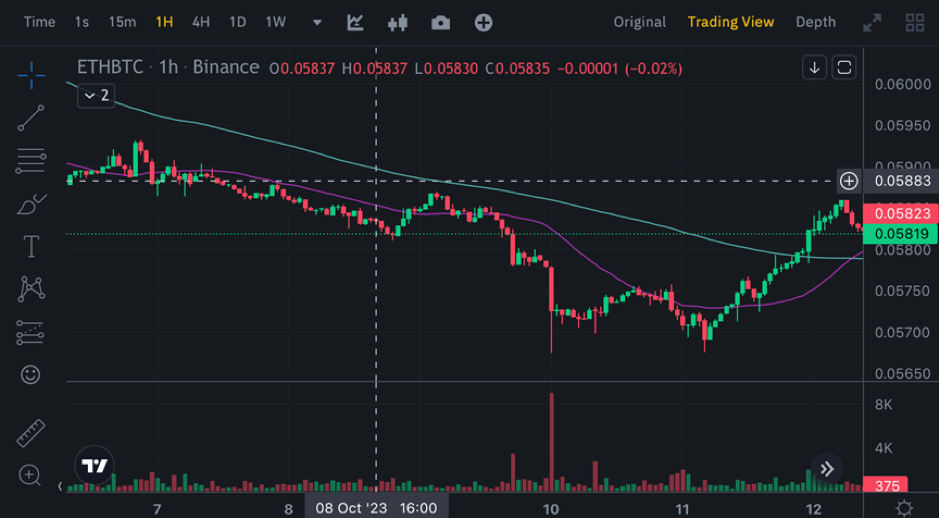 Based on overall analysis, the overall market shows relatively low price fluctuations. Many altcoins seem eager to make a move without experiencing significant gains. Instead, there is a continuous pattern of false breakouts, with the previous day's gains retracting to the starting point in the following days. This situation fundamentally stems from the instability of BTC. Presently, BTC is building momentum toward crucial levels. During this process, both altcoins and some popular coins are experiencing more frequent ups and downs than usual. It's important to be cautious in your trading approach, and it's advisable to participate in altcoins' markets only after BTC's major trend becomes clear.
The Bitcoin Ahr999 index of 0.44 is below the buy-the-dip level ($27,640). Therefore, it is advised to purchase popular coins at the current level for spot trading.

2. Perpetual Futures
In general, the 7-day cumulative funding rates for the popular coins across major exchanges are positive, indicating that long leverages are relatively high.

There were rarely any changes in the BTC and ETH contract interest from major exchanges.
Exchange BTC Contract Open Interest: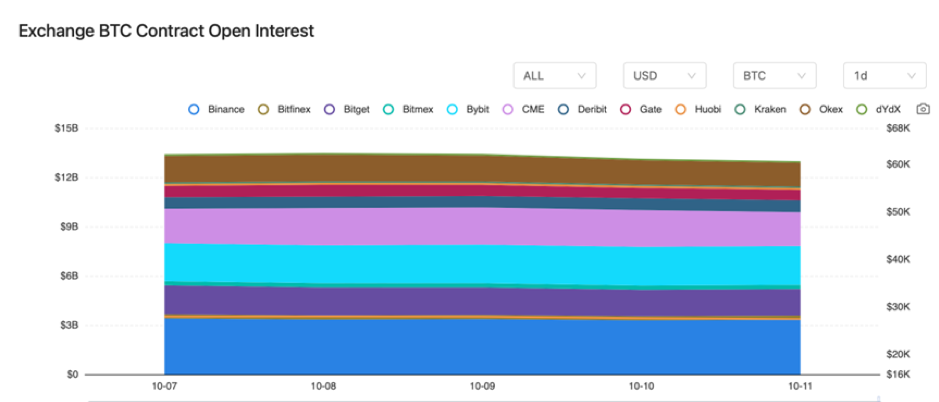 Exchange ETH Contract Open Interest: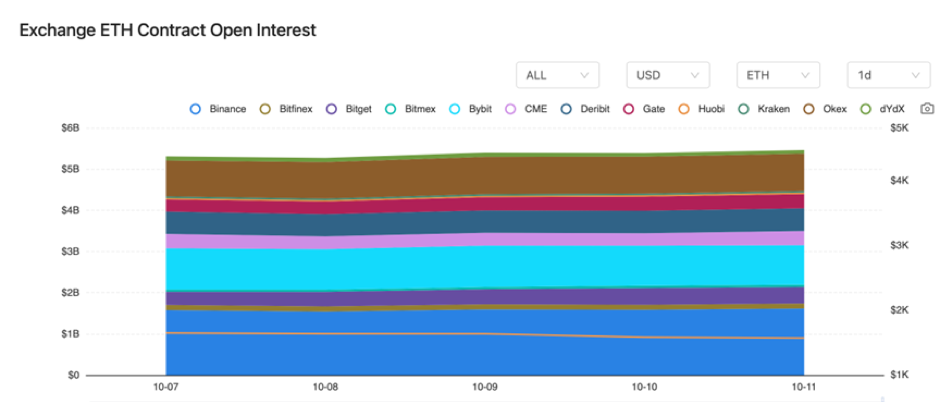 3. Industry Roundup
1) On October 7, data showed that the circulating supply of USDC decreased by 300 million dollars in the past 7 days.
2) On October 7, according to Stars Arena, a significant security vulnerability was found in the smart contract. Please do not deposit any funds.
3) On October 8, Ripple CTO sought community consensus on the adoption of XRPL AMM functionality.
4) On October 8, the Bitcoin halving is now less than 200 days away.
5) On October 9, the Hong Kong Treasury Department was considering feasible regulations for OTC trading of virtual assets, taking into account suitable institutions, conditions, and regulatory requirements.
6) On October 9, data showed that Bitcoin dropped by 11.1% in Q3, performing only better than long-term government bonds among major asset classes.
7) On October 10, the OKX CEO announced that Okcoin would be rebranded as OKX in the coming months on a global scale.
8) On October 10, the Scroll mainnet generated its genesis block.
9) On October 11, Standard Chartered Bank suggested that the price of ETH may reach $8,000 by the end of 2026.
10) On October 11, the founder of SSV announced being called up for military service.
Disclaimer: FameEX makes no representations on the accuracy or suitability of any official statements made by the exchange regarding the data in this area or any related financial advice.