From about the time that Bitcoin reached its all-time high approximately 16 months ago, sentiment toward the cryptocurrency sector is at its highest point.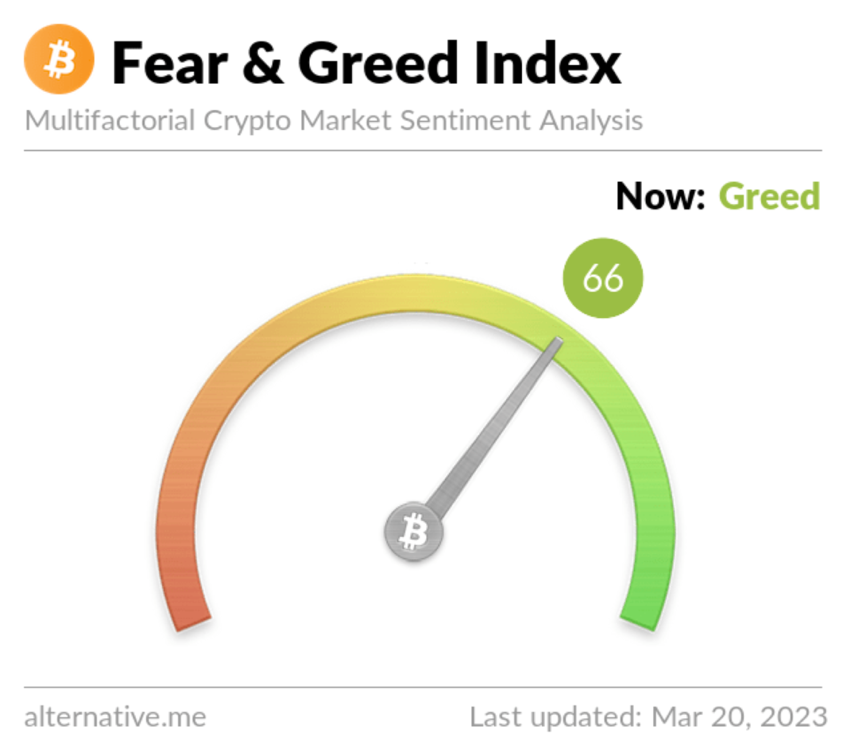 Bitcoin Fear and Greed Index, Source: alternative.me
After Bitcoin recorded its all-time high in November 2021, the Crypto Fear and Greed Index reached its highest index score this year.
The Index's score of 68, as per a March 20 update, put it squarely in the "Greed" category. The Crypto Fear and Greed Index, with a maximum score of 100, tries to numerically represent the current "emotions and attitudes" about Bitcoin and the cryptocurrency market.
According to Coingecko, the last time the index's score was higher than 66 was on November 16, 2021, just a few days after Bitcoin's all-time high of more than $69,000 was registered on November 10, 2021.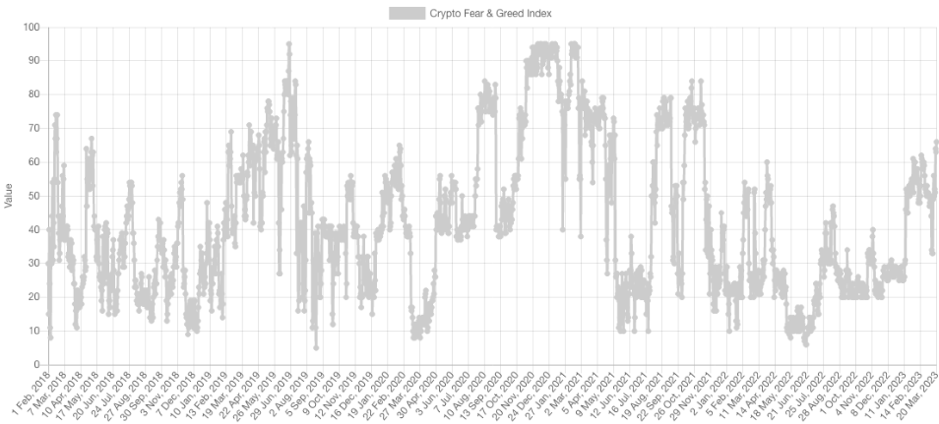 time chart of the Index, Source: alternative.me
After the demise of Silicon Valley Bank and the ensuing ripple effects across the traditional banking system, sentiment toward Bitcoin and other cryptocurrencies has been favorable. According to Coingecko statistics, Bitcoin has increased by over 27.8% over the last seven days and reached $28,000 for the first time since June 2022.
According to Markus Thielen, head of research at crypto financial services Matrixport, there is still more potential for BTC since the "liquidity narrative continues to be in Bitcoin's favor." By June 2023, the analyst has revised his short-term price forecast to $36,000 and suggested a year-end aim of $45,000.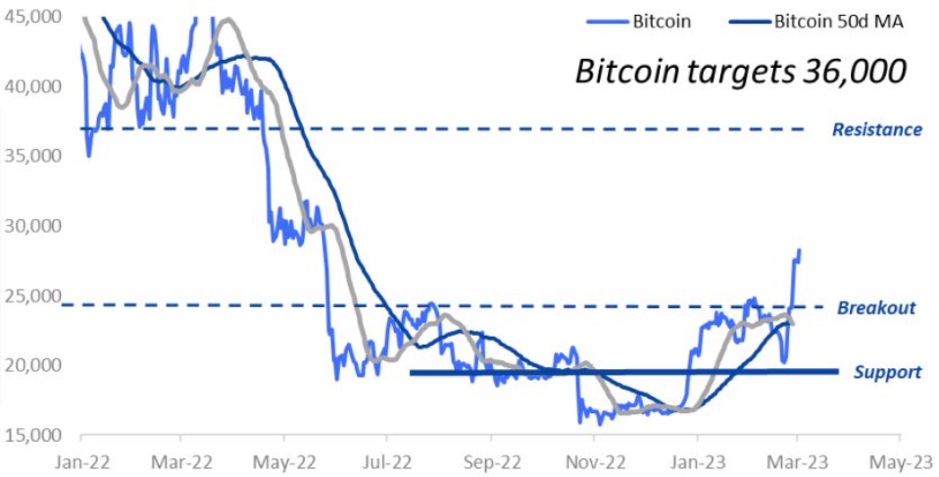 Source: Matrixport
Founder and CEO of the investing business Capriole, Charles Edwards, forecast an even more aggressive price objective of $100,000 for bitcoin. In a tweet from March 14, Edwards referred to the price movement of BTC in 2023 as a "Textbook flawless Bitcoin Bump & Run Reversal," and stated that, in his opinion, "The aim is beyond $100,000."
Despite cautioning against using chart patterns as a trading or investing strategy and emphasizing the need to limit risks, the same sentiment of optimistic projections was echoed by Ryan Selkis, the founder and CEO of Messari, in a recent essay published on March 16. Selkis provided his reasoning for believing that Bitcoin could potentially reach $100,000 within the next year.
Selkis predicts that a combination of bank failures and modifications to government monetary policies would lead to an increase in outside investment in cryptocurrency.
"The challenge is to find a way for organizations to support and defend it alongside us. Ideally, as Selkis mentioned, we would be able to thread the needle. This makes it an optimistic bet on the future," he continued, noting that "Bitcoin is seen as a secret lifeboat and an escape route."
Disclaimer: FameEX makes no representations on the accuracy or suitability of any official statements made by the exchange regarding the data in this area or any related financial advice.