How the SHIB Community Met up with a Turkish Politician?
2022-04-21 18:56:50
After the hyperinflation of Lira, Turkey's former Economy Minister Mustafa Elitaş, met with SHIB holders to discuss SHIB in March, check the details.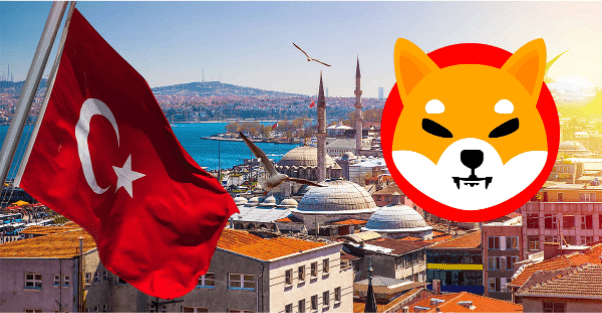 (Photo by FAMEEX)

Turkey's former Economy Minister and current AK Party Deputy Chair, Mustafa Elitaş, met with SHIB holders to discuss SHIB in March, and the whole SHIB community became excited when a major politician endorsed or held SHIB, two of the major ways to raise the value of the coin.
Turkish Lira HyperInflation and Crypto Adoption
Turkey experienced a turbulent year in 2021 when its fiat currency, the lira, was rapidly devalued, however, in 2022, the situation has not improved as the lira has suffered from sanctions and export bans following the Russian invasion of Ukraine. Turks are suffering from 54.44% inflation year-over-year (YoY), the highest in 20 years, according to official government reports.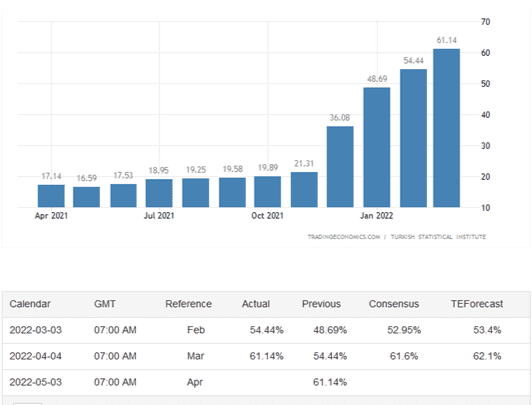 (Photo credit tradingeconomics.com)
After inflation soared to 36% at the end of 2021, cryptocurrency adoption is accelerating in Turkey. Crypto exchange volumes in Turkey surged to an average of $1.8 billion a day in the fourth quarter of 2021 as the Turkish lira devalued at a record pace - losing nearly half its value in the last year.
Tether, the largest dollar-pegged stablecoin, has then gained popularity in Turkey beyond Bitcoin. Lira trading volume spiked to close to 60% of Tether's total trading volume on December 21.
How The SHIB Met a Turkish Politician
It all started with a metaverse meeting, during his AK Party's "first metaverse meeting" in January, Elitaş participated in an Oculus Quest for his party's "first metaverse meeting". Many people were impressed by how eager the participants were to use new technology. The Turkish SHIBArmy, the SHIB Eco's community, was then attracted to this.
Vet Yusuf, a member of the Shiba Growth team who organized the meeting, says, "We wanted to make our voices heard in Turkey."
"We left a comment on the share of the meeting, and he replied. The ShibArmy Advertisement provided the biggest support here. "Then, I DMed him and requested a face-to-face meeting."
Having contacted Elitaş, Yusuf visited the former minister in the Assembly. "I told him about the community and the ecosystem of SHIB."
The leader of the project, Shytoshi Kusama, shared the achievement on Twitter, and this was praised by members of the SHIB community.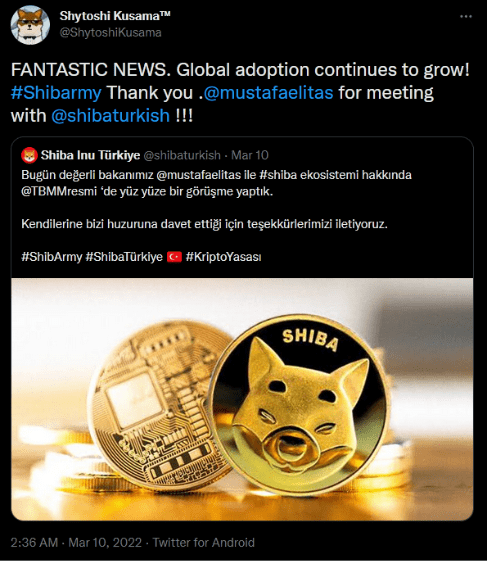 Yusuf is also clear that they have not discussed any of the following issues during the meeting: "SHIB will not be the official currency, its replacement will be the Turkish Lira, or any other issue of similar nature."
Despite this, Yusuf continues to be impressed with Turkey's adoption of SHIB. The Turkish community has taken Shiba into its heart, Yusuf said. "Now that the Cryptocurrency Law has been implemented, why not start using SHIB as a payment method?".
Trade on-the-go with FAMEEX's crypto trading app (iOS/Android)
Find us on:
Twitter: https://twitter.com/FameexGlobal
YouTube: https://www.youtube.com/channel/UCMRYZgPUFtrSkAu9_owUbxg
Instagram: https://www.instagram.com/fameex_global/
Telegram: https://t.me/fameexgroup
Discord: https://discord.gg/V8yvKPxVCk
LinkedIn: https://www.linkedin.com/company/fameex
Facebook: https://www.facebook.com/FameexGlobal
Contact us: Service@mail.fameex.info