Binance coin(BNB)
Binance coin (BNB)
2022-12-06 18:31:10
Binance Coin (BNB) is the cryptocurrency issued by Binance exchange that was initially based on the Ethereum network to pay fees or trade.

Binance Coin (BNB) is the cryptocurrency issued by Binance exchange that was initially based on the Ethereum network to pay fees or trade. It was just an asset sold in Binance's ICO then gradually become a wide range of usages in the blockchain ecosystem.
Binance Coin, also known as BNB coin or Binance coin, is a cryptocurrency token issued by Binance Exchange which was created based on the Ethereum network. It is used within the Binance ecosystem to power the BNB chain, a decentralized exchange protocol. Binance coin was initially released in 2017 through an Initial Coin Offering (ICO). In 2018, BNB became one of the top 10 cryptocurrencies by market capitalization. Since then, it has gained a lot of traction and is currently ranked #4 at the time of writing this article.
BNB coin is a keen element in the Binance ecosystem by powering operations. This coin was designed for paying listing, exchange and trading fees, and any other expenses users incur on the Binance crypto exchange. In the beginning, Binance Coin had a total supply of 200 million tokens. During ICO, half of the coins were allocated to the public and 80 million were set aside for the Binance funding team. The remaining 20 million were allotted to early angel investors which only left 100 million for public sale. Binance Coin(BNB) was initially issued as an ERC20 token on the Ethereum Blockchain.
After launching the Binance chain blockchain in 2019, it's officially called Binance Beacon Chain. The Bep-2 BNB coin became the native token of this chain and users of the original ERC20-compliant BNB token exchanged it for the new token 1:1. However, later in 2020, the Ethereum blockchain network struggled with congestion due to high volume of traffic and its gas fees for transaction spiked rapidly. Developers faced transaction issues. Eventually, they switched to the new Binance Beacon Chain because of its faster transaction processing and cheaper gas fee. Since then, Binance's role has expanded beyond just being a digital asset exchange, BNB coin remains an integral part of Binance ecosystem.
How Does BNB Work?
BNB Chain uses a unique consensus mechanism known as Proof of Staking (PoSA) to validate transactions and manage its network. The system joins delegated proof of stake (DPoS) and proof of authority (PoA) consensus algorithms. This enables the usage of BNB coin both on the Binance chain and the BSC chain for transactions and staking, among other activities.
In order to prevent devaluation, each quarter, Binance buys back and permanently destroys or "burns" the coins stored in its treasury. The purpose of the quarterly burns is to reduce the overall supply of BNB coins and make them scarcer and more deflationary. Binance claims that these events will continue until half of the total supply is burned, bringing it to around 100,000,000 BNB from a maximum supply of 200,000,000. Binance completed the 21st BNB burn on October 13, 2022. Approximately $547,265,280 worth of BNB coins were burned.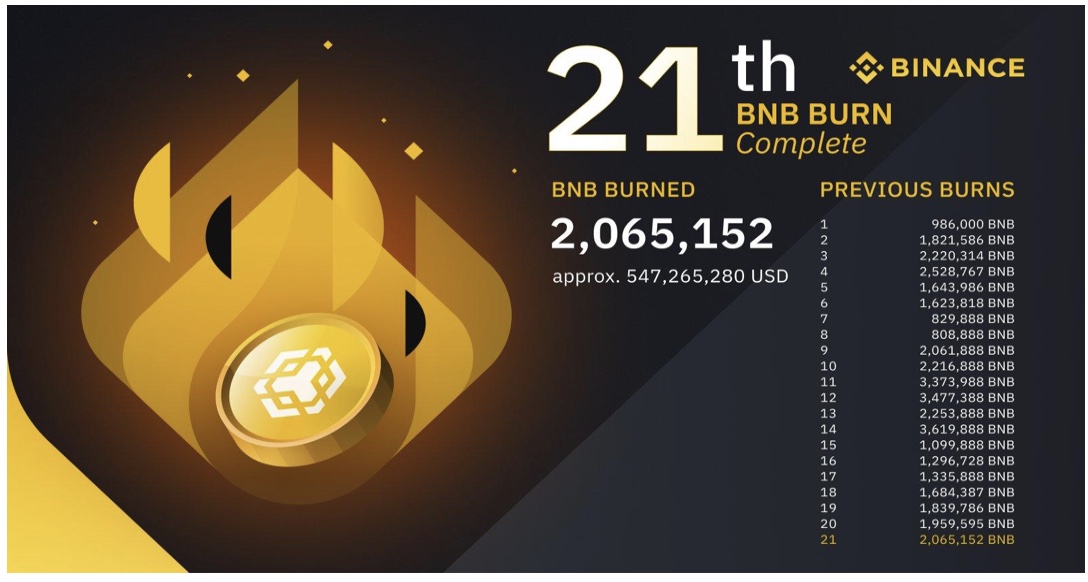 21th BNB Coin Burn
BNB Smart Chain and Ecosystem
The main purpose of Binance Smart Chain (BSC) is to create an alternative, smart contract-enabled blockchain platform to create new DeFi projects. It is important to mention that BSC is an independent blockchain that could run even if Binance Chain went offline.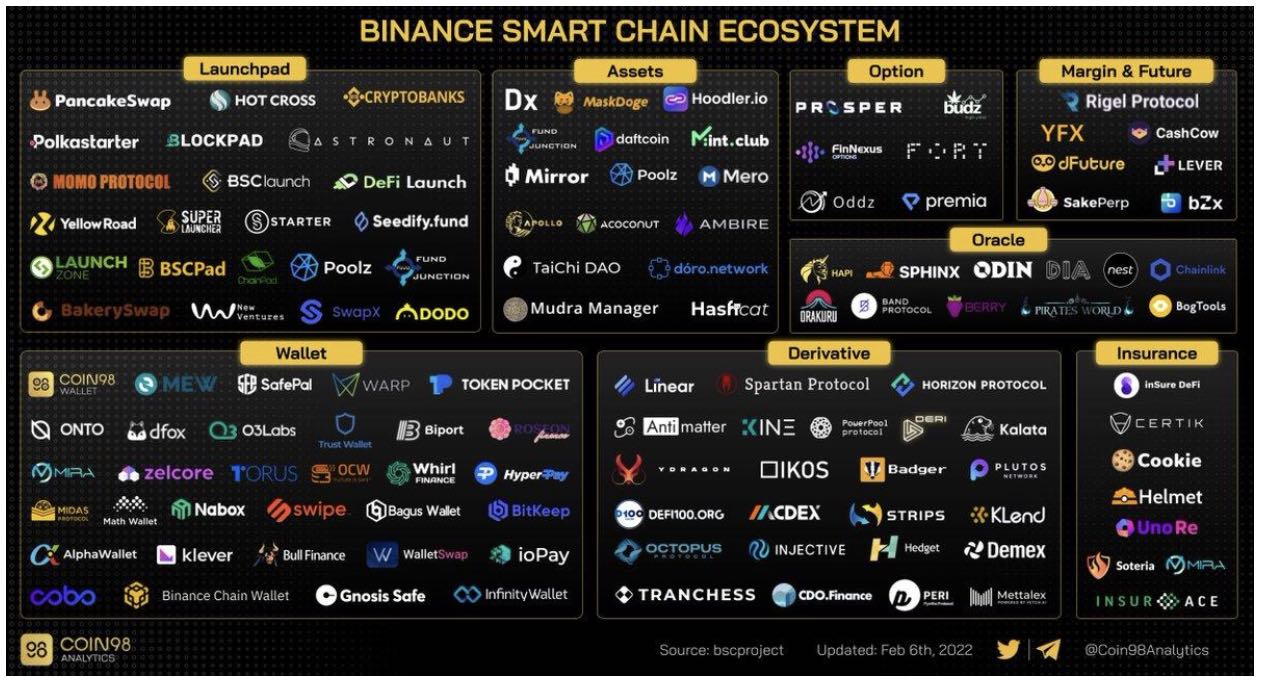 Binance Smart Chain Ecosystem
Binance Smart Chain uses Proof-of-Stake authority. By using validators to run the network, BSC is more environmentally friendly and cost-effective compared to coins that use Proof-of-Work authority. One of the main features of the BNB Smart Chain is that it is Ethereum Virtual Machine (EVM) compatible. Apps built for Ethereum are also supported on the BNB smart chain, with the advantages of faster and cheaper transactions. Due to this function, many apps have been transferred into BSC or established on BSC from the beginning. There are many wallets and decentralized exchanges that are built on BSC.
Why is BNB Worth it?
Users of the Binance exchange and the actual implementation of applications built on the Binance Smart Chain create the underlying value of the BNB coin. Reduced fees, real-life adoption of BNB, and Binance Smart Chain functions are attracting both blockchain developers and investors. Besides, various BNB usages from trading tokens, the entertainment industry, investments, or even loans, give the broader vision of BNB. Binance recently announced a $500 million investment in Musk's Twitter accusations On October 28, 2022. This announcement created speculation about the further use of BNB coin in social media. The role of BNB in increasing blockchain adoption in social media is discussed.
Important BNB (Binance Coin) links: