With a price increase of 16 percent over the previous week, Bitcoin has soared to levels above 28,000.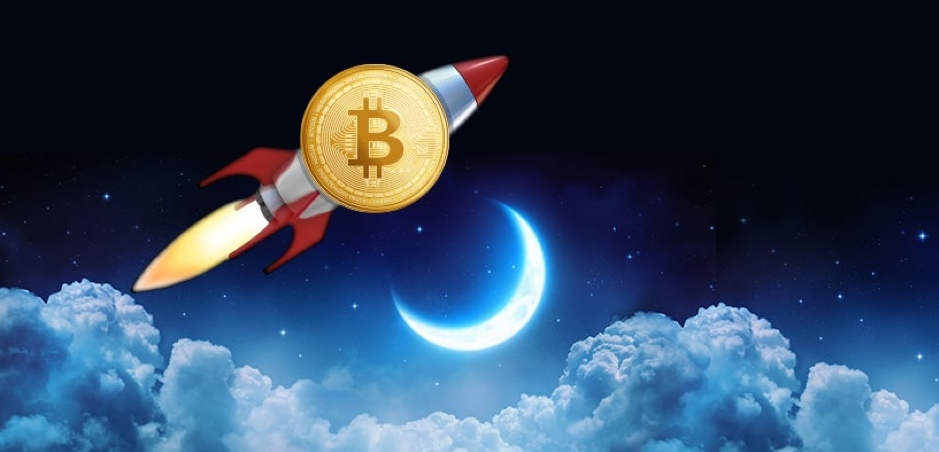 Source: www.financemagnates.com
According to Cointelegraph's MarketPro statistics, the price of bitcoin rose on March 19 to reach the $28,000 level, representing a 16% increase in value over the previous seven days. The top cryptocurrency at the time of writing was trading at $28,063, up 2.4% over the previous 24 hours. Prior to trading at $26,877 at the day's low, the price hit $28,459 at its day's peak point.
Compared to the US dollar, Bitcoin has increased by almost 37% this week overall. With mounting concerns about a worldwide financial crisis, bitcoin's market value increased by $194 billion in 2023, or 66% year-to-date, outpacing Wall Street bank equities. Compared to the S&P 500's 2.5% rise and the Nasdaq's 15% fall in 2023, bitcoin has increased by roughly 65% so far this year.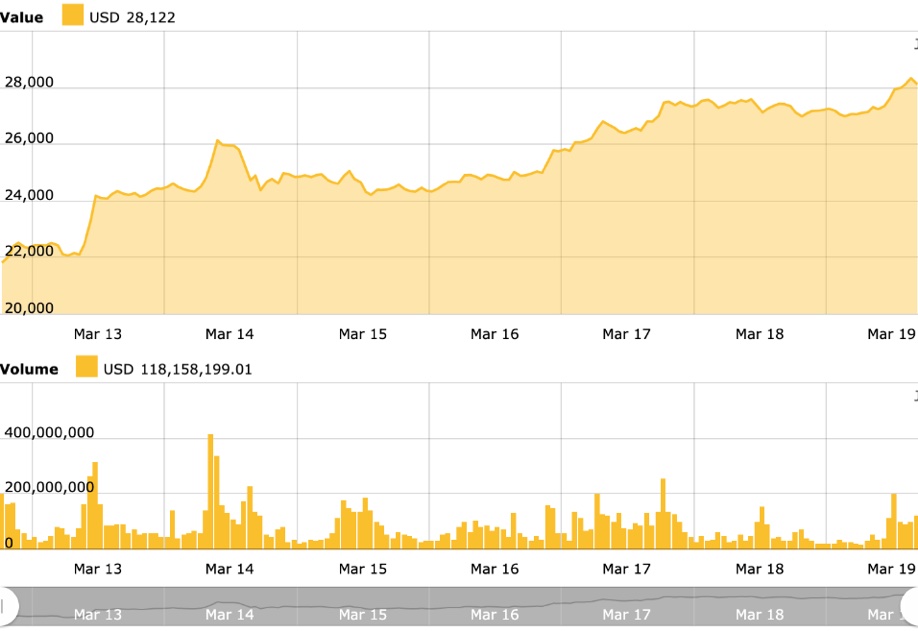 Value and Trade Volume of Bitcoin during March 13–19, 2023. Cointelegraph is the source
After last week's events, which included Silvergate's closure and the following regulator takeover of Signature Bank and Silicon Valley Bank, the values of US banks have fallen amid the persistent anxiety surrounding smaller banks in the nation.
In Europe, Credit Suisse was earlier that day purchased by UBS Group for about $2 billion as part of emergency measures taken by Swiss authorities to protect the financial stability of their nation. The Swiss National Bank agreed to lend USB more than $100 billion as part of the accord.
According to statistics from Companies Market Cap, the $2 billion acquisition implies a significant discount from Credit Suisse's market value on March 17 of close to $8 billion. According to former Coinbase CTO Balaji Srinivasan, a coming global financial crisis may push Bitcoin over $1 million in less than 90 days.
A U.S. banking crisis would, in Srinivasan's prediction, set off a scenario of hyperinflation and a seven-digit Bitcoin price. On Twitter, Srinivasan is risking $2 million on his predictions for the future of the US economy and their potential effects on the price of Bitcoin. BTC/USD was still on track for an outstanding candle closure on weekly timeframes after acting last around $27,000 in June 2022.
Rekt Capital, a trader and analyst, has further reason to be upbeat since Bitcoin may finally break out of the interim downturn. When a prolonged fall in Bitcoin prices lasting several months is over. A fresh $BTC multi-month rally is emerging, stated one of the weekend's several Twitter tweets.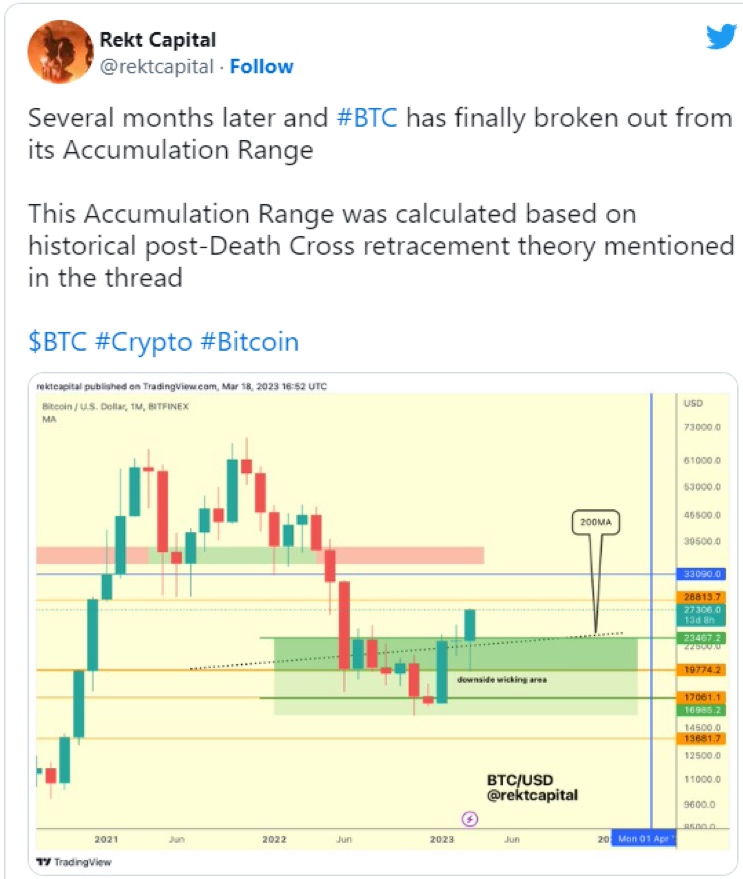 Tweet by Rekt Capital

On weekly timescales, the 200-period moving average (MA), which is now around $25,350 and poised for a resistance or support flip, has continued to be significant, according to Rekt Capital.
Disclaimer: FameEX makes no representations on the accuracy or suitability of any official statements made by the exchange regarding the data in this area or any related financial advice.