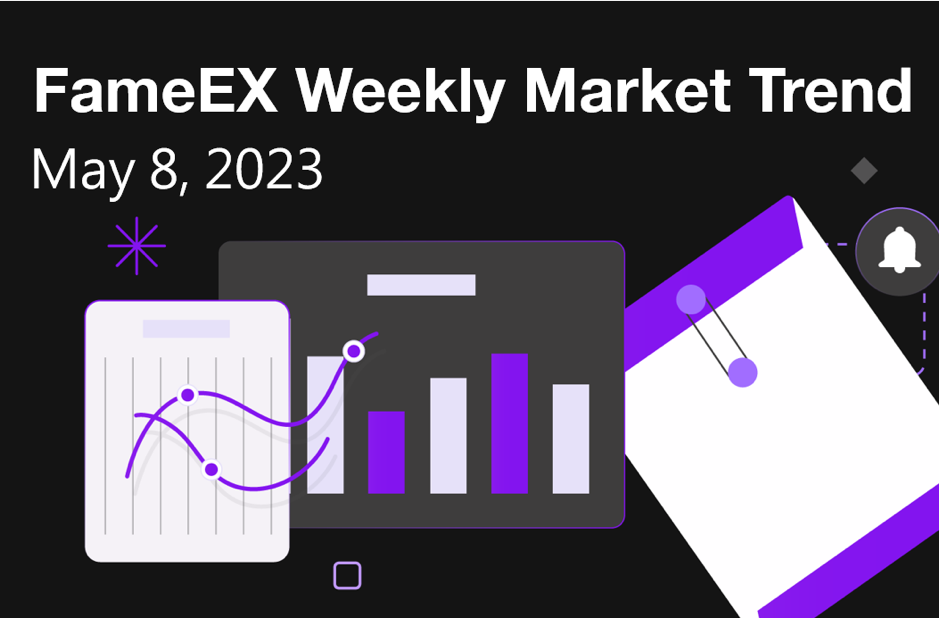 1. Market Trend
Between May 4 and May 7, the BTC price fluctuated between $28,247.4 and $29,820, with a volatility of 5.57%. According to the 1-hour candle chart, on May 4 at 2:00 am, after the Federal Reserve (Fed) announced a 25 basis point interest rate hike, BTC briefly declined before starting a volatile upward trend. On May 6 at 8:00 am, the price reached its highest point of $29,820 before breaking below to $28,300. Afterwards, it maintained a volatile trend near the low point, reaching $29,000 multiple times but failing to stabilize, that is, the price remained below the strong resistance level of $29,000.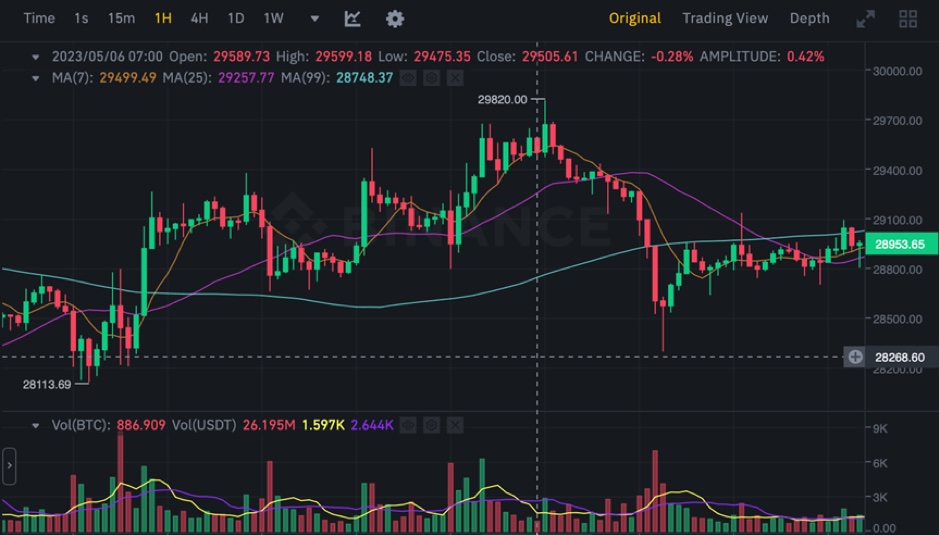 Source: BTCUSDT | Binance Spot
Between May 4 and May 7, the fluctuation range of ETH/BTC price was between 0.064634 and 0.067848, showing an approximate volatility of 5%. Looking at the 1-hour candle chart, the ETH/BTC price experienced a brief rebound after reaching its lowest point at 10:00 on May 5. Following this, the price hit its highest point of 0.067848, but then continued to fall to 0.065574, ultimately maintaining a weak trend with low-level volatility.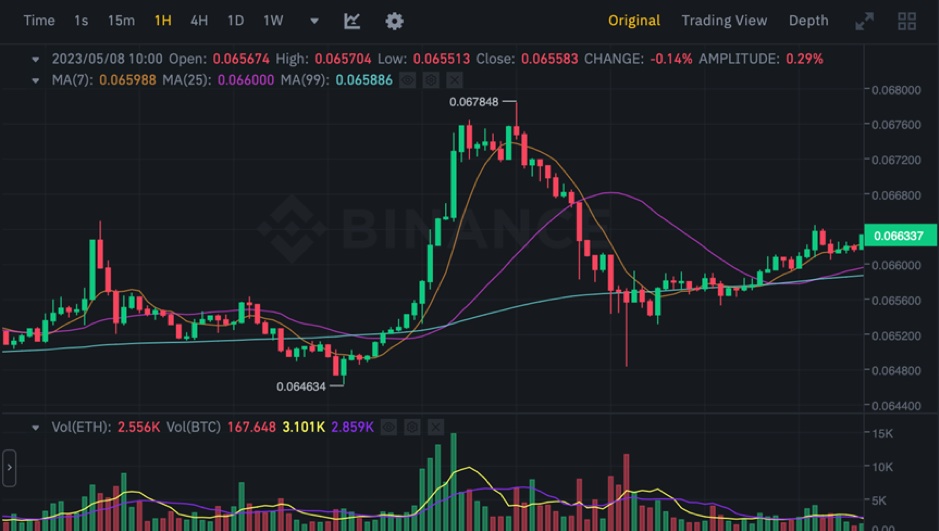 Overall analysis shows that there is a significant difference in market sentiment towards the coin price, resulting in a clear battle between bulls and bears. Currently, the BTC price stabilizing above the 30,000 level has become an important short-term indicator for the market's bullish or bearish trend. It is recommended to exercise patience and wait for the market trend to become clear before making further moves.
The Bitcoin Ahr999 index of 0.77 is above the buying-the-dip level ($22,050) but below the DCA level ($36,010). It is viable to purchase popular coins through DCA.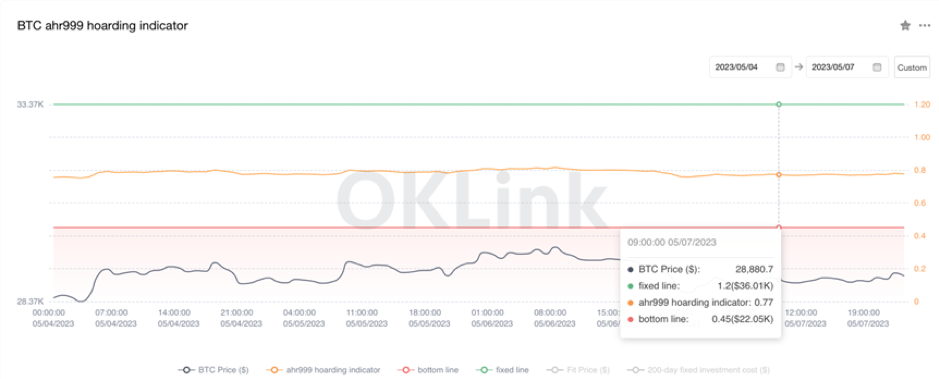 From the perspective of MVRV Z-Score, the value is 0.67. When the value is greater than 6, it enters the market tops, while a value below 2 indicates that it enters the market bottoms. Currently, the present value exceeds the buying-the-dip range (-0.47-0.17).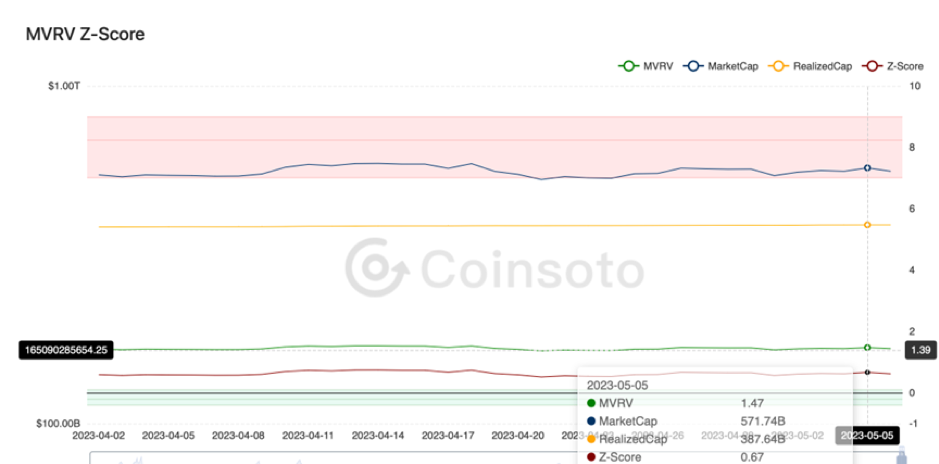 2. Perpetual Futures
In general, the 7-day cumulative funding rates for the popular coins across major exchanges were positive, indicating that long leverages are relatively high.

Although there has been a slight drop in the contract open interest of BTC and ETH from major exchanges, the change is not significant.
Exchange BTC Contract Open Interest: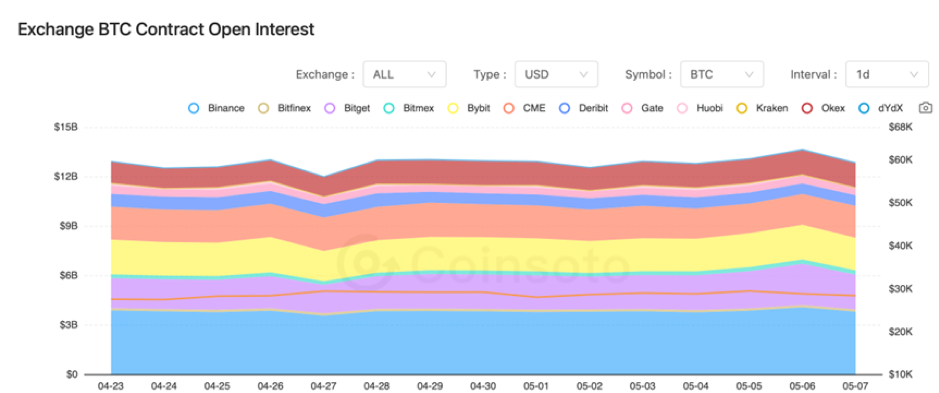 Exchange ETH Contract Open Interest: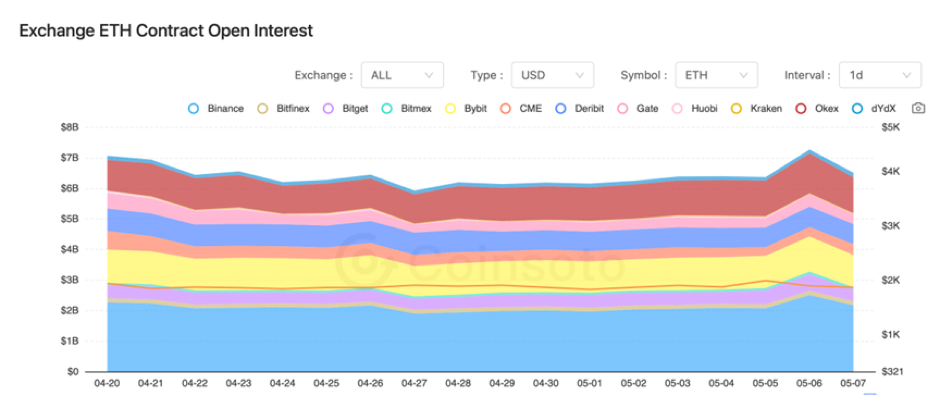 3. Industry Roundup
1) On May 4, the Fed raised interest rates by 25 basis points as scheduled to the range of 5.00%-5.25%.

2) On May 5, the US non-farm payroll employment for April exceeded expectations, with an increase of 253,000 jobs compared to the expected rise of 185,000.

3) On May 6, Arkham claimed that the US government has held BTC worth over 6 billion US dollars on the blockchain.

4) On May 6, Binance was investigated by the US government for allegedly violating White House sanctions against Russia.

5) On May 7, the total market capitalization of BRC-20 tokens exceeded 500 million US dollars.

6) On May 7, Liechtenstein announced plans to accept BTC for government services.

7) On May 7, MicroStrategy continued to increase its holdings of BTC for the 11th consecutive quarter, currently holding 140,000 BTC with an average purchase price of $29,803 per BTC.
Disclaimer: FameEX makes no representations on the accuracy or suitability of any official statements made by the exchange regarding the data in this area or any related financial advice.