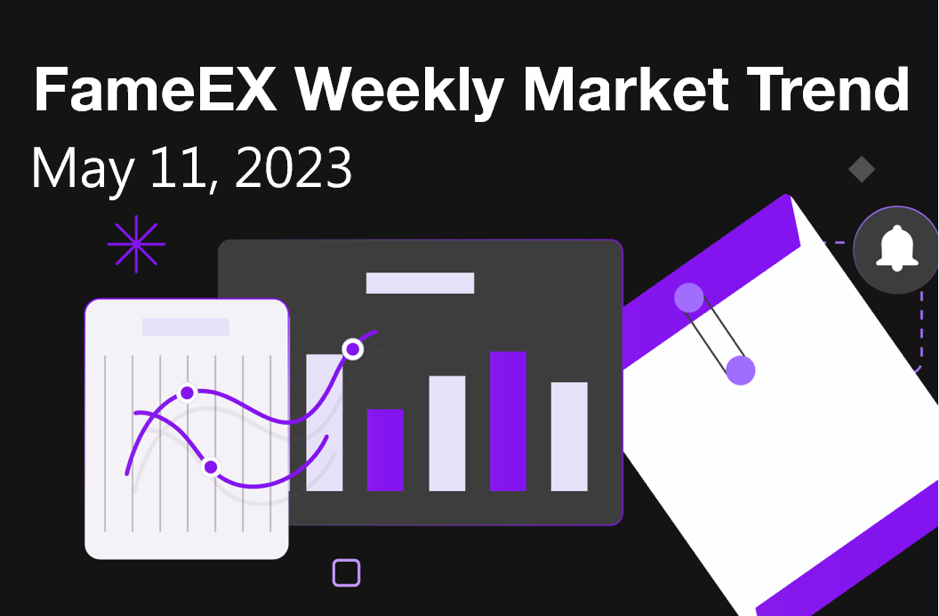 1. Market Trend
Between May 8 and May 10, the BTC price fluctuated between $27,262 and $28,824.4, with a volatility of 5.73%. According to the 1-hour candle chart, after multiple failed attempts to break through the strong resistance level at $29,000, BTC started a downward trend with oscillations, ultimately reaching a low point of $27,262. It then entered a period of consolidation at a lower level. At 08:00 pm on May 10, the US Consumer Price Index (CPI) data for April was released, showing a year-on-year increase of 4.9% (estimated at 5.0%). As a result, there was a slight increase in trading volume, pushing the price above the $28,000 level. However, it was still under pressure from moving averages and failed to break through $28,000. Consequently, the price continued its decline, indicating a generally weak market sentiment.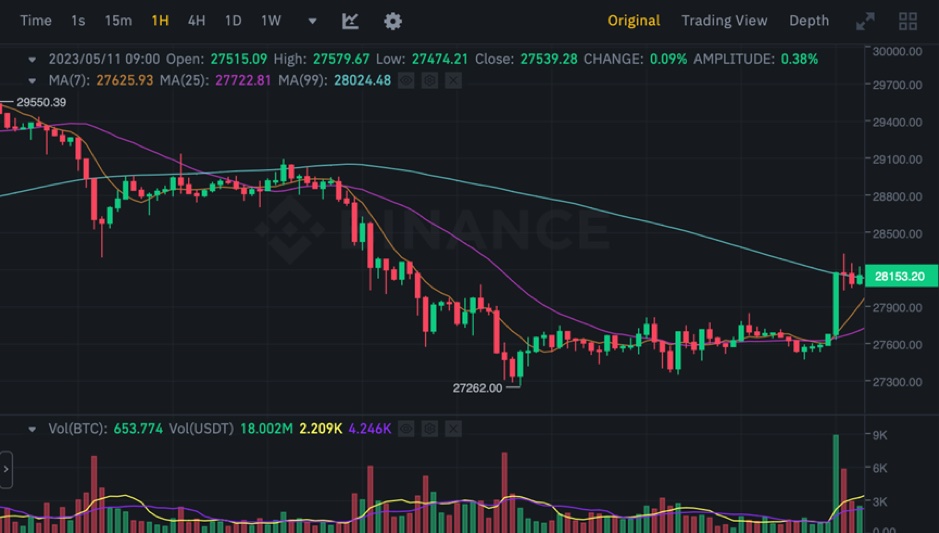 Source: BTCUSDT | Binance Spot
Between May 8 and May 10, the price of ETH/BTC fluctuated within a range of 0.065497 to 0.067184, showing a 2.6% fluctuation. Looking at the 1-hour candle chart, the ETH's price trend is relatively stronger compared to BTC. Therefore, after a slight decline in the early morning of May 8, ETH/BTC immediately started an oscillating upward trend. However, it is important to note that the overall trend still follows BTC, signifying a relative weakness and restricted volatility.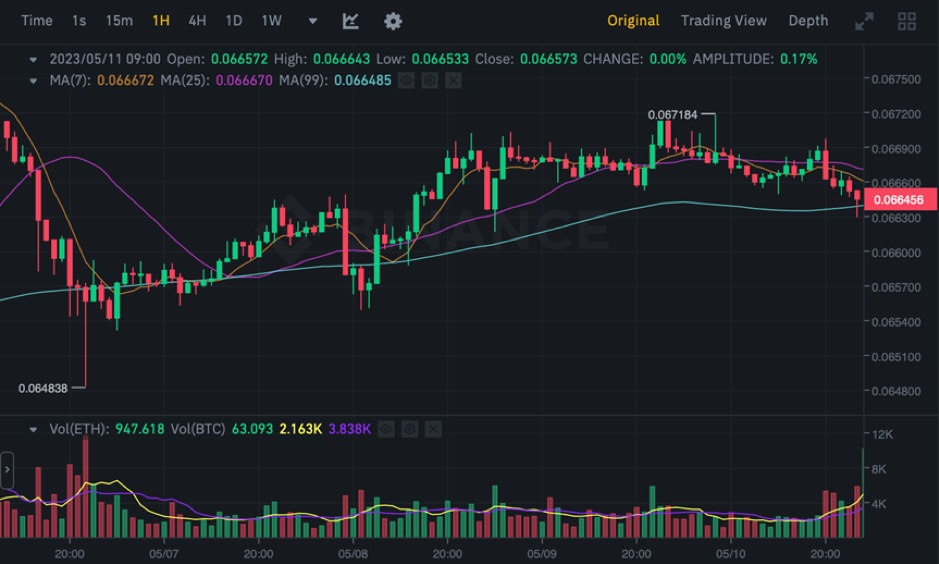 Overall analysis shows that BTC has been in a continuous downward state after failing to break the $30,000 level, falling below key psychological levels at $29,000 and $28,000. Despite occasional small-scale volume surges that create pressure for a breakthrough, none have managed to stabilize. Currently, the overall market sentiment is weak. It is prudent to observe and await a significant increase in trading volume for a breakthrough.
The Bitcoin Ahr999 index of 0.70 is above the buying-the-dip level ($22,150) but below the DCA level ($36,170). It is viable to purchase popular coins through DCA.

From the perspective of MVRV Z-Score, the value is 0.54. When the value is greater than 6, it enters the market tops, while a value below 2 indicates that it enters the market bottoms. Currently, the present value exceeds the buying-the-dip range (-0.42-0.14).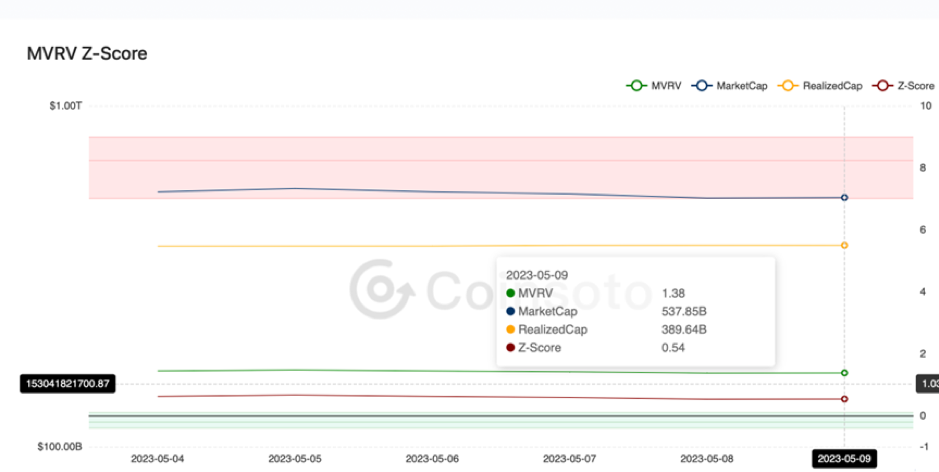 2. Perpetual Futures
In general, the 7-day cumulative funding rates for the popular coins across major exchanges were positive, indicating that long leverages are relatively high.

Although there has been a slight drop in the contract open interest of BTC and ETH from major exchanges on May 10, the change is not significant.
Exchange BTC Contract Open Interest: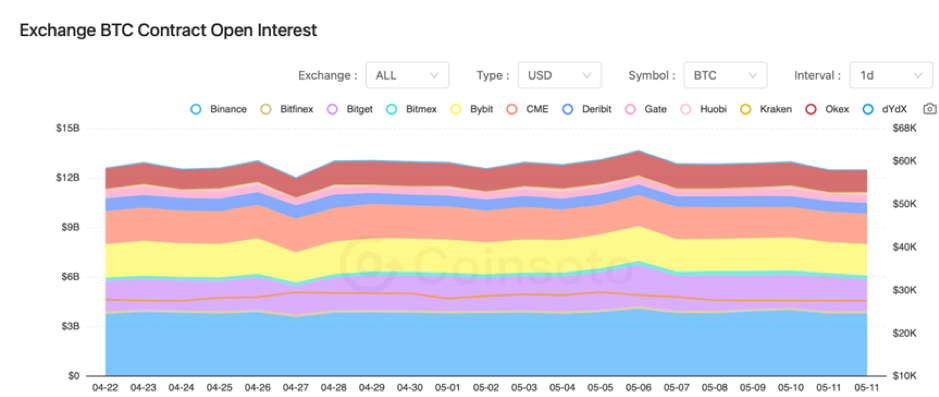 Exchange ETH Contract Open Interest: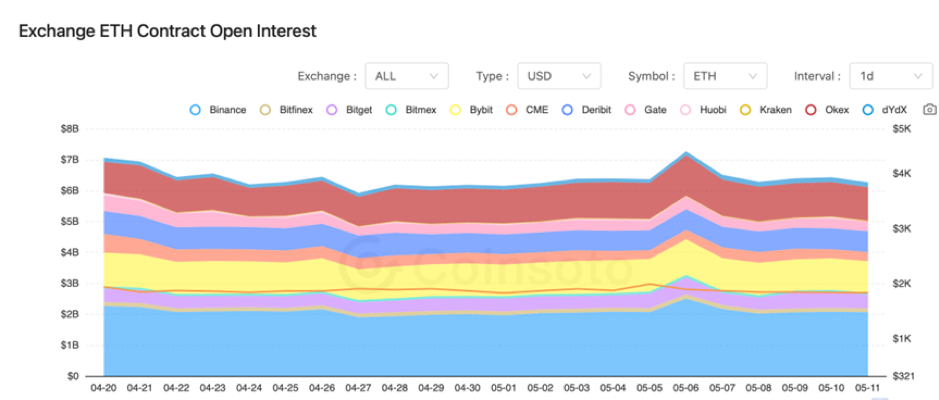 3. Industry Roundup
1) On May 8, 14 BAYC (Bored Ape Yacht Club) were sold below the floor price, and the proceeds of 673 ETH were used to purchase PEPE.

2) On May 8, ORDI achieved a breakthrough, surpassing the $25 milestone per token, as the total number of minted tokens exceeded 4.5 million.

3) On May 9, the BTC balance on Binance exchange saw a decline of nearly 200,000 coins over the past 7 days.

4) On May 9, the total market capitalization of BRC-20 tokens surpassed $1 billion.

5) On May 9, BTC's on-chain transaction fee revenue exceeded $17 million.

6) On May 10, over 570,000 transactions occurred on the Litecoin blockchain, reaching a new all-time high.

7) On May 10, ORDI surpassed $100 per token.

8) On May 10, the US CPI for April showed a year-on-year increase of 4.9%, slightly below the estimated 5.0%.

9) Tether's net profit for Q1 2023 was $1.5 billion, and the excess reserve reached $2.44 billion.
Disclaimer: FameEX makes no representations on the accuracy or suitability of any official statements made by the exchange regarding the data in this area or any related financial advice.