Bitcoin Unexpectedly Soars Beyond $34,000 As Interest In ETFs Increases
2023-10-24 15:29:56
As interest in technology advancements in the Bitcoin ETF market grew, the cost of Bitcoin (BTC) swiftly soared to $34,000.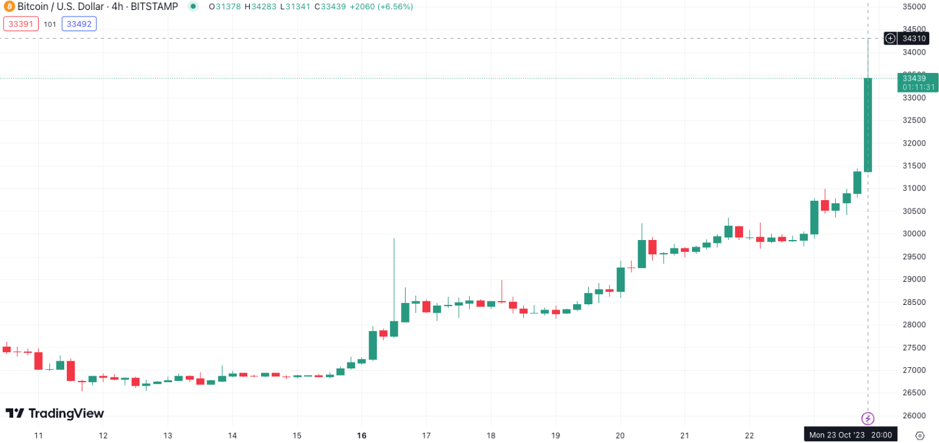 Bitcoin price in the last 2 weeks. Source: TradingView
Despite the value of Bitcoin surpassing $34,000 for the very first time after May of last year and a startling 14% rise over the previous day, it appears like Uptober is here for good. In accordance with statistics from TradingView, the value of Bitcoin unexpectedly rose on October 23. BTC gained over ten percent from $31,000 to for a moment near $34,000 until falling down to its present value of $33,349. A new surge in curiosity in future spot ETF approvals and a sharp rise in total trading volumes throughout spot markets are driving the unexpected spike in Bitcoin's price.
Additionally, the increase coincided with developments about BlackRock's planned spot Bitcoin ETF. On October 23, an X (which used to be known as Twitter) post by Expert Scott Johnson referred to two fresh pieces of evidence that would indicate the financial services company Blackrock is moving toward approving a Bitcoin ETF.
Johnson mentioned that financial powerhouse Blackrock has obtained a special CUSIP license and could begin the procedure of "seeding" its spot ETF offering using money as soon as this coming week. Eric Balchunas, an experienced Bloomberg ETF analyst, responded to this article by saying that seeded an ETF is generally not a lot of capital and would merely be enough to get an ETF started, but he also acknowledged that it is generally a positive indication and signifies a different stage in the procedure of launching. Along with the unexpected price increase, spot trading volumes for bitcoins significantly increased. In accordance with data from Coinmarketcap, spot trade volume at the time of writing had increased to more than $35 billion during the previous 24 hours, an increase of 241% in that time frame. Moving out onto the rapid price movement, it appeared that conditions were conducive for the unexpected increase in the value of cryptocurrencies, as evidenced by Coinshares statistics indicating the amount invested in digital asset goods increased for a fourth straight week.
Disclaimer: FameEX makes no representations on the accuracy or suitability of any official statements made by the exchange regarding the data in this area or any related financial advice.