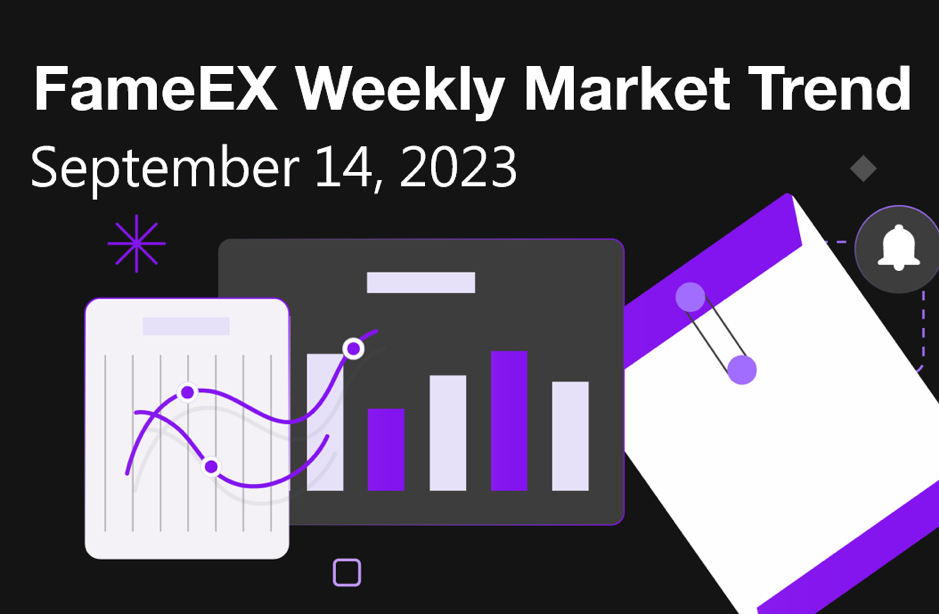 1. Market Trend
From September 11 to September 13, the BTC price fluctuated between $24,901.00 and $26,567.00, with a volatility of 6.67%. Based on the 1-hour chart, on the evening of September 11, at 22:00, BTC fell below $25,000 with high trading volume. Failure to rebound to the $25,500-$26,500 range promptly may result in the month-long sideways trend breaking down, targeting approximately $23,800. This would likely trigger a bearish trend with BTC seeking lower support levels. On September 12 at 11:00, BTC broke $25,500 with high volume, re-entering its previous range. Unusually, in the recent month's sideways trend, it swiftly retreated after crossing $26,000. However, this time, it stayed above $26,000, diverging from the norm. Moreover, trading volume surged, indicating heightened market activity. On the evening of September 13, despite bearish data from the U.S. August CPI, the price kept rising above $26,000. As previously noted, it's vital to watch for key factors at trading range boundaries, like breakout strength and speed. The present anomaly is the lack of a rapid pullback after exceeding $26,000, coupled with a notable rise in trading volume. This strongly suggests a near-term trend.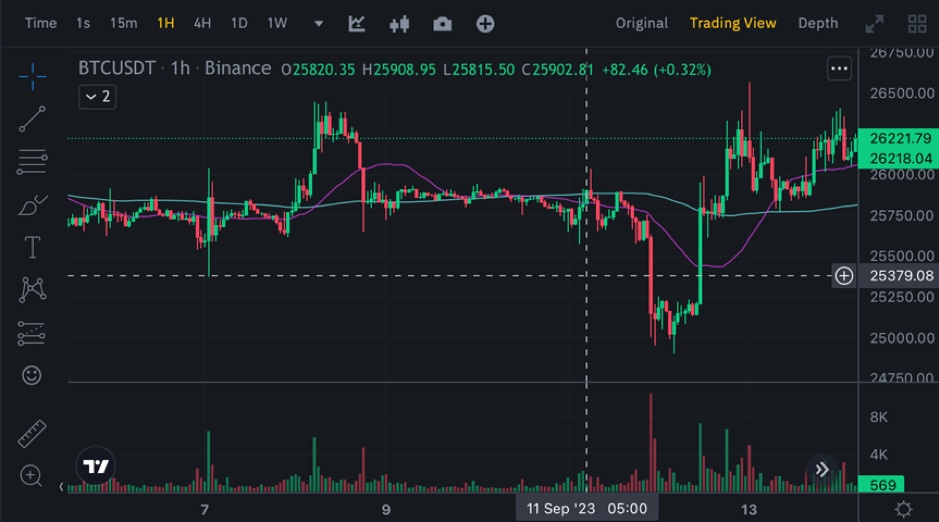 Source: BTCUSDT | Binance Spot
Between September 11 and September 13, the price of ETH/BTC fluctuated within a range of 0.06103-0.06283, showing a 2.94% fluctuation. Looking at the 1-hour chart, a standard bearish pattern has emerged, and on both the 1-hour and 4-hour timeframes, the 25-day MA has become a strong resistance level. The current price is also hovering around its lowest level in nearly three months, indicating significant weakness. It is advisable to stay away from this cryptocurrency in the near term.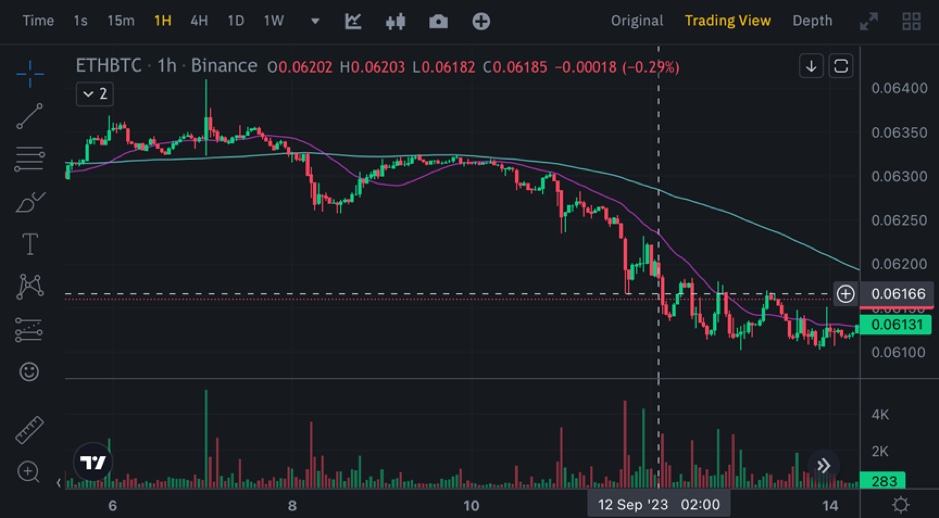 Based on overall analysis, the market regards BTC as the benchmark for market trends. In the recent battle between bulls and bears in the BTC market, the bulls have a slight advantage as BTC has stabilized above $26,000. It is viable to closely monitor coins that have shown strength during the recent BTC uptrend, such as BCH, LTC, and OP. Typically, such coins tend to experience significant price increases once the BTC trend becomes clear in the future. It is advisable to refer to the analysis of BTC mentioned earlier and enter the market at suitable points.
The Bitcoin Ahr999 index of 0.42 is below the buy-the-dip level ($26,970). Therefore, it is advised to purchase popular coins in the spot market at low points.

From the perspective of MVRV Z-Score, the value is 0.39. When the value is greater than 6, it enters the market tops, while a value below 2 indicates that it enters the market bottoms. Currently, the present value exceeds the buy-the-dip range (-0.33-0.03).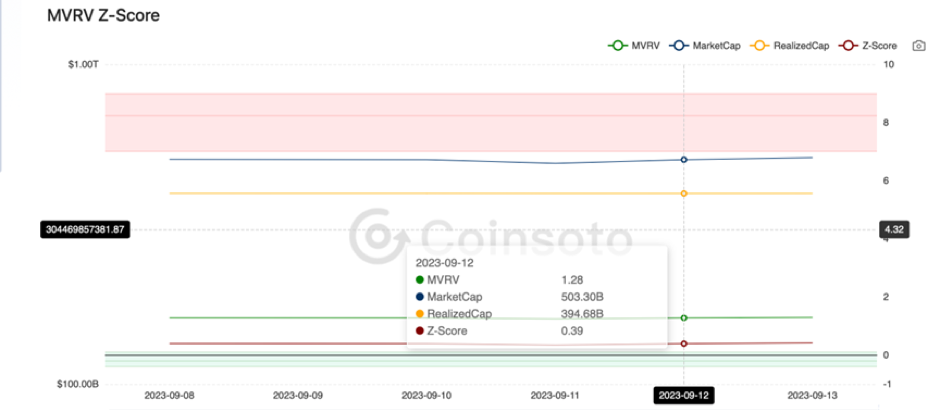 2. Perpetual Futures
In general, the 7-day cumulative funding rates for the popular coins across major exchanges are positive, indicating that long leverages are relatively high.

There were barely any changes in the BTC and ETH contract interest from major exchanges.
Exchange BTC Contract Open Interest: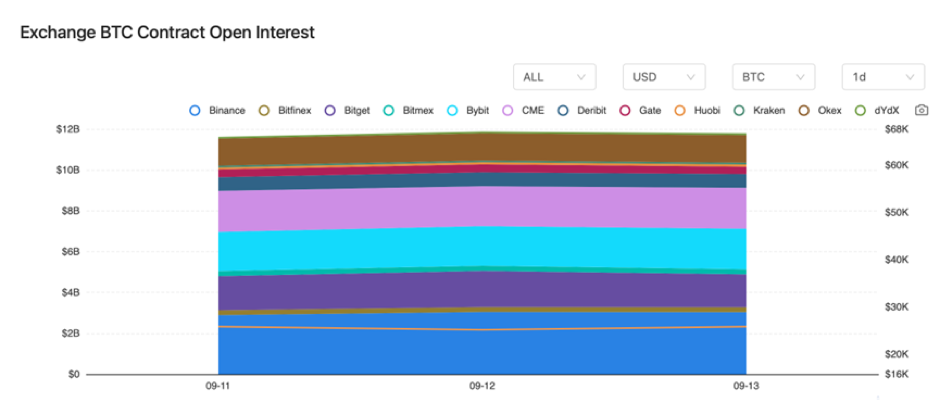 Exchange ETH Contract Open Interest: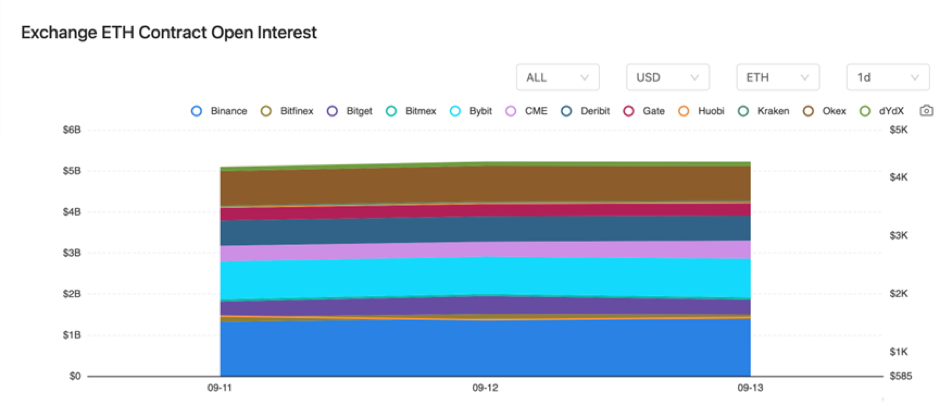 3. Industry Roundup
1) On September 11, SushiSwap announced its expansion to the Aptos blockchain.
2) On September 11, Coinbase denied rumors of discontinuing services for Indian users, stating it would only issue warnings to users in violation of their policies.
3) On September 11, the Secretary for Innovation and Technology of Hong Kong emphasized increased support for key technologies such as Web3 and blockchain in developing the digital economy and the International Data Port.
4) On September 12, Web3 company Startale Labs announced a joint venture with Sony to develop Sony's blockchain.
5) On September 12, the Hong Kong Monetary Authority stated that CBDCs can promote competition in the digital payment sector.
6) On September 12, Franklin Templeton filed documents with the U.S. SEC to issue a Bitcoin ETF.
7) On September 13, data revealed that market volatility over the past two days had resulted in liquidation losses of $256 million.
8) On September 13, one of the co-founders of One Coin was sentenced to 20 years in prison and fined $300 million.
9) On September 13, CoinEx identified and isolated suspicious wallet addresses related to a hacker attack.
10) On September 13, the U.S. reported a 3.7% year-on-year increase and a 0.6% month-on-month increase in the August CPI.
Disclaimer: FameEX makes no representations on the accuracy or suitability of any official statements made by the exchange regarding the data in this area or any related financial advice.