Solana-Based STEPN Hits Record High Price Skyrockets 34,000% in Over a Month
2022-04-20 14:11:10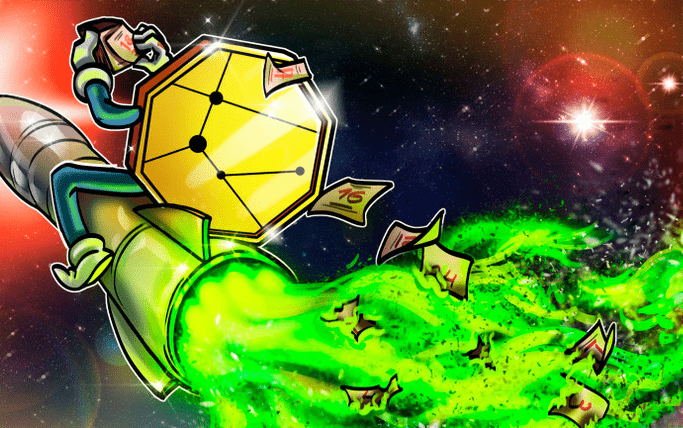 STEPN (GMT), a so-called "move-to-earn" token using the Solana (SOL) blockchain, has soared incredibly since its market debut in March.
GMT's price jumped from $0.01 on March 9 to a record high of $3.45 on April 19 — a 34,000% upside move in just 41 days (data from Binance). Its massive uptrend appeared primarily due to the hype surrounding decentralized finance (DeFi) projects that reward users in tokens for staying active.
For instance, the prices of GMT and its top rivals, including Genopets (GENE) and dotmoovs (MOOV), exploded massively on a 24-hour adjusted timeframe, data on CoinGecko shows.
Nonetheless, STEPN remained the most valuable move-to-earn (M2E) project, with its market capitalization closing in on $2 billion.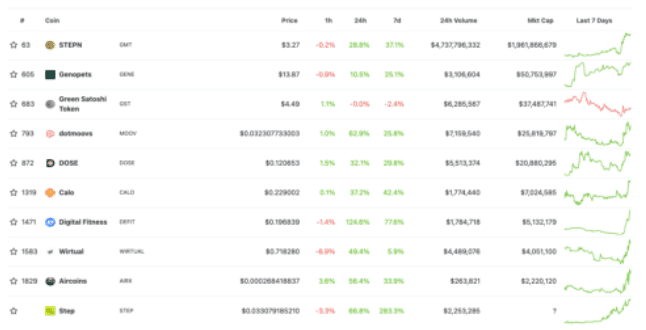 The performance of M2E tokens featuring GMT. Source: TradingView

What's pumping GMT?
One major cue behind the GMT's price rally comes from STEPN's recent earnings report. Notably, the project made a profit of over $26.81 million from "royalty fees" and the sale of its "NFT Sneakers" in the first quarter of 2022, official data shows.
In detail, buying NFT Sneakers enables users to play STEPN, which, in turn, allows them to earn its in-game token, called the Green Satoshi Token (GST). Later, traders can exchange their GST rewards for SOL or USD Coin (USDC).
STEPN uses its profits to first buyback GMT, its governance token, from secondary markets (exchanges, over-the-counter platforms, etc.) and then burn them on-chain, effectively removing them from circulation out of the 600 million GMT in total.
Technicals signal overbought
The latest bout of buying in the GMT market has made the token overbought, according to its four-hour relative strength index (RSI) reading, which sits above 70 — a sell signal.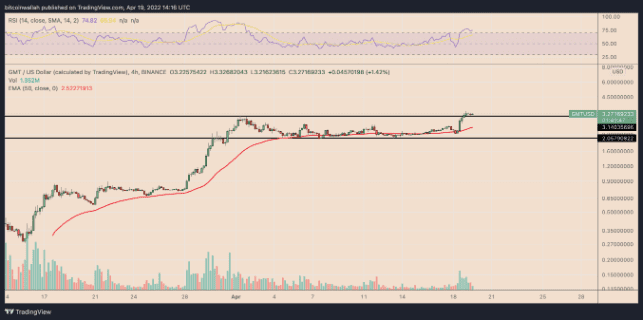 GMT/USD four-hour price chart. Source: TradingView

Technically, GMT/USD is now testing its previous record high of $3.14 as its interim support. A move below the level raises the pair's potential of running down towards its 50-day exponential moving average (50-day EMA; the red wave) near $2.52, about 20% below April 19's price.
(Article Courtesy of Cointelegraph)