In the midst of macroeconomic instability, Cathie Wood believes that Bitcoin and Ether are acting as risk-free investments and as a safe haven for investors.
Source: www.seudinheiro.com
According to ARK Invest CEO Cathie Wood, recent instability in the financial industry has demonstrated that Bitcoin and Ether can sustain a fragile economy, outperform other asset classes, and act like gold. However, one long-time investor is still not persuaded.
The endurance of Bitcoin throughout the most recent banking crisis, according to Wood in an interview on April 15, has been the most remarkable of all the signs her tech-focused investment management business is keeping an eye on. In light of the macroeconomic unpredictability, she asserted that Bitcoin and Ether are currently behaving as "risk-free" investments and as a "safe haven" for investors:
"They'll interfere with the existing order of things. What are ether and bitcoin doing? It's pretty intriguing and implies much wider usage and acceptance than I believe most people realize that they are being seen as a flight to safety equivalent to gold. We argue that there is a flight to safety that is motivated by awareness that the world is changing and will keep evolving, and that this flight to safety is unquestionably driven by crypto assets. Innovation cannot be stopped.''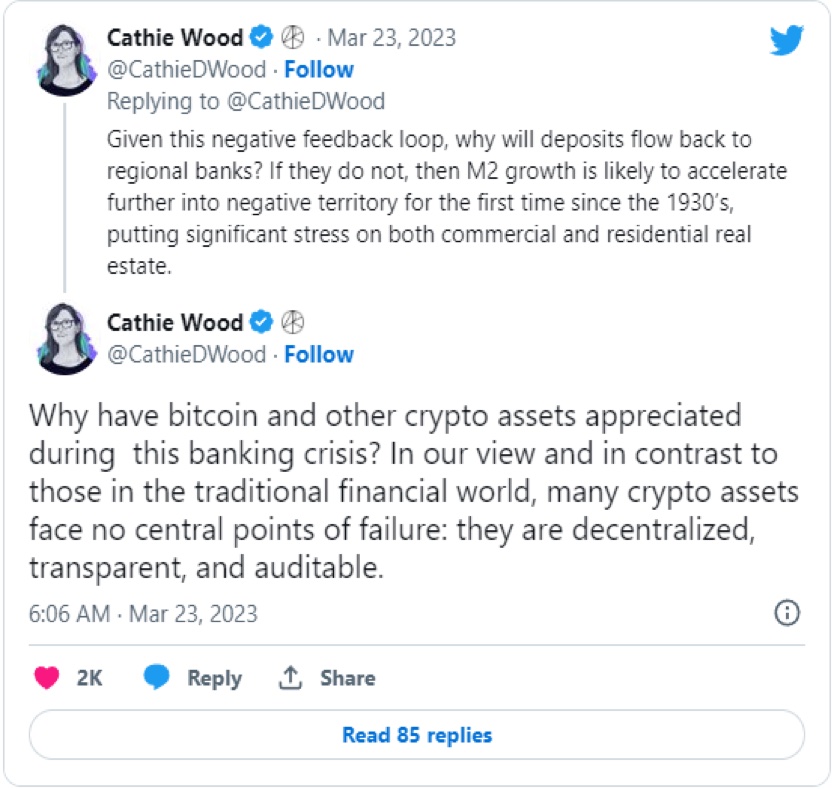 Tweet by Cathie Wood
When cryptocurrencies are more widely accepted and the public can more clearly see the types of regulatory pressures that the US government is applying on the industry to maintain centralized control of money and monetary policy, according to Wood, they will eventually become an "election issue."
Not everyone agrees with Wood. In an interview on April 12, Ray Dalio, the creator of Bridgewater Associates, the largest hedge fund in the world by assets under management, stated why Bitcoin cannot function as an effective currency because it is too erratic and central banks won't accept it:
"Bitcoin is not an effective store of value, since it cannot be used as a medium of trade or as a means of payment. Its volatility has nothing to do with nearly anything, making it a very, very poor substitute for gold.''
Following The Banking Crisis, One Analyst Predicts That Bitcoin Would Do Better Than All Other Cryptocurrencies
In order to support his position, Dalio used the fact that, behind the U.S. dollar and the euro, gold is the third-largest reserve held by central banks.
Despite having previously called Bitcoin "one hell of an invention," Dalio recently revealed that he now prefers to see the creation of an "inflation-linked" coin that would guarantee that customers would retain their purchasing power.
Disclaimer: FameEX makes no representations on the accuracy or suitability of any official statements made by the exchange regarding the data in this area or any related financial advice.