Top Trending Crypto News Today
Ripple CEO: SEC Conduct is "Embarrassing," XRP Litigation Will Be Settled by June
https://www.fameex.com/en-AU/news/ripple-ceo-sec-conduct-is-embarrassing-xrp-litigation-will-be-settled-by-june
The CEO stated that the company's protracted legal battle with the Securities Exchange Commission (SEC) will be resolved in "single-digit months" and is still optimistic about obtaining a good decision.
Ukraine Deputy Prime Minister: I'll Take Salary in CBDC
https://www.coindesk.com/policy/2023/01/17/ukraine-deputy-prime-minister-ill-take-salary-in-cbdc/
Ukraine's deputy prime minister wants to be the first user of a planned new central bank digital currency (CBDC) and take his salary in e-hryvnia, he told reporters at the World Economic Forum. New laws will make the country the world's leading jurisdiction for crypto assets, said Mykhailo Fedorov, who is also Ukraine's minister for digital transformation, after Ukraine successfully used crypto to raise money for its armed forces.
Polkadot (DOT) unveils XCM V3
https://crypto.news/polkadot-dot-unveils-xcm-v3/
Gavin Wood, the co-founder of Polkadot and former CTO of the Ethereum Foundation, has revealed via Twitter that the highly anticipated Cross-Consensus Messaging (XCM) V3 has been successfully merged into the blockchain project's GitHub repository. The launch of XCM V3 will bring a vast array of essential improvements to the
Polkadot
ecosystem, including seamless cryptoasset transfers, enhanced cross-chain interoperability, non-fungible token (NFT) support and more.
Daily Crypto Market Analysis - Growing and Forecast
In the last 24 hours, the long liquidations were 190.263M USDT and the short liquidations were 60.93M USDT, leaving 129.333M USDT worth of net long liquidations. Although yesterday's total liquidation increased, and was led by the short side led to a sharp increase in the amount of the long liquidations.
The Fear & Greed index rose slightly to 52, the market sentiment is no longer panic, and it has begun to turn optimistic.
Bitcoin Ahr999 remained at 0.51, a new high since August last year, and is now above the bottom line (0.45) and below the DCA line (1.2). The numbers reflect that the current short-term trend is no longer so weak, but bear markets will last for a long time. Judging from the information above, the prices were still at the bottom zone.

In the last trading day, the 3 major US stock indexes fell sharply. The DJI continued to be weak, down -1.81%, the S&P 500 was down -1.56%, while the Nasdaq was relatively strong, down -1.24%. Cryptocurrencies were also down yesterday, with BTC and ETH down -2.40% and -3.79% respectively.

In terms of data, the U.S. Producer Price Index (PPI) rose 6.2% in December last year, below market expectations and the smallest increase since March 2021, while the core PPI rose 5.5%, also below market expectations. The Core Producer Price Index rose 5.5%, also below market expectations. The monthly retail sales in December last year was -1.1%, the largest decline since March 2021, far from market expectations.

In terms of politics and economy, James Bullard, president of the Federal Reserve Bank of St. Louis, said on Wednesday that the Fed must raise interest rates further to ensure that inflationary pressures recede, forecasting a range of 5.25% to 5.5% at the end of this year.

Patrick Harker, president of the Federal Reserve Bank of Philadelphia and a member of the Federal Open Market Committee (FOMC), reiterated this year that it is appropriate for the Fed to raise interest rates by 1 percent next time and expects to raise rates several more times in the future.

Loretta Mester, president of the Federal Reserve Bank of Cleveland said rate hikes are cooling high U.S. inflation and that the Fed needs to raise rates above 5.00% to 5.25%.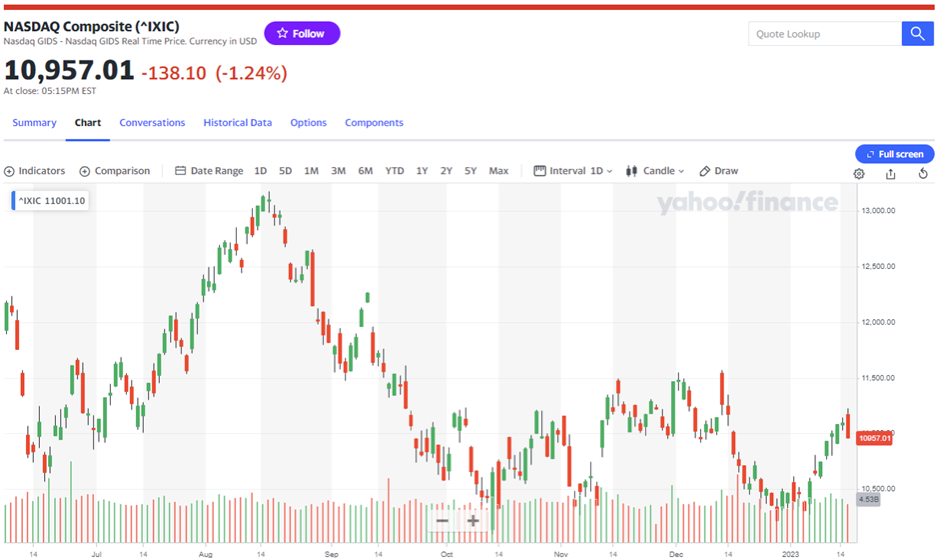 All mainstream currencies fell yesterday, ranging from -2.40% to -10.58%, SHIB was the weakest, because it rose a lot in the past few days, and pulled back and fell 10.58% yesterday. The two major currencies were also down, with BTC and ETH down -2.40% and -3.79% respectively.

Looking at BTC from the 4-hour candles, after the price has been consolidating in a narrow range around 21,000 for more than 5 days, the short side launched a counterattack yesterday and pushed the price back to around 20,400. And MA7 and MA25 also have a death cross today, which will break the long position that the moving average has maintained for two weeks.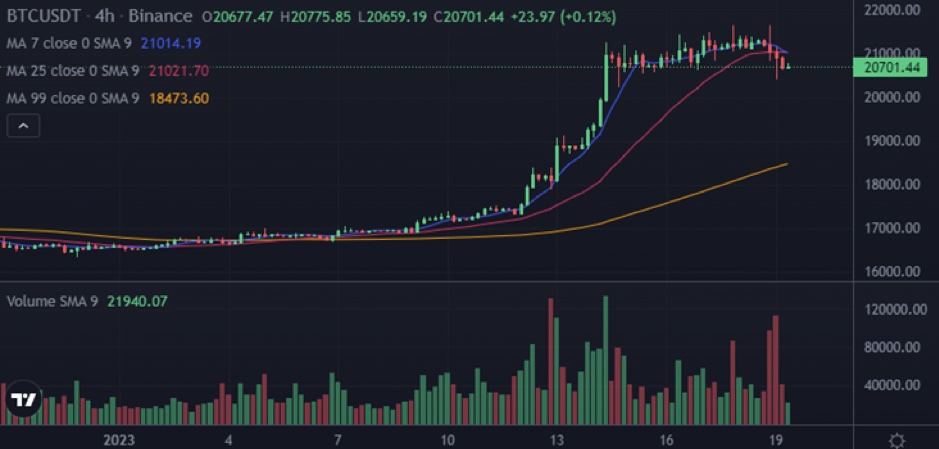 Disclaimer: The information provided in this section is for informational purposes only, doesn't represent any investment advice or FAMEEX's official view.