Although Ethereum remains the leading blockchain platform for developer activity, several other blockchain networks have been gaining traction in recent times.

The overall number of monthly active Web3 developers increased by 5.4% to more than 23,300 over the previous 12 months, despite an almost 70% decline in cryptocurrency values, supporting the idea that bear markets are advantageous for builders.

"Full-time" developers, defined as those who contribute to 76% of Github commits, climbed by 15.2% to over 7000, while "one-time" builders decreased by 6.2% to over 3,500 over the same period between December 2021 and December 2022, according to a Jan. 16 study from Electric Capital.

Despite the crypto market capitalization starting its protracted decline from its all-time high (ATH) of $2.9 trillion in November 2021, monthly developer activity didn't start declining until June 2022, when the measure hit a record high of about 26,500.

The decline in developer activity in the Terra ecosystem following its catastrophic collapse in May 2022 was partially blamed for this decline.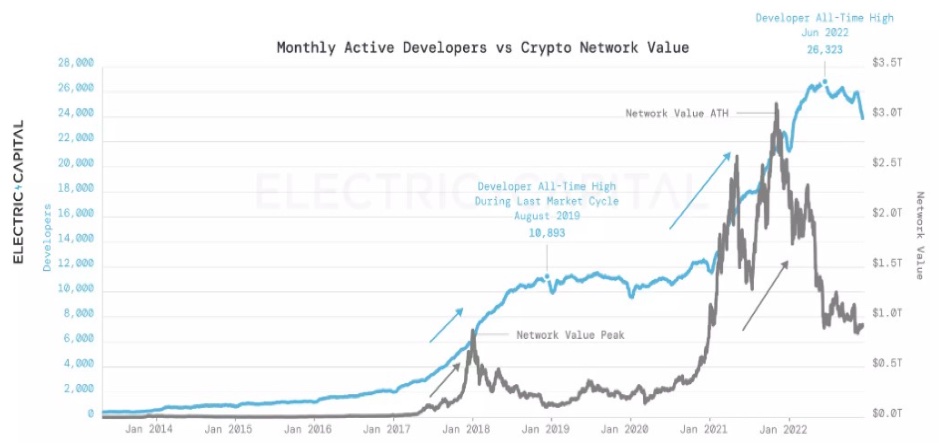 Monthly active developer count and market value of cryptocurrencies throughout time

Source: Electrical Capital

The number of weekly active Web3 developers fell by 26% over the next three months, from June to September. However, the industry did welcome 61,127 new Web3 developers in 2022, the highest number ever noted and a 25.8% rise from 2021.

In fact, between 2014 and 2020, 109,723 more new Web3 developers published their first line of open-source crypto code (101,054).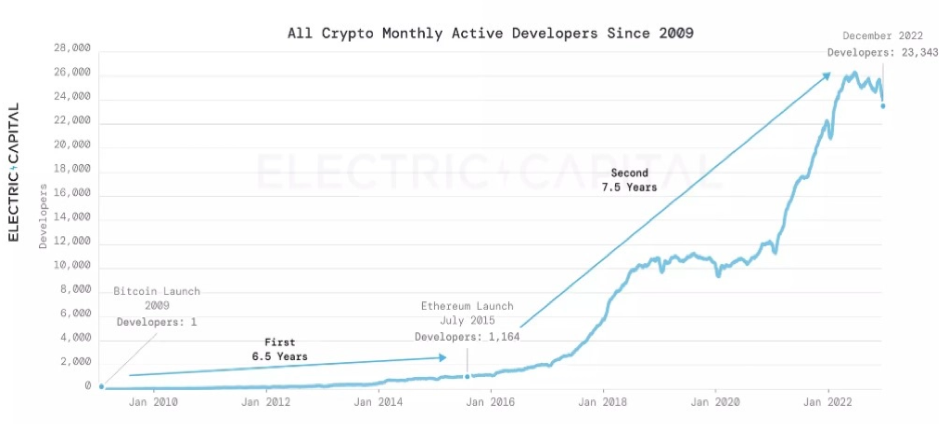 Compared to when Ethereum and its smart contract features were released, the monthly active developer count has increased since Bitcoin's introduction. Source:Electrical Capital


With 1,873 full-time developers, Ethereum continues to outpace the next three top ecosystems combined (Polkadot (752), Cosmos (511) and Solana), in terms of development activity (383).

However, the number of developers on non-Ethereum chains is catching up. The Starknet ecosystem is among the mid-sized ecosystems to have made a strong run in 2022 with a 214% rise in developer count. The Cosmos and Solana networks rose 34% and 36%, respectively.

Disclaimer: Neither the information in this section nor any investment advice reflects the position of FAMEEX in its official position.