Crypto Supporter NYC Mayor Eric Adams Putting First Paycheck into Bitcoin, Ethereum
2022-01-21 14:14:00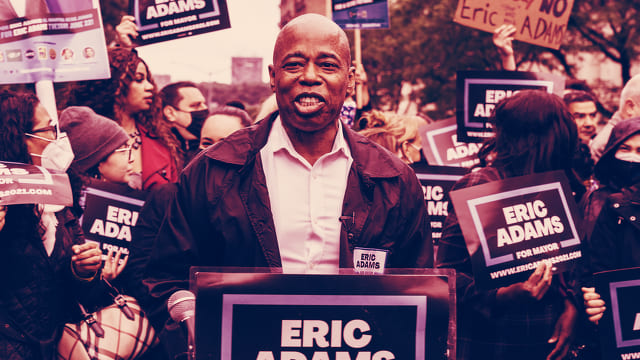 Eric Adams, the recently sworn-in Democrat mayor of New York City, has confirmed that his first paycheck will be converted into crypto. To stand by his promise, Adams receives his first paycheck in two leading cryptos, Bitcoin and Ethereum.
Per the announcement, Adams is also set to get a part of his salary in Ethereum, the world's second-largest cryptocurrency by market cap.
"New York is the center of the world, and we want it to be the center of cryptocurrency and other financial innovations," Adams said in a statement.
Adams, the former member of the New York State Senate and the Brooklyn Borough president, said that by receiving his salary in crypto, he wants to show that New York is "on the forefront" of innovation and continues "to be a magnet for talent from all over the globe."
The U.S. Department of Labor regulations prohibits the city from paying its employees directly in cryptocurrencies. However, it is possible to use a digital asset exchange to convert U.S. dollars into crypto before the funds are made available.
To that end, Adams' office chose Coinbase, the U.S. largest regulated crypto exchange, to make the transaction.
Cryptocurrencies made up a big part of Adams' election campaign last year.
"We're going to become the center of life science, the center of cybersecurity, the center of self-driving cars, drones, the center of Bitcoins," he said while running for the seat.
Two other candidates—Republican Curtis Silwa and Adams' fellow party member Andrew Yang—made similar pledges concerning digital currencies.
Silwa promised to "make NYC the most cryptocurrency-friendly city in the nation," with property taxes, fines, and fees all payable in crypto. At the same time, Yang, a former candidate in the 2020 Democratic Party presidential primaries, said that he "would invest in making the city a hub for Bitcoin and other cryptocurrencies."
Adams, however, went as far as promising to take his first three paychecks in Bitcoin, throwing his hat into the ring immediately after Francis Suarez, the mayor of Miami, declared in November last year that he would take his next paycheck "100% in Bitcoin."
(Article Courtesy of Decrypt)